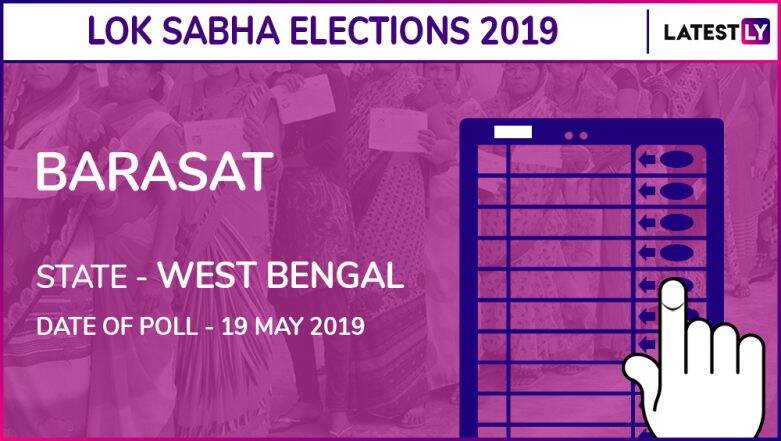 Kolkata, May 23: The results of the Barasat Lok Sabha Constituency was declared today. The counting of votes began on the Barasat Parliamentary seat in West Bengal at 8 am on Thursday, May 23. Dr Kakoli Ghoshdastidar of TMC defeated BJP's Mrinal Kanti Debnath by a margin of 1,09,983 votes.
Voting took place for the Barasat seat in the seventh and final phase of Lok Sabha Elections 2019. A total voter turnout of 73.51 per cent was recorded, as per Election Commission of India. Stay with us for Live updates on the results for the Barasat Lok Sabha seat in West Bengal.  Lok Sabha Elections 2019 Results
The incumbent parliamentarian, representing the constituency is from AITC – Dr Kakoli Ghoshdastidar. The MP emerged victorious in the 2014 Lok Sabha Elections by defeating the Left Front's All India Forward Bloc (AIFB) candidate – Mortaza Hossain. AITC has fielded Dr Kakoli Ghoshdastidar again this time from the constituency. To defeat the incumbent MP in the Lok Sabha elections 2019, AIFB has fielded Haripada Biswas, while Congress has announced Subroto (Rashu) Dutta as their candidate. BJP has fielded Dr Mrinal Kanthi Debnath as their candidate. West Bengal Election Results 2019 Live News Updates
As per the ECI website – updated on March 13, 2019 – there are 12,26,654 voters in the parliamentary constituency, among them 5,86,579 are females while 6,40,075 are males. The average literacy rate of the constituency is 90.42 per cent. This constituency is famous for commercial trade of rice, potatoes, coconuts and cotton. The female to male ratio is 972.
Lok Sabha Elections 2019 Schedule for Seventh Phase:
| | |
| --- | --- |
| Announcement and Issue of Press Note | March 10 |
| Issue of Notification |  April 22 |
| Last date for filing nomination | April 29 |
| Scrutiny of nomination | April 30 |
| Last date for withdrawal of candidature | May 2 |
| Date Of Poll | May 19 |
| Date of Result | May 23 |
| Dates Before Elections Shall be Completed | May 27 |
According to the Election Commission's briefings, the process of filing nomination for Barasat Lok Sabha elections began on April 22, which continued till April 29. The scrutiny was done on April 30, and the last date for the withdrawal of the nominations was May 2. The polling took place on May 19.
Lok Sabha Elections 2019 Phase 7 Schedule And Dates (Watch Video)
In 2014 Lok Sabha polls, AITC bagged 34 seats – gaining 15 more than 2009, while CPI(M) could win only two seats – Raiganj and Murshidabad. Congress emerged victorious on four seats, and BJP opened their account from Asansol and Darjeeling. Lok Sabha elections took place in seven phases across the state – on April 11, April 18, April 23, April 29, May 6, May 12 and May 19. The results would be declared on May 23.