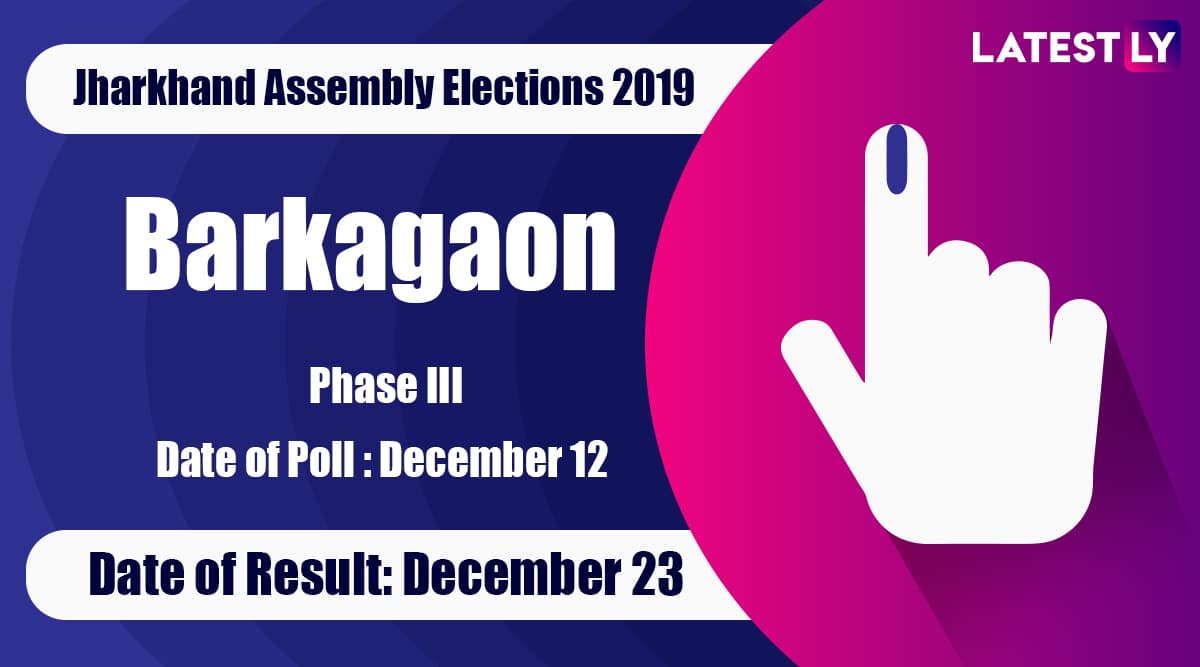 Ranchi, December 23: Amba Prasad of the Congress party has won the Barkagaon Vidhan Sabha seat in Jharkhand. The polling in Barkagaon assembly constituency in Jharkhand was held on December 12, 2019. This seat falls in Ramgarh district and comes under the Hazaribagh Lok Sabha constituency. The counting of votes and results of Jharkhand Assembly Elections 2019 was held today. i.e. on December 23. As per the voter list of 2019, there are 3,36,748 electorates and 465 polling stations in this constituency. The sitting MLA in the Barkagaon constituency is Nirmala Devi of the Congress party. This time the BJP has fielded Loknath Mehto from this seat, while the Congress has given its ticket to Amba Prasad Sahu. Phase-Wise List of Seats Going to Polls in Jharkhand.
The major political parties contesting the Assembly Elections in Jharkhand include Bharatiya Janata Party (BJP), Jharkhand Vikas Morcha (JVM) and the alliance between Jharkhand Mukti Morcha (JMM), Congress and Lalu Prasad Yadav's Rashtriya Janata Dal (RJD). These three parties have come together to take on the BJP in the ensuing elections for the 81-member Jharkhand assembly. While BJP plans to go solo this time, the JMM will contest 43 seats, Congress wil contest on 31 seats and RJD will contest on 7.
In Jharkhand, the five-phase elections were held between November 30 to December 20. The first phase of election in the state had taken place on November 30. The voting for the third phase will be conducted on December 12, the fourth phase on December 16, and the fifth and last phase on December 20.
In the 2014 Assembly polls in Jharkhand, the BJP had won the elections by defeating Congress and its major allies RJD, Janata Dal (United), and Jharkhand Mukti Morcha (JMM). Ever since Jharkhand was formed, it was the first time in 2014, that a single-party (BJP) formed a majority in the state assembly. The BJP had won in 43 seats out of 81 seats, 2 more that required majority.
| MLA Candidates | Party | Votes |
| --- | --- | --- |
| AMBA PRASAD (Current MLA) | INC | 98862 |
| PRABHU ORAON | IND | 810 |
| DASHRATH SONI | IND | 809 |
| SALMA KHATOON | TMC | 508 |
| SURAJ KUMAR | BSP | 429 |
| DARSHAN GANJHU | IND | 336 |
| DURGA CHARAN PRASAD | JVM | 3347 |
| ARBIND KUMAR OJHA | IND | 322 |
| LOKNATH MAHTO | BJP | 31761 |
| MITHILESH KUMAR DANGI | CPI | 2710 |
| VIJAY KUMAR SINGH | IND | 196 |
| ANJU DEVI | IND | 1862 |
| BALJIT SINGH | IND | 1768 |
| ROSHAN LAL CHOUDHARY | AJSU Party | NA |
| GEETA DEVI | Jharkhand Party (Secular), | NA |
| DEEPAK KUMAR DAS | Peoples Party of India (Democratic) | NA |
| PRITAM SINGH | All India Majlis-E-Ittehadul Muslimeen | NA |
| BHUNESHWAR PRAMANIK | Ambedkarite Party of India | NA |
| BITTU KUMAR SINGH | Jharkhand Party | NA |
| VINOD KUMAR RANA | JD(U) | NA |
| SARYU MUNDA | Communist Party of India (Marxist-Leninist) (Liberation) | NA |
| SUNIL KUMAR | Rashtriya Jansambhavna Party | NA |
| SURESH MAHTO | Jharkhand Mukti Morcha (Ulgulan) | NA |