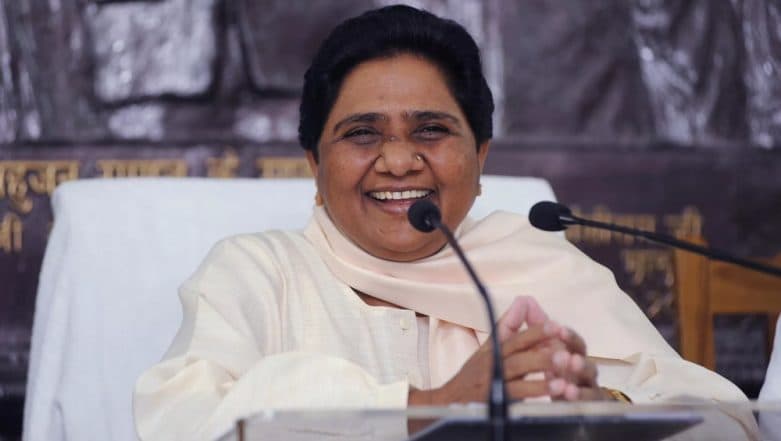 Lucknow, March 12: Bahujan Samaj Party (BSP) chief Mayawati on Tuesday reiterated her stand that the BSP will not form an alliance or join hands with the Congress in any of the states in India. The announcement by Mayawati comes two days after the Election Commission (EC) announced the dates for the 2019 Lok Sabha Elections on Sunday. Lok Sabha Elections 2019 Schedule: Voting In 7 Phases From April 11 to May 19, Counting And Results On May 23; Check All Dates For General Elections.
Mayawati's announcement to not get into any alliance with the Congress also comes after 10 ex-BSP party leaders joined the Congress in Madhya Pradesh on Sunday, just a few hours before the EC declared Lok Sabha elections dates.
Among those who joined the Congress are former state BSP presidents Pradeep Ahirwar and Satyaprakash Jatav, Devdutt Soni, Babulal Pahalwan, Ravindra Patel, Pohap Chaudhary, Manju Sarraf, Komal Prasad, Vinod Rai and Ramsevak Damle, said the state Congress unit. Madhya Pradesh chief minister Kamal Nath was also present on the occasion of the ex-BSP leaders joining the Congress.
Mayawati's open refusal to not join hands with the Congress is a clear indication to her supporters and party cadre that the party does not intend to be seen as part of the Congress aimed alliance despite their opposition to the BJP. Political experts had hinted this even when the Bahujan Samaj Party (BSP) had decided to form alliance with the Samajwadi Party (SP) in Uttar Pradesh a few months back.  BSP, SP Divide Seats in Uttar Pradesh For 2019 Lok Sabha Elections: Check Full List of Constituencies.
Observers say that the Samajwadi Party (SP) head Akhilesh Yadav was keen for Congress's inclusion in the alliance to make it a grand alliance in UP, but it was on Mayawati's insistence that Congress was left out of the alliance in UP. Further, SP-BSP also got into a seat sharing pact in MP and Uttarakhand but left the Congress out in these states as well. Lok Sabha Elections 2019: SP-BSP Seal Seat-Sharing Pact in MP & Uttarakhand, Send Another Jolt to Congress After UP.
Before that, there were speculations that the BSP would join hands with the Congress in Madhya Pradesh for the 2018 assembly elections as well, but the BSP had snubbed Congress even back then saying it would independently fight the elections. The Congress went on to win the MP state elections on its own with Kamal Nath appointed as the chief minister of the state.