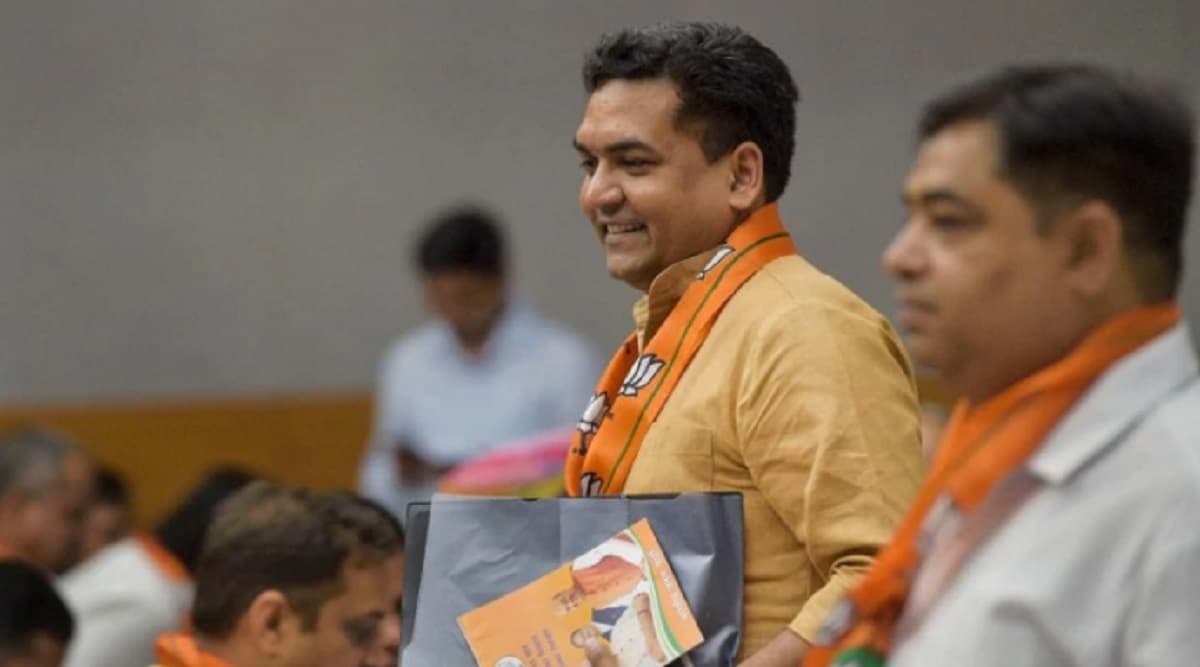 New Delhi, January 24: The Election Commission on Friday wrote to Twitter, the popular microblogging website, seeking the removal of an alleged communal tweet by Bharatiya Janata Party (BJP) candidate Kapil Mishra. The former legislator had stoked a row by calling certain Muslim-dominated pockets of the national capital as "mini-Pakistan". Show Cause Notice Issued to BJP Candidate Kapil Mishra by Delhi CEO.
Earlier in the day, the Central Election Commission had written to the Chief Electoral Officer (CEO) of Delhi, seeking a report over the complaint of Model Code of Conduct (MCC) violation against Mishra. The CEO subsequently issued a show-cause notice to the BJP leader, asking him to defend the allegations of promoting communal enmity levelled against him.
Mishra, despite the flak, was yet to take down his alleged communal tweets by the time this report was published. Apart from the post in which he termed certain areas of Delhi as "mini-Pakistan", he went on to describe the February 8 poll battle in the national capital as an "India vs Pakistan" fight.
See Kapil Mishra's Tweets
𝗜𝗻𝗱𝗶𝗮

𝘃𝘀

𝗣𝗮𝗸𝗶𝘀𝘁𝗮𝗻

8𝘁𝗵 𝗙𝗲𝗯𝗿𝘂𝗮𝗿𝘆

𝗗𝗲𝗹𝗵𝗶

8 फरवरी को दिल्ली की सड़कों पर हिंदुस्तान और पाकिस्तान का मुकाबला होगा

— Kapil Mishra (@KapilMishra_IND) January 23, 2020
Derides Shaheen Bagh Protests
पाकिस्तान की एंट्री शाहीन बाग में हो चुकी हैं

दिल्ली में छोटे छोटे पाकिस्तान बनाये जा रहे हैं

शाहीन बाग, चांद बाग, इंद्रलोक में देश का कानून नहीं माना जा रहा

पाकिस्तानी दंगाइयों का दिल्ली की सड़को पर कब्जा हैं https://t.co/jcq1PgzXb7

— Kapil Mishra (@KapilMishra_IND) January 23, 2020
Mishra, a former legislator of the AAP, was removed from the party by Chief Minister Arvind Kejriwal in 2017 after accusing him of corruption. His assembly membership was revoked after he was disqualified under anti-defection law for joining the BJP.
Mishra has been listed as the BJP candidate from Model Town constituency, currently being represented by AAP leader Akhilesh Pati Tripathi. The BJP, say pollsters, is hopeful of wresting the seat amid the polarised atmosphere over Citizenship Amendment Act (CAA) and the proposed nationwide National Register of Citizenship (NRC) exercise.