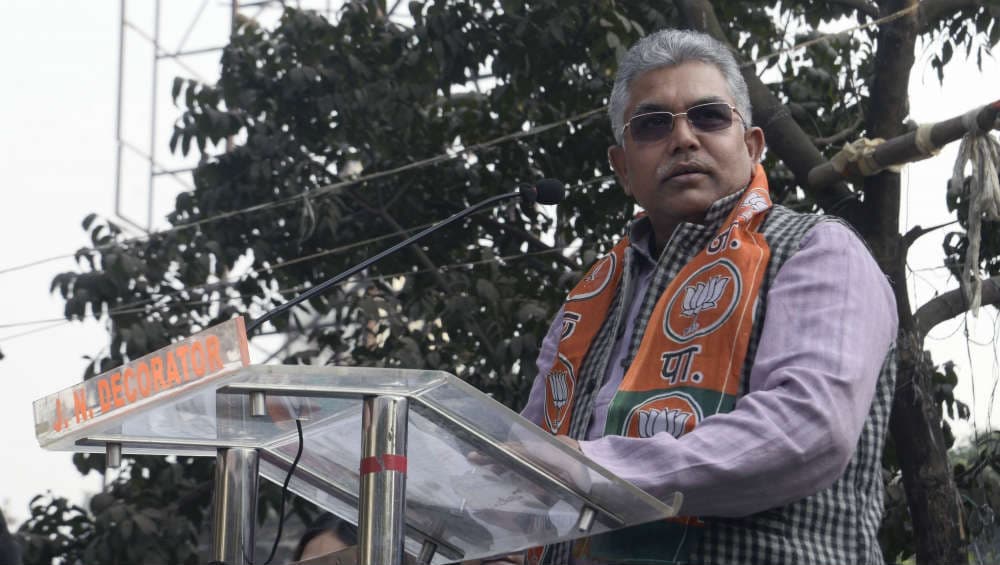 Kolkata, January 14: An FIR was registered on Tuesday against West Bengal BJP president Dilip Ghosh for his "shot them like dog" remark against anti-CAA protesters. The report was filed against him at the Ranaghat Police Station, after local Trinamool Congress leader Krishnendu Banerjee lodged a formal complaint. Mamata Banerjee Hits Out at Dilip Ghosh's 'Shoot Them Like Dog' Remark, Says 'West Bengal Isn't Uttar Pradesh'.
Ghosh, while addressing a pro-CAA rally in Ranaghat of Nadia district on Sunday, said the BJP governments in Assam, Uttar Pradesh and Karnataka have not resorted to minority appeasement. The saffron party-led regimes launched a brutal crackdown on anti-CAA protesters, he said, adding that several among them were chased and shot down. Dilip Ghosh Blames Muslim Infiltrators of Sabotaging Interests of Hindu Bengalis.
"Didi's (Mamata Banerjee) police didn't take action against the people who destroyed public properties as they are her voters. Our governments in UP, Assam and Karnataka has shot these people like dogs," Ghosh had said, adding that cases have also been slapped in UP against the protesters for vandalising public properties.
Ghosh's remarks had drawn the ire of not only political rivals, but also members of the BJP. Among the first to distance the party from his remarks was BJP lawmaker and Union Minister Babul Supriyo. "BJP, as a party has nothing to do with what a Dilip Ghosh may have said," he said.
"It is a figment of his imagination and the BJP governments in UP and Assam have never ever resorted to shooting people for whatever reason whatsoever. Very irresponsible of Dilip Da to have said what he said," Supriyo added.
Chief Minister Mamata Banerjee had also condemned the remarks of Ghosh, asking the BJP central leadership to take action against him for the provocative remarks. The Trinamool supremo said she would never allow the BJP to suppress dissent in West Bengal as "they did" in Uttar Pradesh.
"It's a shame to even take his (Ghosh's) name. You're promoting firing. This isn't UP. Here firing won't happen. Understand that if tomorrow something untoward happens, you'll be equally responsible. You want to kill people for protesting?" Banerjee remarked.