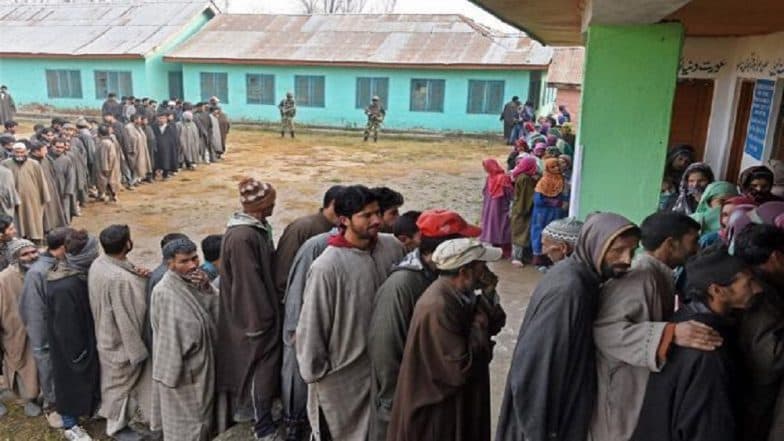 Srinagar, March 16: Assembly elections in Jammu and Kashmir could be held in June this year. The Election Commission (EC) may announce the poll dates after the holy month of Ramzan is over and before the Amarnath Yatra begins on July 1. The ongoing spell of the President's rule in Jammu and Kashmir is due to get over on July 3. Assembly polls could be held in seven phases, higher than the five-phase Lok Sabha elections in the state.
The Jammu and Kashmir administration in its report and the Ministry of Home Affairs (MHA), in a written communication to EC, had suggested conducting the parliamentary elections first, immediately followed by the assembly polls. The state administration had also opposed simultaneous assembly and Lok Sabha elections. It had suggested the EC consider factors such as Ramzan, tentatively timed from May 5 to June 4, and Amarnath Yatra while finalising dates for assembly polls. BJP Deliberately Delayed Assembly Election in Jammu and Kashmir: Congress Leader GM Saroori.
According to a report of TOI, the union home secretary, in a review meeting with EC on February 18, had also endorsed the Jammu and Kashmir government's view of holding assembly polls in June. However, it was only on February 26 that the MHA formally wrote to EC, backing a June state poll immediately after the Lok Sabha elections, said the report. Jammu And Kashmir Lok Sabha Elections 2019 Dates: Constituency-Wise Complete Schedule Of Voting And Results For General Elections.
Citing constraints over availability of central forces and other logistics, the Election Commission on March 10 said the elections for the Jammu and Kashmir Assembly will not be held along with the Lok Sabha polls. There were speculations that Assembly elections in Jammu and Kashmir, which is under the President's Rule, could be held along with the Lok Sabha polls. But the EC has decided against it as of now. No Simultaneous State, Lok Sabha Elections is Narendra Modi's Surrender to Pakistan, Militants, Says Omar Abdullah.
The decision to hold only parliamentary elections in the state attracted strong criticism from former Chief Ministers Omar Abdullah of the National Conference and Mehbooba Mufti of the People's Democratic Party (PDP). The state Assembly was suddenly dissolved in November last year by Governor Satya Pal Malik after keeping it in suspended animation for over five months.