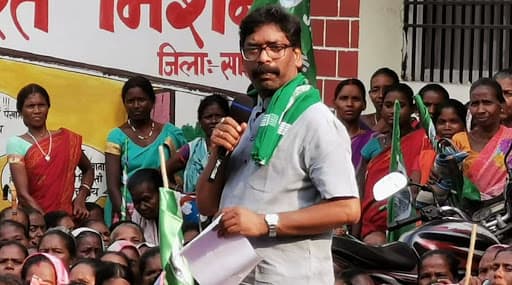 Ranchi, November 1: With the schedule for Jharkhand Assembly Elections are out, the political alliance between parties are gaining momentum to maximise their chances to form the government. On one side Chief Minister Raghubar Das claims to form the Bharatiya Janata Party government on its own, opposition Jharkhand Mukti Morcha has made an alliance with Congress and other regional parties.
According to various media reports, Congress had agreed to support the regional parties, without claiming the Chief Ministerial berth in the state. However, no formal agreement on the seat-sharing has been finalised as of yet for the 81-member legislative assembly. Meanwhile, sources claim that Congress may settle for 25-30 seats in the alliance, giving an upper edge to Hemant Soren-led JMM and Babulal Marandi-led Jharkhand Vikas Morcha (Prajatantrik). Jharkhand Assembly Elections 2019 Dates And Full Schedule Announced by Election Commission: Polling in 5 Phases From November 30 to December 20, Results on December 23.
Considering the good response from Maharashtra and Haryana Assembly elections, Congress has put high hopes on the Jharkhand assembly elections this time. With senior leaders of JMM and Congress -- like Sukhdev Bhagat, Manoj Yadav, Badal Patralekh, Bahragora Kunal Sarangi, Chamra Linda and JP Patel -- joining BJP ahead of polls, the opposition had become cautious.
Reports also arrived that the opposition would announce the final layout of the proposed Mahagatbandhan in the first week of November 2019. On the other side, CM Raghubar Das was seen busy in 'Johar Jan Ashirwad Yatra', where he was seen interacting with people and garnering support for the BJP for the upcoming elections.
In the previous Assembly elections in 2014, BJP won 37 seats and took the support of Sudesh Mahato' All Jharkhand Students' Union to form the government. JMM secured 19 seats, while Congress managed to win seven seats only. The recent joining of opposition lawmakers in BJP has raised some eyebrows, however, oppositions are optimistic about crossing the magic figure of 41. Jharkhand Assembly Elections: Congress May Settle For 25-30 Seats in Alliance With JMM.
Meanwhile, Election Commission of India has announced that polls will take place in five phases and the results would be declared on December 23. The elections would take place on November 30, December 7, December 12, December 16 and December 20.