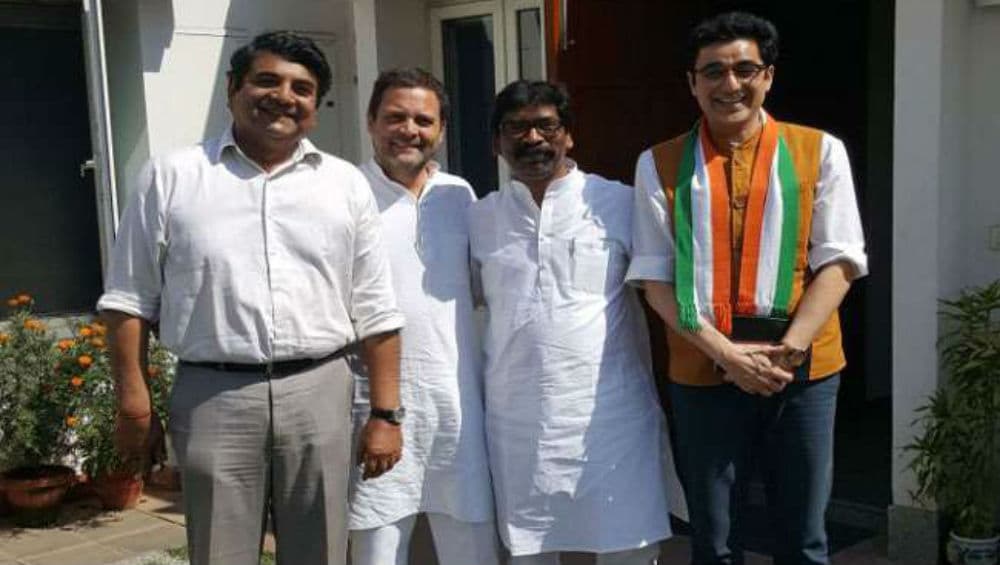 Ranchi, October 29: For the upcoming Jharkhand assembly elections, the Congress and the Jharkhand Mukti Morcha (JMM) have decided to keep their alliance which was decimated by the Bharatiya Janata Party (BJP) in the Lok Sabha polls. The two parties gave up the idea of a breakup after the opposition performed better than expected assembly polls in Haryana and Maharashtra results of which were declared on October 24. Jharkhand: Congress Leaders Not in Support of Projecting JMM Leader Hemant Soren as CM Candidate.
According to a report, the Congress has decided to play the junior partner to JMM and may settle for 25-30 seats in the 81-member Jharkhand Vidhan Sabha. This came out after initial talks between leaders of the two parties. The Jharkhand Vikas Morcha (JVM), which joined the "grand alliance" in Lok Sabha polls, has not yet decided about its next move. The talks for keeping the alliance gained momentum mainly after the Haryana and Maharashtra polls.
The opposition camp has concluded that people voter differently in national and state elections and the BJP can be challenged in states despite its parliamentary victory. Besides, like Haryana and Maharashtra, Jharkhand also has an unconventional Chief Minister in Raghubar Das, a non-tribal in what is viewed as a tribal state. Both in Haryana and Maharashtra, the BJP fell way short of the majority mark.
While the Congress improved its tally in Haryana, the Nationalist Congress Party (NCP) increased its number in Maharashtra. In the Lok Sabha elections, of the 14 parliamentary seats in Jharkhand, the Congress kept the lion's share, fielding its candidates on 7 constituencies. The JMM contested on four, the JVM was allotted three, leaving one for the Rashtriya Janata Dal (RJD). The BJP bagged 11 seats, whereas the Congress and JMM settled for one each.