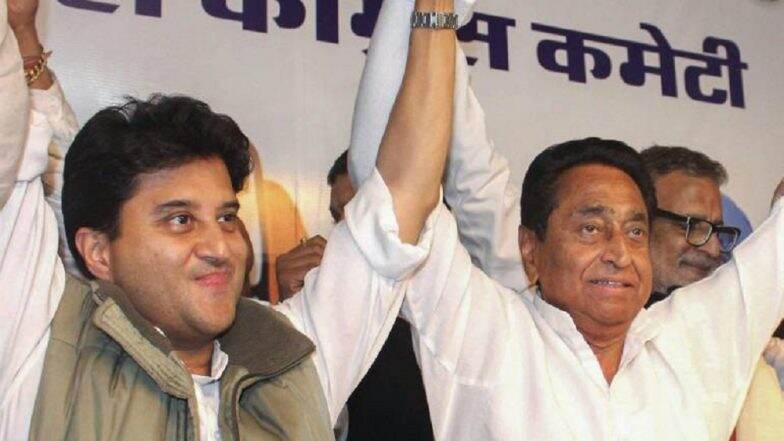 Bhopal, December 13: Following nearly 48 hours of deliberation, the Congress late on Thursday announced Kamal Nath, the chief of Madhya Pradesh Congress Committee (MPCC), as the new Chief Minister of the state. The decision was approved at the Congress Legislature Party (CLP) meeting held at 10:30pm. After being officially chosen to lead the next government, Nath said he would be working cohesively with the entire Congress unit in the state.
"I express gratitude to all legislators of our party for supporting me...I thank Jyotiraditya Scindia for extending support," Nath said, further adding that the whole Congress leadership will act together to fulfill the promises made to the electorate ahead of the polls. Kamal Nath Ends Congress' 15-Year Exile in Madhya Pradesh: Profile of the Congress Veteran.
The date of swearing-in ceremony, reported to held on Saturday, was not confirmed by the Congress. Nath said he would be meeting Governor Anandiben Patel in the morning at 10:30am, and subsequently finalise the schedule of the oath-taking event.
Nath, 72, shot to prominence ahead of the assembly elections when he was given the party's charge in a bid to resolve factionalism. In August, Nath was assigned as Congress' state unit president -- replacing Arun Yadav. Scindia, on the other hand, was appointed as the chief campaign committee.
During the electioneering, Nath emerged at the forefront of critical party activities -- from issuing of tickets to negotiating alliances. He had also faced flak when the Congress failed to ink a pre-poll pact with the Bahujan Samaj Party. Nath had, however, defended his decision claiming that agreeing to the BSP's terms and conditions would had dealt a major blow to the morale of Congress workers in the state.
Nath, who holds the record of being the longest serving Congress MP from the same constituency, has represented the Chhindwara Lok Sabha seat for nine consecutive terms.
In 2014, at the peak of the Narendra Modi wave, he was among the only two Congress candidates to win out of the 29 parliamentary constituencies in Madhya Pradesh.
With his combined legislative experience of nearly 40 years, Nath holds the experience of handling top ministerial portfolios in at least four Congress-led governments at the Centre.
In the UPA years, he was charged with the Ministries of Commerce & Industry, Road Transport & Highways, Urban Development, Petroleum & Natural Gas and Parliamentary Affairs.
A key proponent of market fundamentalism -- who has reiterated his economic-right position by pitching for enhanced FDI in all sectors -- Nath has promised to attract investments in the state to create employment opportunities for the youth.
On the agrarian distress, Nath, while speaking to reporters, said the Congress government would implement a farm loan-waiver immediately after taking charge. "That will definitely happen," he said in Delhi earlier on Thursday.