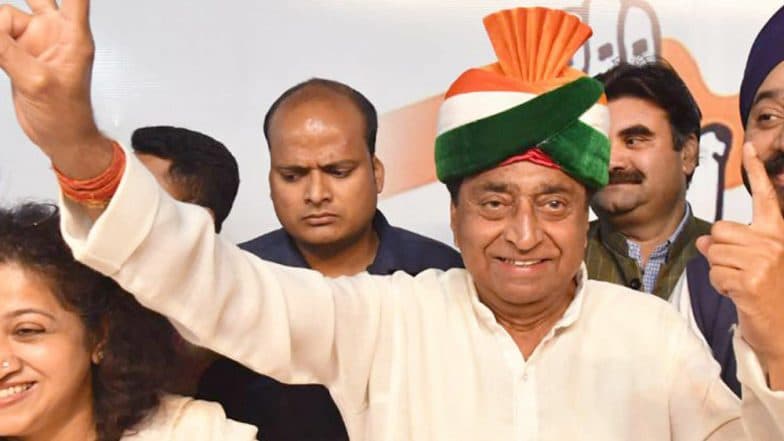 New Delhi, December 13: Veteran politician and member of the Congress 'old guard', Kamal Nath has been rewarded for ending the 15 years of party's exile from power in Madhya Pradesh. After deliberations which lasted for nearly two days, the Congress high command on Thursday announced Nath would be the next Chief Minister.
At the Congress Legislature Party (CLP) meeting held at 10:30pm today, the legislators officially decided to elect Nath as their leader. Contrary to the reports which earlier claimed that Jyotiraditya Scindia could be assigned the number 2 rank in the government, the party has announced that there will no Deputy Chief Minister post. Akali Dal Fumes Over Kamal Nath Being Assigned MP CM Charge, Cites '1984 Riots Link'.
Our best wishes to Shri @OfficeOfKNath for being elected CM of Madhya Pradesh. An era of change is upon MP with him at the helm. pic.twitter.com/iHJe43AB9v

— Congress (@INCIndia) December 13, 2018
In race of the CM post, Nath trumped Scindia, one of the young faces of the Congress, considered popular among the youth of Madhya Pradesh. According to experts, Nath was chosen for his ability to resolve factionalism within the party -- as exhibited by him after presiding over as the state unit chief ahead of the elections.
At the CLP meeting, Nath acknowledged the support received from Scindia, saying without his relentless effort the party would had not formed the government in the state.
Nath further told the legislators-elect that he had made no demand for the chief ministerial post before the high command. "I am only accepting what the party has decided," he said.
Profile of Kamal Nath:
Born on November 18, 1946 in Kanpur, Nath went on to become a Commerce graduate from the University of Calcutta. After working as a management professional, he got associated with the Congress in the late 60s'.
In 1980, he was elected to the Lok Sabha from the Chhindwara constituency -- the parliamentary seat he has been representing for nine consecutive decisions.
In his nearly four-decade-long legislative experience, Nath has been part of four Congress-led governments at the Centre.
In the UPA years, he held the key portfolios of Commerce & Industry, Road Transport & Highways, Urban Development, Petroleum & Natural Gas and Parliamentary Affairs.
In 2014, when the Narendra Modi wave swept across Madhya Pradesh, Nath was among the only two Congress MPs who were re-elected to the Lok Sabha from the state.
In August 2018, Nath was assigned the charge of Madhya Pradesh Congress Committee -- in a bid to resolve the differences within various factions of the party, reportedly represented by Scindia, Arun Yadav, Ajay Singh and Digvijay Singh.