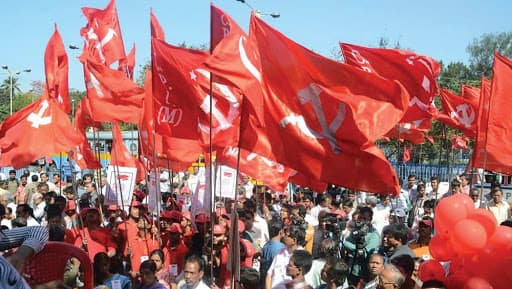 Kolkata, March 15: The Left Front Committee on Friday released their first list of 25 candidates for West Bengal for the upcoming Lok Sabha Elections. Thought they have earlier mentioned that Mohammad Salim and Badaruddoza Khan to contest from Raiganj and Murshidabad respectively, names of 23 others cited in the newly released list.
As per the circular released by the Left Front Committee in Kolkata, Nepaldev Bhattacharya would contest from the DumDum seat, while Dr Fuad Halim would be contesting from Diamond Harbour. The list also points out that Nandini Mukherjee would be fighting from Kolkata Dakshin and Maksuda Khathun would contest from Uluberia seat. West Bengal Lok Sabha Elections 2019 Dates: Constituency-Wise Complete Schedule Of Voting And Results For General Elections.
Informing more about the declaration of candidates, the Left Front stated that they would soon release the names of other candidates, which would be jointly contested with Congress in the alliance. However, the segregation of seats have still not been finalised between the Left Front and Congress, it is expected that Congress might ask for 15 seats in the remaining 17 constituencies.
#Vote4Left pic.twitter.com/lUwguHX4Tx

— CPI(M) WEST BENGAL (@CPIM_WESTBENGAL) March 15, 2019
Left Front Committee's First List of Candidates for West Bengal
Sl No. 
Constinuency 
Candidate
Party
1
Cooch Behar (SC)
Govind Roy
AIFB
2
Alipurduars (ST)
Mili Oraon
AIFB
3
Jalpaiguri (SC)
Bhagirath Roy
CPI(M)
4
Raiganj
Mohammad Salim
CPI(M)
5
Balurghat
Ronen Barman
RSP
6
Murshidabad
Badaruddoza Khan
CPI(M)
7
Ranaghat (SC)
Rama Biswas
CPI(M)
8
Bangaon
Alokesh Das
CPI(M)
9
Dum Dum
Nepaldeb Bhattacharya
CPI(M)
10
Barasat
Haripad Biswas
AIFB
11
Basirhat
Pallab Sengupta
CPI
12
Jaynagar
Subhash Naskar
CPI
13
Diamond Harbour
Dr Fuad Halim
CPI(M)
14
Jadavpur
Bikasranjan Bhattacharya
CPI(M)
15
Kolkata Dakshin
Nandini Mukherjee
CPI(M)
16
Uluberia
Maksuda Khatun
CPI(M)
17
Hooghly
Pradip Saha
CPI(M)
18
Arambag (SC)
Shaktimohan Mallick
CPI(M)
19
Ghatal
Tapan Ganguly
CPI
20
Medinipur
Biplob Bhatt
CPI
21
Purulia
Bir Singh Mahato
AIFB
22
Bishnupur (SC)
Sunil Khan
CPI(M)
23
Bardhaman Purba (SC)
Iswarchandra Das
CPI(M)
24
Bardhaman - Durgapur
Abhas Roychowdhary
CPI(M)
25
Birbhum
Dr Rezaul Karim
CPI(M)
As per the Election Commission's announcement on March 10, there would be seven phases of polls in the state, with ample security deployed to ensure peaceful elections. The polls would be conducted on April's 11, 18, 23, 29 and May's 6, 12, 19 in the state. The results of the Lok Sabha elections would be announced on May 23.