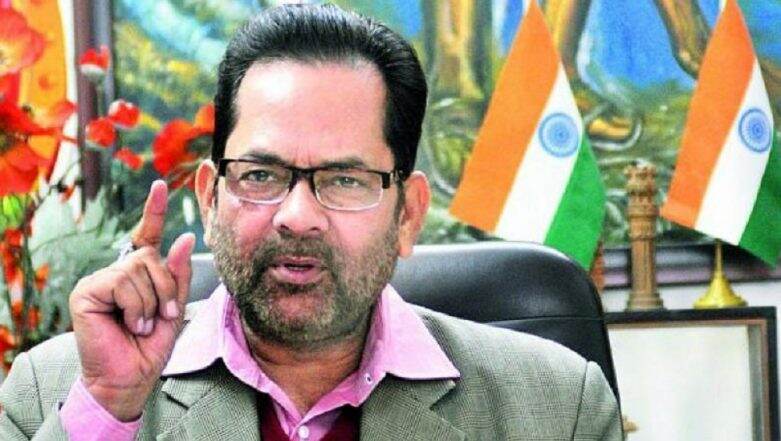 New Delhi, January 21: Reacting sharply to the starling claims made by US-based expert Syed Shuja at the "EVM hackathon" event held in London on Monday, Union Minister Mukhtar Abbas Naqvi said the programme was a ploy of the Opposition Congress to "not only defame" Prime Minister Narendra Modi, but also "the democratic institutions of India".
Referring to Shuja Syed as a "Congress freelancer", Naqvi alleged the grand old party has formed a network of such functionaries who lambaste the BJP in the international media without any credible basis. '2014 Lok Sabha Elections Were Rigged...Gopinath Munde Was Murdered as He Knew About It', Says US-Based Expert Syed Shuja.
"Congress has a lot of freelancers, who sometimes reach even Pakistan to take help for removing Modi ji. They are making a hacking horror show of their possible defeat in the upcoming elections," Naqvi said, claiming that the Opposition has "already decided" to shift the onus on EVMs for their possible rout in the 2019 Lok Sabha elections.
Naqvi, who holds the Minority Affairs charge in the BJP-led NDA government at the Centre, said senior Congress leader Kapil Sibal should explain whether he went to the hackathon event on his own decision, or was "ordered by the party high command" to attend.
MA Naqvi: Kapil Sibal didn't go by accident. He was sent by Congress, by Rahul Gandhi&Sonia Gandhi.Jin logon ko bhi desh aur desh ki loktantrik vyavastha ko badnaam karne ki supari di gayi hai,us supari ko lekar yaha se koi dakiya to jaana chahiye na. Two wo dakiya bheja gaya hai https://t.co/TtMEbzcYyu

— ANI (@ANI) January 21, 2019
"Whenever they (Gandhi family) give a contract to foreign hands to defame the democratic setup of this nation, they also send a messenger to deliver the instructions," the Minister added.
At the hackathon event, Shuja demonstrated before the gathering how the electronic voting machines used by the Election Commission of India (ECI) could be "hacked". He alleged that at least 201 seats in the 2019 Lok Sabha polls were won by the BJP after "tampering with the EVMs".
The expert further claimed that the then Union Minister Gopinath Munde was "assassinated" in June 2014 as he was about to "expose" the BJP after he learnt about the alleged rigging of EVMs in the parliamentary polls.