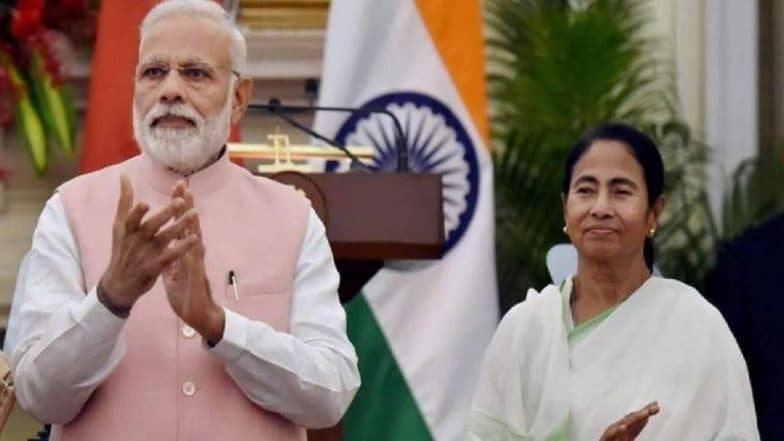 Kolkata, September 16: West Bengal Chief Minister Mamata Banerjee, one of the most fierce critics of the BJP-led dispensation at the Centre, will meet Prime Minister Narendra Modi on Wednesday. An official statement on the proposed discussions during the official meeting in Delhi is yet to be released. Sources privy to the matter have told reporters that one of the subjects which Mamata will raise with Modi is that of changing the state's name. Mamata Banerjee Takes Swipe at Modi Government Over NRC Exercise.
The TMC government in West Bengal has reiterated its resolve to rename the state from West Bengal to "Bangla". A party delegation led by senior Trinamool leader Sudip Bandyopadhyay had petitioned the Centre earlier this year seeking nod for the proposal to change Bengal's name.
The central government, however, had not issued the assent then. Several BJP leaders have marked their apprehension over the proposal, claiming that changing the name would erase the history associated with the "painful partition of Bengal".
Apart from renaming the state, other major issues are likely to be discussed in the meeting includes the financial condition of Bengal, funding to key projects including MNREGA and Bengal's intended takeover of the Dunlop factory.
The meeting also comes in the backdrop of Mamata's scathing criticism of the government's NRC drive in Assam and the passage of amended Motor Vehicles Act (MVA), which has exponentially increased fines on traffic rule violations. Both of them would not be implemented in Bengal, she reiterated last week.