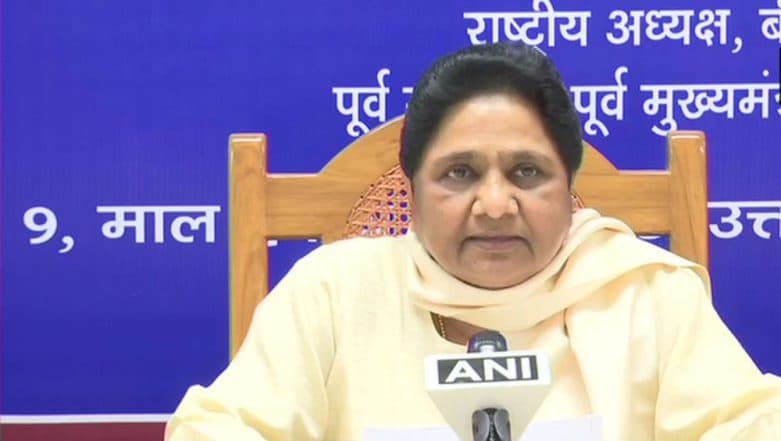 Lucknow, May 14: BSP Chief Mayawati on Tuesday continued her attack on Prime Minister Narendra Modi and accused BJP of not fulfilling election promises while asserting that even RSS has stopped supporting the party fearing public backlash. Lok Sabha Elections 2019: Mayawati Attacks Narendra Modi on His Marriage, Says 'Women in BJP Are Scared of Their Husbands Meeting the Prime Minister'.
Speaking to ANI, Mayawati said, "It is known to everyone now that Prime Minister Narendra Modi led government is losing. It is evident from the fact that even RSS has left supporting them. Owing to public anger over non-fulfillment of poll-promises, RSS workers are not visible to us campaigning for BJP anywhere. Because of this, Prime Minister Narendra Modi is nervous and facing a hard time." Mayawati, PM Modi Spar Over Alwar Gangrape Case: BSP Chief Asks 'How Can He Respect Others' Sisters, Wives After Leaving His Own?'
"During a ban on a candidate for violating Model Code of Conduct (MCC), if they go to a public place or offer prayers at a temple and it is widely covered by media. This practice must also be banned. Election Commission should take action on it," she demanded of the poll body. Congress General Secretary Priyanka Gandhi Vadra and Madhya Pradesh Chief Minister Kamal Nath offered prayers at the Mahakaleshwar Temple in Ujjain on Sunday.
The last phase of polling will be held on May 19 and results will be declared on May 23. Uttar Pradesh is voting in all the seven phases of Lok Sabha Elections 2019, with only the last phase of polling pending. The SP and BSP, who were arch rivals for a long time, are fighting the 2019 General Elections together and their alliance is known as "Gathbandhan. (With Agency Inputs)