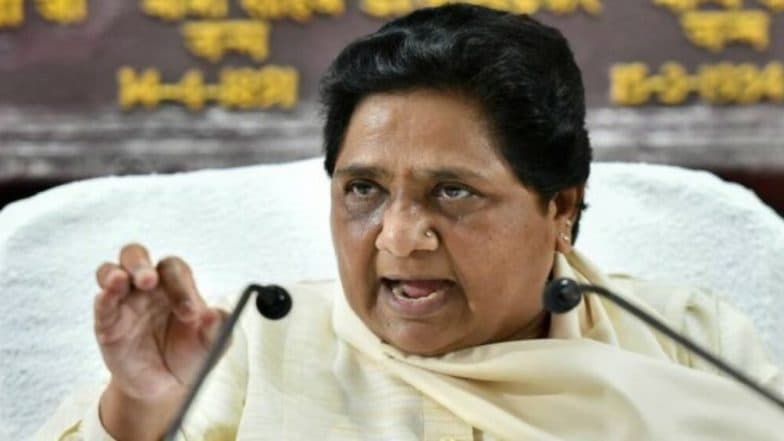 New Delhi, August 26: Bahujan Samaj Party (BSP) chief Mayawati on Monday defended her party's decision to support abrogation of Article 370 which gave special powers to Jammu and Kashmir, and slammed the Congress and other opposition leaders for their visit to the troubled state. In a series of tweets, Mayawati said the Opposition played into the hands of the Modi government with their attempt to visit Jammu and Kashmir.
"Baba Saheb Dr BR Ambedkar has always been in favour of equality, unity and integrity of the country. Therefore, he was not in favour of the provision of Article 370 in Jammu and Kashmir. So, BSP supported the removal of Article 370 in Parliament," Mayawati tweeted in Hindi. The BSP chief further said the normalcy will take some time to reach Jammu and Kashmir. "We better should wait. The Supreme Court also said this," she tweeted. Jammu and Kashmir State Flag Removed From Civil Secretariat Building, Only Tricolour Seen.
Taking on the Opposition, Mayawati said their visit to Jammu and Kashmir after the state lost its special status under Article 370 let the Modi government play politics on the issue. "Doesn't the recent visit of the Congress and other opposition parties to Kashmir without permission act as a chance for the Centre and Jammu and Kashmir Governor to politicise the issue," she asked.
Mayawati's Tweets on Opposition's Visit to Jammu and Kashmir:
2. लेकिन देश में संविधान लागू होने के लगभग 69 वर्षों के उपरान्त इस धारा 370 की समाप्ति के बाद अब वहाँ पर हालात सामान्य होने में थोड़ा समय अवश्य ही लगेगा। इसका थोड़ा इंतजार किया जाए तो बेहतर है, जिसको माननीय कोर्ट ने भी माना है।

— Mayawati (@Mayawati) August 26, 2019
3. ऐसे में अभी हाल ही में बिना अनुमति के कांग्रेस व अन्य पार्टियों के नेताओं का कश्मीर जाना क्या केन्द्र व वहां के गवर्नर को राजनीति करने का मौका देने जैसा इनका यह कदम नहीं है? वहाँ पर जाने से पहले इस पर भी थोड़ा विचार कर लिया जाता, तो यह उचित होता।

— Mayawati (@Mayawati) August 26, 2019
A delegation of 12 leaders, including Rahul Gandhi, was detained soon after it landed at the Srinagar airport on August 24. According to Congress leaders, the delegation wanted to visit the Valley to take stock of the situation. The Valley has been placed under security lockdown since August 5, when Article 370 was abrogated. Following their unsuccessful visit, Rahul Gandhi said the situation in the state was not normal. Rahul Gandhi Tries to Convince Srinagar Airport Officials to Let Him Step Out, Meet People in Jammu and Kashmir; Watch Video.
Rahul Gandhi told reporters that a few days back he was invited by the Governor to visit J&K and that he had accepted his invitation. "We wanted to get a sense of what people are going through, but we were not allowed beyond the airport", he said. Hitting out at the government, the Congress leader said, "Press people with us were badly handled and beaten. It is clear that the situation in Jammu and Kashmir is not normal."