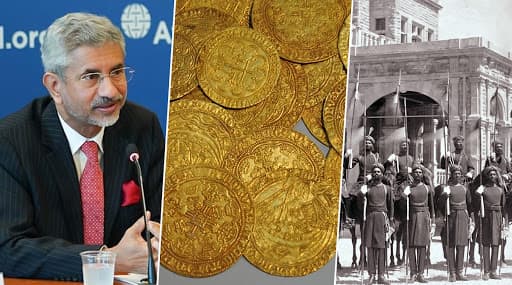 New Delhi, October 3: Union Minister for External Affairs S Jaishankar on Thursday made a controversial claim that British took USD 45 trillion -- in current monetary value -- from India during the colonial rule. He further asserted that during the British rule, India suffered "humiliation" for two centuries.
Expressing his opinion while delivering an address at noted think tank Atlantic Council in Washington on Tuesday, he said, as Economic Times quoted: "India had two centuries of humiliation by the West in its predatory form it came to India in the mid-18th century. An economic study tried to estimate how much British took out of India, it ended up at a number of $45 trillion in today's value." 'Mahatma Gandhi Would Have Liked Indians to Focus on Tackling Issue of Climate Change', Says MEA S Jaishankar.
The MEA made a special mention about managing the Indo-US divergences over India's approaches to Iran and Russia. Calling this as a major challenge before the Indian government, Jaishankar said: "If we are to move in this direction is, one, of course, to strengthen our convergences and there are issues today, very obvious issues to work together, issues like counter-terrorism, issues like maritime security, issues like connectivity. But there will also be divergences, and I think part of the challenge would be to manage those. A lot of those would arise in third-country situations like Russia or Iran."
Stating the "global rebalancing" of political and economic power is underway, the Union Minister was of the opinion that for "New India" all the countries in the West needs to recognize and accept the growing influence of developing countries. He also stated that to maintain the balance "the West needs India, but India also needs the West". The MEA also said that G20 countries' importance is growing in the global geopolitics, and soon broader prospects would be considered by Western countries too.