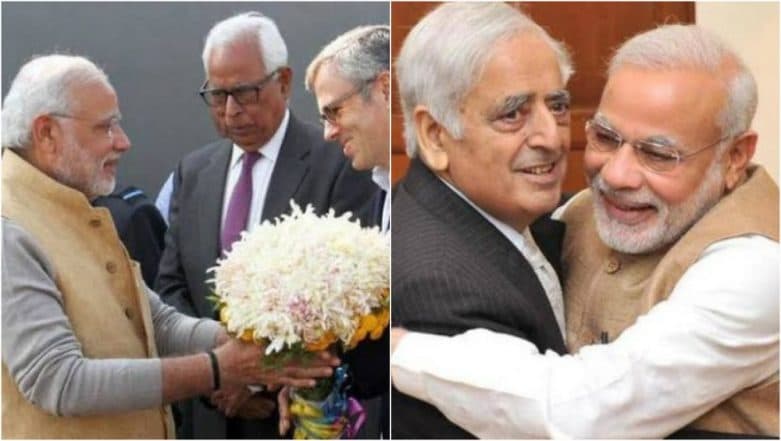 Srinagar, April 14: Former Jammu & Kashmir chief ministers Omar Abdullah and Mehbooba Mufti launched a stinging counter after Prime Minister Narendra Modi levelled "anti-India" charge against the "two dynasties". Both of them tweeted old photos of the Prime Minister, apart from issuing a pointed-rebuttal on social media.
The two leaders asked the PM why the BJP has formed coalitions with both - the National Conference (NC) and the People's Democratic Party (PDP) - to form governments in the state in the past. India Called Pakistan's Bluff with Air Strikes, Says PM Narendra Modi.
Modi, while addressing a rally Kathua, said he would rid J&K of the "Abdullahs and Muftis", holding them squarely responsible for ruining the lives of "three generations" of the state's population.
Levelling anti-India charge against them, Modi said the two families want to "divide the nation" and "suck the blood" of J&K to remain in power. "But I will never allow them to divide India. I will take on their entire family, but will not allow them to punish Jammu & Kashmir anymore," he said.
Omar, Mehbooba Hit Back With Old Photos:
Exhibit B. Modi ji looks thrilled to be greeted by a dynast. pic.twitter.com/qJbKlKGyjn

— Mehbooba Mufti (@MehboobaMufti) April 14, 2019
Notably, the BJP had aligned with NC in 1999 to form the government, and with the PDP in 2014, following the assembly elections in the frontier state.
Mehbooba, further taking to to Twitter, said the primary agenda of the BJP is to abolish Article 370 and target the minorities across the nation.
"I for once have never lowered political discourse by abusing opponents inc BJP. In order to gain sympathy & consequently power, PM is misleading people by equating himself with the nation. Every Indian owes his allegiance to India not PM Modi. India is not Modi & Modi isn't India (sic)," she said.