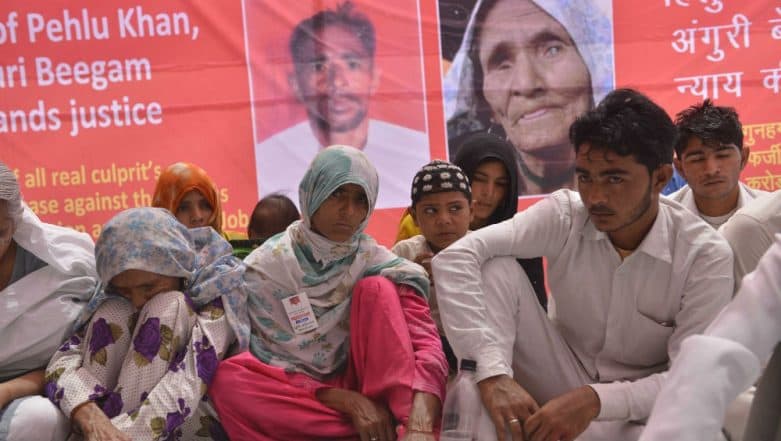 Alwar, June 29: The Rajasthan Police on Saturday clarified that Pehlu Khan, who was lynched by cow vigilantes in Alwar in April 2017, was not named in a chargesheet filed in connection with a cow-smuggling case. Anil Paris Deshmukh, Superintendent of Police, Alwar, said Pehlu Khan's name was removed from the chargesheet after he died. The police, however, maintained that Khan was booked for allegedly transporting cows without permission.
"The chargesheet was accepted by the court on May 24 against three persons under the Rajasthan Bovine Animal Act. Since Pehlu Khan has died, he has not been chargesheeted," Deshmukh was quoted as saying. Khan, a dairy farmer, was lynched by a mob on the Jaipur-Delhi Highway in Alwar in April 2017 when he and his sons were bringing cattle bought from a fair in Jaipur to their home in Haryana's Nuh. Alwar Lynching Case: Pehlu Khan's Sons, Witnesses Attacked While Going to Testify.
"A section of media reported than chargesheet was filed against Pehlu Khan even when he died. It's incorrect," the SP added. However, Khan's name was mentioned in a summary of the case in the chargesheet, and he was among those booked under the state's anti-cow smuggling law. The document mentions his name in the column of accused who are "not chargesheeted", news agency PTI reported. Alwar Lynching Case: I Urge Muslims of Rajasthan to Stop Supporting Congress, Says Owaisi.
Khan, his sons Irshad Khan (25) Aarif Khan (22) and truck operator Khan Mohammad were charged under the Rajasthan Bovine Animal (Prohibition of Temporary Migration or Export) Act, 1995. The Rajasthan Police arrested seven men and detained two minors for the attack. At the same time, a case was also registered against Pehlu Khan and his companions. Police had then booked 16 people for illegally transporting 36 animals in six vehicles.
A political controversy erupted after a news report claimed that Khan was chargesheeted. Reacting to the report, All India Majlis-e-Ittehadul Muslimeen (AIMIM) chief Asaduddin Owaisi called Congress a "replica of BJP" and urged Muslims in Rajasthan to stop supporting the party.
Rajasthan Chief Minister Ashok Gehlot initially distanced himself from any role in the investigation. "Investigation into the case was done during the BJP rule. If any discrepancy is found, we will get the case re-investigated," he added. Later, the Chief Minister said that Khan had not been indicted.