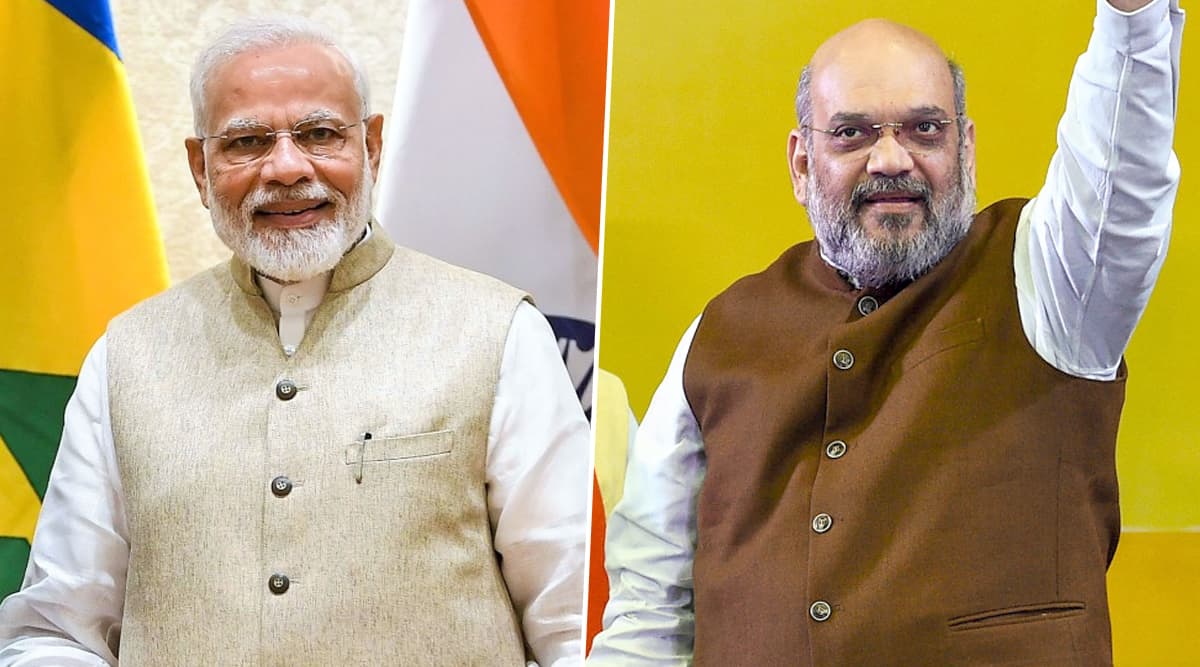 New Delhi, October 22: Prime Minister Narendra Modi on Tuesday wished Amit Shah on his 55th birthday. PM Modi took to Twitter to extend his greetings to the Home Minister. In his tweet, the Prime Minister prayed for Shah's long life and good health. Lauding the Home Minister's contribution in nation-building, PM Modi said that Shah is playing an important role in uniting the country. Amit Shah Gets Clean Chit Over Alleged Violation of Model Code of Conduct During Election Rally in West Bengal.
Tagging the Home Minister in his tweet, PM Modi termed Shah as a dedicated and experienced member of the party. In his tweet, he said, "Heartiest greetings to dedicated, experienced, skilled party member on his birthday. Amit Shah not only playing an important role in the central government but also has been contributing a lot in uniting the country. May God bless him with a long and healthy life." Amit Shah, JP Nadda Sweep Floor in AIIMS As Part of Seva Saptah Campaign Launched by BJP To Celebrate PM Modi's Birthday.
PM Modi's Tweet:
कर्मठ, अनुभवी, कुशल संगठनकर्ता एवं मंत्रिमंडल में मेरे सहयोगी अमित शाह जी को जन्मदिन की ढेरों शुभकामनाएं। सरकार में बहुमूल्य भूमिका निभाने के साथ ही वे भारत को सशक्त और सुरक्षित करने में भी महत्वपूर्ण योगदान दे रहे हैं। ईश्वर उन्हें दीर्घायु करे और सदा स्वस्थ रखे। @AmitShah

— Narendra Modi (@narendramodi) October 22, 2019
Home Minister Shah turned 55 today. He was elected to the Lower House of Parliament the Lok Sabha in 2019 from Gandhinagar. Shah was first elected in Gujarat as the MLA in 1997. After the Bharatiya Janata Party had won the 73 seats out of 80 in Uttar Pradesh in 2014 Lok Sabha elections, Shah rose to prominence and was appointed as the party's national president in July 2014. Shah started his political career as a leader of the student wing of the RSS, the Akhil Bharatiya Vidyarthi Parishad. He also served as a minister during Narendra Modi's tenure as Gujarat Chief Minister.