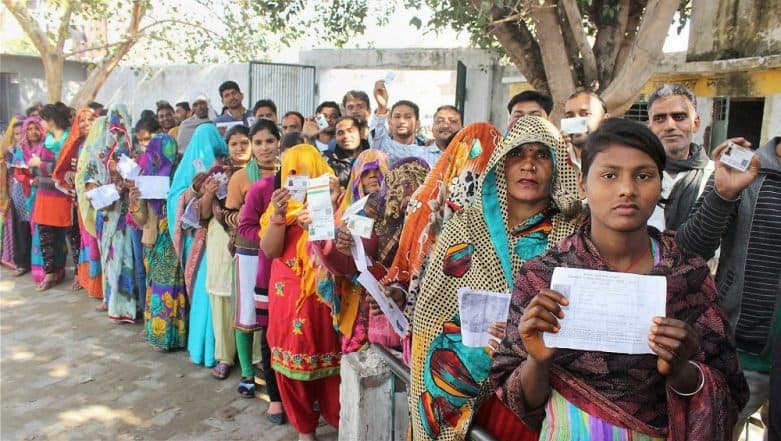 Jaipur, January 1: The assembly bypolls in Ramgarh constituency of Rajasthan will be held on January 28, 2019, the Election Commission of India (ECI) announced on Tuesday. The by-election has been necessitated as the seat was not contested in the state-wide assembly polls held on December 7 last year. The death of one of the candidates in the fray had led to the deferment.
Ahead of the assembly elections 2018, BSP candidate Laxman Singh suffered a shock demise. On November 29 last year -- nine days before the polls -- Singh died of heart attack. As per the Code of Conduct, the polling body decided to postpone the elections. Gyandev Ahuja Resigns From BJP After Being Denied Ticket From Ramgarh.
"Notification of the election will be issued on January 3. BSP candidate can file nomination paper from January 3 to January 10. Scrutiny will take place on January 11 and the last date of withdrawal of nomination is January 14," Chief electoral officer Anand Kumar said.
Polling will take place in Ramgarh Assembly constituency from 8 am to 5 pm on January 28, he added. The date of results was yet to be confirmed.
In the polls held on January 7, the Congress succeeded in returning to power by ousting the Vasundhara Raje-led BJP with a slim mandate. The party won 99 seats of the 199-assembly seats, whereas, its pre-election ally - Rashtriya Lok Dal (RLD) - bagged 1 constituency. The BJP was reduced to 73 seats.
Six MLAs of the BSP and 13 independent lawmakers also won the elections. They have extended support to the Ashok Gehlot-led government in the state.