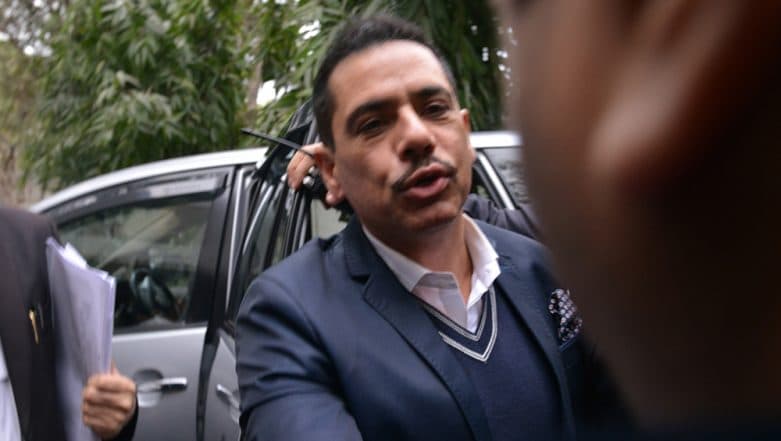 New Delhi, February 25: Congress leader Priyanka Gandhi's husband Robert Vadra has reacted to reports of him getting ready to take the political plunge. In a statement on Monday, Vadra said that while he will look into joining politics, that would happen only after he has absolved himself of corruption cases against him. He also said that he will work on making people believe that he can "make a change". Posters Welcoming Robert Vadra to Contest 2019 Lok Sabha Elections From Moradabad Constituency Seen a Day After He Hints Joining Politics.
"First, I need to absolve from baseless accusations and allegations. But yes, I will start working on it. There is no hurry. People need to feel that I can make a change... All in time," Vadra said while speaking to ANI.
Vadra's statement came after posters emerged in Uttar Pradesh welcoming Vadra to fight Lok Sabha Elections 2019 from the Moradabad constituency. "You are welcome to fight elections from Moradabad," the posters said.
The posters emerged after Vadra hinted that he would like to join politics by writing on his Facebook post that, "I should dedicate a larger role in serving the people(sic)."
On Sunday, February 24, Vadra, in a long Facebook post alleged that different governments for a decade have tried to malign him "in order to divert people's attention from real issues." He ended his long post with the message, "once all these accusations n allegations are over, I feel I should dedicate a larger role in serving the people(sic)." Robert Vadra Moves Court Seeking Stay on ED Interrogation.
Robert Vadra, who has been facing questioning by the Enforcement Directorate in connection to corruption cases, talked about the ongoing questioning. "Now with my visits to the Enforcement Directorate in Delhi n Rajasthan, almost 8 visits, of many hours and since I have always adhered to rules n surely not above the law, I have been a person to learn from every event I go through(sic)," wrote Vadra in his post.