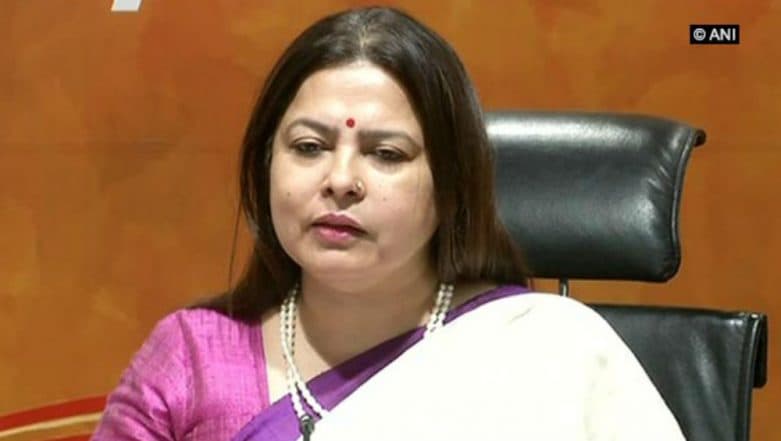 New Delhi, January 4: Bharatiya Janata Party parliamentarian from Delhi Meenakshi Lekhi on Friday made a controversial statement in Lok Sabha, stating that Chief Minister Pinarayi Vijayan-led LDF government is responsible for the clash in Kerala and not the right-wing workers. She accused the Kerala Police escorted the two women, 'dressed as transgender', to the inner sanctum of Sabarimala temple which sparked the anger among the devotees on Thursday.
Speaking at the Winter Session of the Parliament, Lekhi said, "If there is one person who has converted it into a clash zone, it is Mr Vijayan (Kerala CM). Mahilaon ko 'hijra' banakar lekar jana raat ko 1 baje, agar woh bhakt mahila thi toh din mein aana chahiye tha, lekin raat ko yeh karwahi ki gayi (Women were dressed like transgender and escorted at 1 am. If they were real devotees, they would have come in the daylight, but the incident happened in the night).  Sabarimala Temple Row: 46-Year-Old Sri Lankan Woman Walks 18 'Holy Steps' of Lord Ayyappa Temple, Denied Entry Into Inner Sanctum.
Earlier, BJP leader V Muraleedharan on Thursday alleged that the two women entered Sabarimala Temple were not devotees but Maoists. He had alleged the women were selected by the CPM-led government, which prepared an action plan for the women to inside the temple.
Speaking to a reporter on Friday, he said, "Yesterday two women entered Sabarimala Temple. They weren't devotees. They were Maoists. CPM with selected police officers prepared an action plan and then saw to it that the women go inside the temple. This is a planned conspiracy by Maoists in league with Kerala government and CPM."
Facing flak for the law and order situation of the state, Kerala CM Pinarayi Vijayan infirmed that the police have arrested two CPIM workers under sections 302 and 307 for the death of Sabarimala Karma Samiti worker Chandran Unnithan at Pandalam. Also, three SDPI workers were arrested in connection with the attack on BJP workers in Thrissur on Thursday.
Pro-Hindu activists had called for a state-wide hartal on Thursday against two women entering the inner sanctum of holy Lord Ayyappa shrine at Sabarimala in Pathanamthitta district of Kerala. Violent protests were observed all through the day.