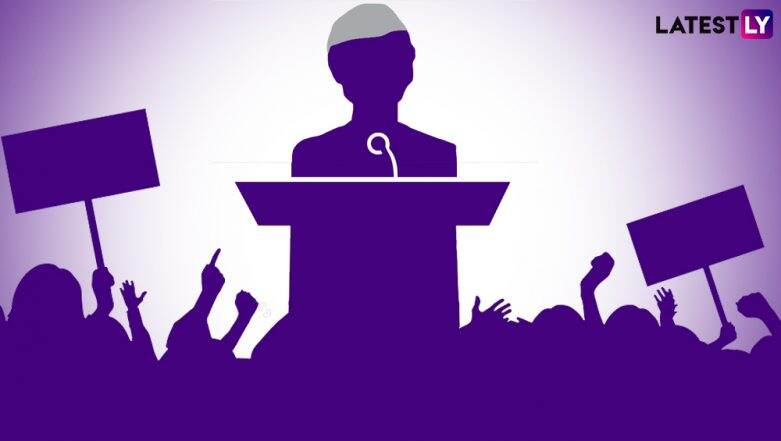 Voting for the Lok Sabha Elections 2019 is set to begin in a few days from now. Ahead of General Elections, campaigning by candidates of political parties are going all out against their opponents, making it a verbal battleground. From sexist slurs to name calling, from personal remarks to questioning each other's faith, from doubting nationalism to 'you're a Pakistani' declarations, it's all happening in the run-up to the Lok Sabha Polls, with the first phase of voting to be held on April 11. Rahul Ram's New Song 'Chunaav Ka Mahina' Steals the Show Among 2019 Lok Sabha Election Parodies on Social Media: Watch Video.
Politics seems to be touching a new low every day as the elections draw close. The most recent remark has come from Uttar Pradesh Chief Minister Yogi Adityanath who took a dig at Congress candidate from Saharanpur seat without naming him and called him Jaish-e-Mohammed (JeM) chief "Azhar Masood's son-in-law." "Saharanpur also has one son-in-law of Azhar Masood, who speaks in his language. You have to decide whether a person who speaks in Azhar Masood's language will win the polls or a BJP leader Raghav Lakhanpal will win the elections in Saharanpur," said Adityanath.
On Saturday, AIMIM chief Asaduddin Owaisi attacked Prime Minister Narendra Modi and Home Minister Rajnath Singh over Pulwama terror attack. "Indian Air Force dropped bombs in Balakot. On this issue, Amit Shah said 250 dead and Rajnath Singh said NTRO tapped 300 cell phones in Balakot. You can see that 300 cell phones were there in Balakot, but you could not see how 50 kg RDX was moved to Pulwama under your nose," Owaisi said while addressing a public meeting. "I want to ask Prime Minister Modi and Rajnath Singh whether they ate beef biryani and slept," he added.
What has made campaigning even worse is a series of sexist attacks by candidates. Uttar Pradesh BJP MLA Surendra Narayan Singh has been a repeat offender when it comes to sexist slurs. On March 24, when reports of Haryanvi singer-dancer Sapna Chaudhary joining the Congress were doing the rounds, Singh said, "Rahul ji ki Mata ji bhi Italy mein isi peshe se thi. Jaise aapke pitaji ne Sonia ji ko apna bana liya tha, aap bhi Sapna ko apna banaye. (Rahul Gandhi's mother was also in the same profession in Italy and how his father made her his own, he should also take the family tradition forward and make Sapna his own)." He added, "the best thing is both mother-in-law and daughter-in-law will be from the same profession."
Earlier, Singh also made a sexist comment against BSP supremo Mayawati. He said, "Mayawati ji khud roz facial karwati hain, vo kya humare neta ko kya shaukeen kahengi. Baal paka hua hai aur rangeen karwake ke aaj bhi apne aap ko Mayawati ji jawan saabit karti hain, 60 varsh umar ho gayi lekin sab baal kaale hain (Mayawati gets facial done every day, she can't cast aspersions on our leaders. She colours her hair and tries to prove herself young. She has turned 60 but her hair is all black)."
BJP MP Harish Dwivedi, too, when asked about Priyanka Gandhi's entry into active politics, said, "Priyanka Gandhi wears jeans and top in Delhi but turns up in a saree whenever she visits the people in her constituency in UP."
Congress netas are not far behind. When sexist jibes were being made against Priyanka Gandhi, the Congress responded with more sexism. Congress Minister from Madhya Pradesh Sajjan Singh Verma mocked BJP minister Hema Malini and said the BJP makes her dance for votes.
Not just sexist, there have also been personal attacks on the Prime Minister from the Congress party. When PM Modi attacked the Congress over dynasty politics in his blog, Congress leader Tariq Anwar responded saying, "A person who does not have a progeny cannot take the legacy of the dynasty forward. Modi Ji does not have a successor in the family, which is why he is making such comments."
These remarks are in addition to 'Pappu' and 'Chowkidar Chor Hai' attacks that have turned into an ugly war online. Elections are going to continue over the next two months. It only remains to be seen as to what level will politics stoop to and how low would candidates go for votes. Rahul Ram was right - 'Chunaav ka mahina, hai mach gaya shor'.