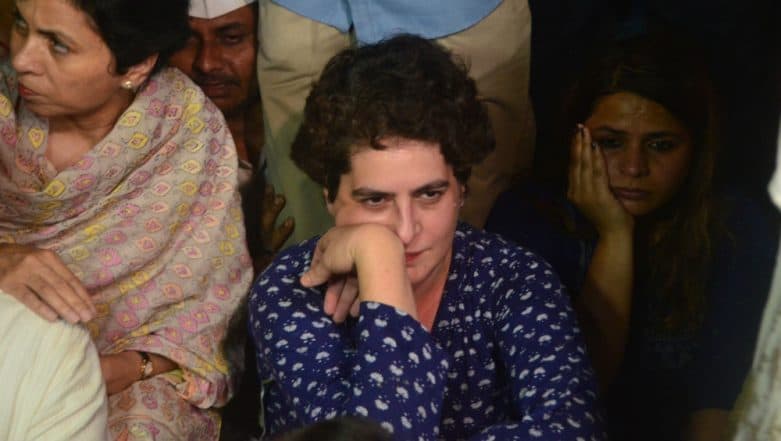 Lucknow, February 9: Ever since Congress president Rahul Gandhi announced that her sister Priyanka Gandhi Vadra would be the AICC General Secretary for East Uttar Pradesh two months before the 2019 Lok Sabha Elections, comments on Priyanka have been flying thick and thin. 'Priyanka Gandhi Is Beautiful But Holds No Political Achievement': Bihar BJP Minister Vinod Narayan Jha Makes Sexist Remark Against AICC General Secretary.
After a flew of sexist comments on Priyanka by BJP leaders, the latest to join the list is BJP Member of Parliament (MP) from UP's Basti. Subramanian Swamy's Shocker on Priyanka Gandhi: 'She is Bipolar, Beats People Up'.
Harish Dwivedi, MP from Basti Lok Sabha seat, was attending a  mass wedding programme at ITI college premises on Saturday. He was the guest of honour at the event. 'Priyanka Gandhi, Kareena Kapoor, Salman Khan...Congress Pinning Hope in Chocolatey Faces': BJP Leader Kailash Vijayavargiya's Fresh Shocker.
However, while talking to media persons, when the MP was asked about Priyanka's entry in active politics and its possible effect on Congress' fortunes in the all important state of UP, which sends  80 Lok Sabha MP's to the Parliament, Dwivedi said, "Priyanka Gandhi wears jeans and top in Delhi but turns up in a saree whenever she visits the people in her constituency in UP."
The BJP MP also took a dig at Priyanka's husband Robert Vadra, who is facing questioning by the Enforcement Directorate (ED) in an alleged money laundering case. The BJP MP said that the "whole world knows Congress is worried as one of their family members is facing questioning by the ED."
Dwivedi also refused to believe that Priyanka is a factor for the BJP and said that she will have no impact on voters in Uttar Pradesh or the country. "Priyanka will fail, just as Rahul has failed in politics," said the leader. The BJP MP said that BJP will emerge victorious in the upcoming 2019 Lok Sabha Elections because of Prime Minister Narendra Modi.