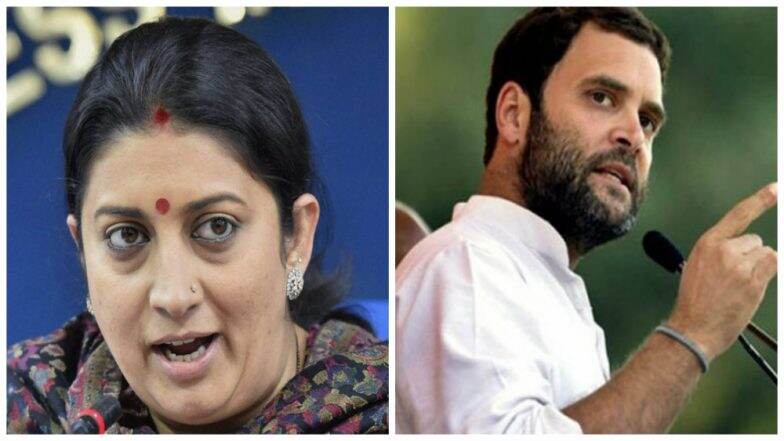 New Delhi, February 9: Union Minister of Textiles Smriti Irani, speaking to news agency ANI, took a leaf out of Prime Minister Narendra Modi's book in attacking the Gandhi family and called Priyanka Gandhi a "Namdaar." Irani also commented on Priyanka's entry in politics and said that "Priyanka Gandhi had to enter politics because of the work done by 'Kaamdaar'." 'Priyanka Gandhi Wears Jeans & Top in Delhi But Turns Up in a Saree Whenever She Visits Her Constituency', Says BJP MP Harish Dwivedi.
The Union minister came down heavily on Congress president Rahul Gandhi and said that, "I have heard this gentleman called Rahul Gandhi in the parliament". Irani said that Rahul Gandhi always promises to give money to people if they die." Smriti Irani Says, 'Will Quit Politics the Day Narendra Modi Decides to Hang His Boots'.
Smriti Irani, who contested against Rahul Gandhi from Amethi seat in the 2014 Lok Sabha elections, was at her vitriolic best and even accused the Congress President of not doing anything for the people of his constituency. "We all saw Congress president Rahul Gandhi running from pillar to post in Amethi five years back in 2014. However, the Kaamdar's (Rahul Gandhi's) work is so bad that Naamdar (Priyanka) had to enter politics.
"Rahul did nothing for his own constituency," quipped Smriti Irani and said that Rahul should not "show the country any dreams of development and advancement."
Smriti Irani also took a dig at UPA chairperson Sonia Gandhi's son-in-law Robert Vadra over the money laundering case. Robert Vadra left from Enforcement Directorate office earlier in the day after being questioned by the ED. Vadra was questioned for around 24 hours in the last three days by Enforcement Directorate (ED) in connection with a money laundering case.