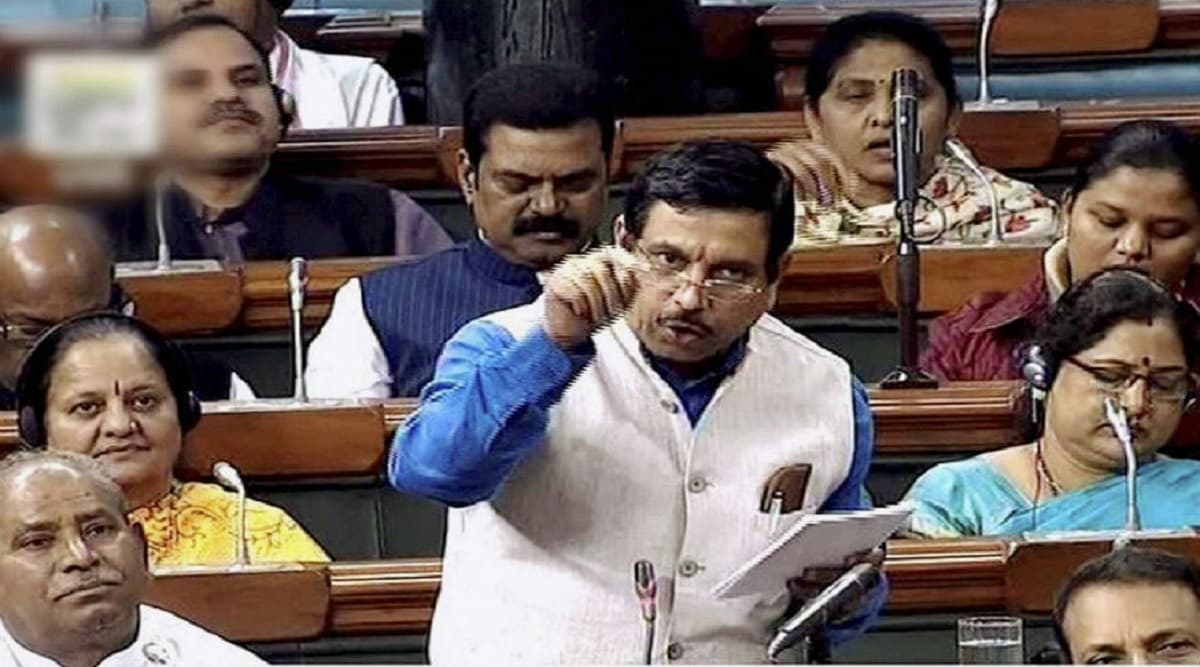 New Delhi, December 2: Amid the ongoing row over the Centre's proposed "nationwide NRC", Union Parliamentary Affairs Minister Prahlad Joshi called Congress chief Sonia Gandhi a "ghuspathiya (intruder)". His contentious remarks, in the Parliament, came a day after Congress Lok Sabha leader Adhir Ranjan Chowdhury used the same derogatory word against Prime Minister Narendra Modi and Union Home Minister Amit Shah.
Joshi, while addressing the House, said Chowdhury's remarks should be condemned by all lawmakers including the Congress MPs. The BJP demands Chowdhury to submit an apology or Congress president Sonia Gandhi and Rahul Gandhi should express regret.
"I condemn his (Congress MP Adhir Ranjan Chowdhury) statement. President of Congress party ghuspethia hai. If Congress has any sense he should apologise. Otherwise, I will demand that Sonia Gandhi and Rahul Gandhi apologise on his behalf," Joshi said.
Chowdhury Responds to Joshi's Remarks
Congress MP Adhir Ranjan Chowdhury in Lok Sabha: Yeh humare leader Sonia Gandhi ji ko ghuspethia keh rahe hain. Kya kar rahe ho aap(BJP) log? Agar mera leader hai (ghuspethia) toh apka leader bhi hai pic.twitter.com/yfbfSGg4vt

— ANI (@ANI) December 2, 2019
The controversy was sparked after Chowdhury, while speaking to reporters on Sunday, said the BJP is spearheading the "divisive" NRC project while their party president Amit Shah and PM Modi are both "intruders".
"India is for everyone. Is India anyone's (exclusive) property? Everyone has equal rights. Amit Shah and Narendra Modi themselves are intruders. Their home is in Gujarat but they have come to Delhi," the Berhampore MP had said.
Watch Video of Chowdhury's Contentious Remarks
#WATCH Congress leader Adhir Ranjan Chowdhury:.. Hindustan sab ke liye hai, ye Hindustan kisi ki jageer hai kya? Sabka samaan adhikaar hai. Amit Shah ji, Narendra Modi ji aap khud ghuspetiye hain. Ghar aapka Gujarat agaye Dilli, aap khud migrant hain. pic.twitter.com/zrCaSfPF7v

— ANI (@ANI) December 1, 2019
The NRC, which was implemented in Assam and ended up excluding over 19 lakh people from the official registry of citizens, has sparked concerns across the nation. The Centre has decided to conduct a nationwide NRC to identify the illegal immigrants. Shah, however, has attempted to allay the apprehensions claiming that the process is not intended to target any particular community. "This will be a just and impartial process. No legal citizen of India should be worried," he had said.