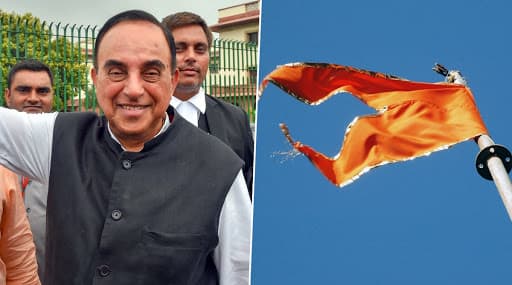 New Delhi, September 15: Bharatiya Janata Party Rajya Sabha parliamentarian Subramanian Swamy on Sunday sparked a controversy by stating that the fundamental rights of Hindus are above the property rights of the Muslims. Apart from this, he even claimed that the Supreme Court's decision would be in favour of the construction of the Ram mandir in November this year. Claiming to Be Descendants of Lord Ram, 5000 Raghuvanshi Community People Reach Ayodhya.
Expressing his opinion, Swamy said, as quoted by Indian Express, "The temple which is at the birthplace of Lord Ram cannot be removed. The fundamental right of Hindus to worship is above the property rights of Muslims, and I am confident that the Supreme Court will deliver its verdict in our favour in November." Adding on, he claimed, "The work of temple construction will begin after that."
Earlier, Swamy offered prayers at the makeshift Ram temple in Ayodhya to celebrate his 80th birthday and to meet prominent seers in his two-day visit. This is to be known that Chief Justice of India (CJI) Ranjan Gogoi's term is ending on November 17.
Reverting on the above quote of Swamy, Babri masjid convener Zafaryab Jilani said, as quoted by India Today, "He should avoid giving such statements in public as the Ayodhya title suit case is being heard daily in the top court. If the BJP leader has to express his views, he is free to approach the court." Ayodhya Case: Babri Masjid Was Not Built by Mughal Emperor Babur or in 1528, Claim Hindu Parties Before Supreme Court.
A five-judge constitution bench headed by Chief Justice of India Ranjan Gogoi and including Justices D Y Chandrachud, S A Bobde, Ashok Bhushan and S A Abdul Nazeer, is conducting a day-to-day hearing in the Ayodhya title dispute case after the mediation panel had failed to achieve an amicable settlement. The apex court is hearing appeals against the September 30, 2010 verdict of the Allahabad High Court in the case.