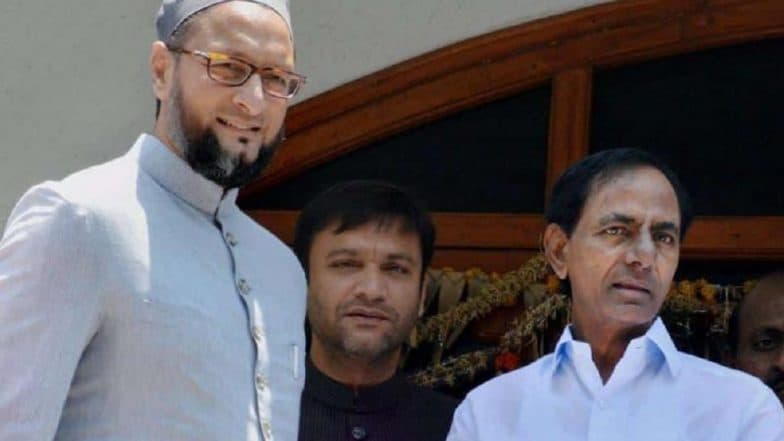 Hyderabad, March 12: In the biennial elections held for five seats of the Telangana Legislative Council, four members of the the Telangana Rashtra Samithi (TRS) were elected, whereas, the remaining 1 seat was bagged by its ally - the All India Majlis-e-Ittehadul Muslimeen (AIMIM). The polls were a no-contest, as the Opposition Congress had not fielded any of its nominee.
The four TRS members elected to the Legislative Council are: Seri Subhash Reddy, Yegge Mallesham, Satyavathi Rathod and Mohammed Mahmood Ali. Whereas, the AIMIM has sent its senior leader Mirza Riyaz Ul Hassan to the state's upper house. Congress Faces Jolt in Telangana Weeks Before Lok Sabha Elections 2019.
The MLC elections were boycotted by the Congress to protest the alleged "horse-trading" by TRS ahead of biennial polls. The decision was taken after 4 out of Congress' 19 MLAs jumped ship to Chief Minister K Chandrasekhar Rao's camp, along with 1 out of the two TDP legislators.
With their defections, the combined electoral strength of Congress-TDP combine was reduced to 16 -- in the 119-member assembly -- diminishing the prospects of getting its MLC elected in the biennial polls.
"KCR ji, who assumed office after swearing in as per Constitution, violated the oath of office and admitted Telugu Desam and Congress MLAs into the TRS in a brazen manner by adopting all illegal means," he told reporters.
"In protest against this, Congress is boycotting this MLC election so that Telangana people know the undemocratic, and anti-Constitutional, illegal actions being resorted to by the Chief Minister in this MLC election," Reddy had said.