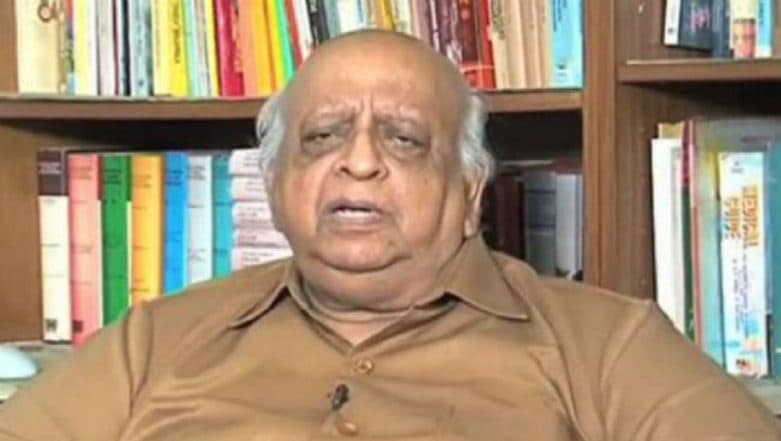 New Delhi, April 15: Former Chief Election Commissioner (CEC) TN Seshan is being actively recalled by a large section of Twitterati in India, where the crucial Lok Sabha elections 2019 is underway. The ex-CEC, who earned the tag of being the toughest poll body chief till date, had the reputation of taking on the tallest of politicians when it came to Model Code of Conduct (MCC) violation. TN Seshan Death News on WhatsApp is Fake! Former Chief Election Commissioner is Alive.
Why Twitterati is Remembering the Ex-CEC Now:
Seshan, who served as the CEC for 6 years between 1990-96, introduced some of the strictest poll reforms intended to create a level-playing field and curb electoral malpractices.
Voters recalling Seshan for his crackdown on criminalisation of politics is not a new phenomenon. The common populace has earlier too paid homages to him as and when cases of MCC violation emerged amid major polls.
The ex-CEC is now being recalled amid the alleged rampant use of communal sentiments, money and muscle power by leaders cutting across party lines.
Here is How Twitterati is Paying Homage to Seshan:
#India is really missing #TNSeshan this #LokSabhaElections2019 #AzamKhan #IndiaElections2019 #ModelCodeOfConduct #Mayawati pic.twitter.com/ld2OuZ1PsP

— Ravi Kant 🌻 रवि कांत (@LegalKant) April 15, 2019
Seshan Made EC Noticeable Worldwide:
How TN Seshan - the man who told the world that #ElectionCommissionOfIndia is something - made the things move in right direction?

— Chowkidar, RamRajya (@RndRam) April 15, 2019
Seshan Ensured Iron-Implementation of MCC
India should end the sham called "Model Code of Conduct" before election. Nobody gives a damn about it and EC like TN Seshan who could actually enforce it are not there anymore

— Joy (@Joydas) April 11, 2019
Following Measures Were Enacted by EC During Seshan Era:
Issuance of Voter IDs for all eligible voters

Limit on candidates expenditure in his/her election

Progressive and autonomous Election commission machinery. Drafted election officials from states other than the one facing polls.
Following Malpractices Were Cracked Down During Seshan's Tenure:
Bribing or intimidating voters

Distribution of liquor during elections.

Use of official machinery for campaigning.

Appealing to voters' caste or communal feelings.

Use of places of worship for campaigns.

Use of loudspeakers and high volume music without prior written permission.
Despite a section of the Twitterati registering their dissent against the current Election Commission, it is worth noting that the polling body is leaving no stone unturned to crackdown on the electoral malpractices.
The cash seizures made by the EC this year has doubled as compared to 2014, with over Rs 100 crore being confiscated in raids per day by the polling body.
The Commission has also acted against top politicians who violated the MCC during the campaign trail. For his "Ali vs Bajrangbali" remark, BJP leader Yogi Adityanath has been barred from campaigning for 72 hours, BSP chief Mayawati's Muslim outreach in Deoband rally has drawn a 48-hour ban, SP's Azam Khan has been shelved from campaign trail for three days for derogatory jibe allegedly against Jaya Prada, and Union Minister Maneka Gandhi handed a 48-hour ban for "no vote, no work" threat to Muslims.