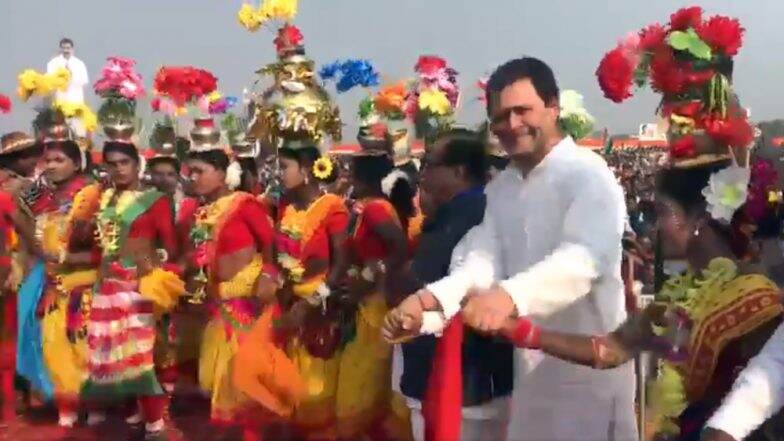 New Delhi, February 7: Congress president Rahul Gandhi, who was in Rourkela, Odisha, on Wednesday to address the Parivartan Sankalp Samavesh rally, took part in a tribal dance function where he was present as part of his itinerary. A video shows Rahul Gandhi joining the dancing group and taking part in the traditional dance form. #ApniBaatRahulKeSaath Video: Rahul Gandhi Interacts With Students At A Restaurant in Delhi; Is This Congress Answer to PM Modi's 'Mann Ki Baat' Ahead of Lok Sabha Polls?
Saurabh Rai of the INC shared a video of the Congress President dancing with the tribals. Rahul Gandhi also addressed a rally later, where he targeted Prime Minister Narendra Modi and the BJP. Gandhi called PM Narendra Modi a "jumla raja" (king of rhetoric) and his government a "chaupat sarkar" (failed government.) Congress Transition Post Sonia Gandhi: Priyanka Gandhi Vadra Gets Room at AICC Next to Rahul Gandhi.
Watch the Video of the Congress President's Dance With Tribals in Tweet Below:
#ParivartanSankalpSamavesh CP Sh.@RahulGandhi accompanies the Adivasi Guys and enjoyed the Traditional Dance. :)

What a Simplicity this Man has.

Fond and Proud of You RG. pic.twitter.com/8Iz1G9QIUp

— Saurabh Rai 🇮🇳 (@SaurabhRai_INC) February 6, 2019
The Congress President hit out at the Narendra Modi led Central government on the issue of unemployment and farmer distress. Manohar Parrikar Shifted to AIIMS After Rahul Gandhi's Visit; Goa Congress Sees Conspiracy.
Using Twitter to take a swipe at the prime minister, he tagged a media report on the unemployment situation in Uttar Pradesh, claiming that youth with even PhD degrees are applying for class IV jobs. Rahul Gandhi: 'Budget 2019 a Cruel Joke on Farmers...Voters Will Launch Surgical Strikes on Modi Govt'.
"Farmers do not get the right prices, the youth do not get the right jobs, in 'jumla raja's chaupat raj', no hard working person gets respect," the Congress chief said in a tweet in Hindi. The Congress chief has also attacked Modi for not providing adequate prices to farmers for their produce. (With agency Inputs)