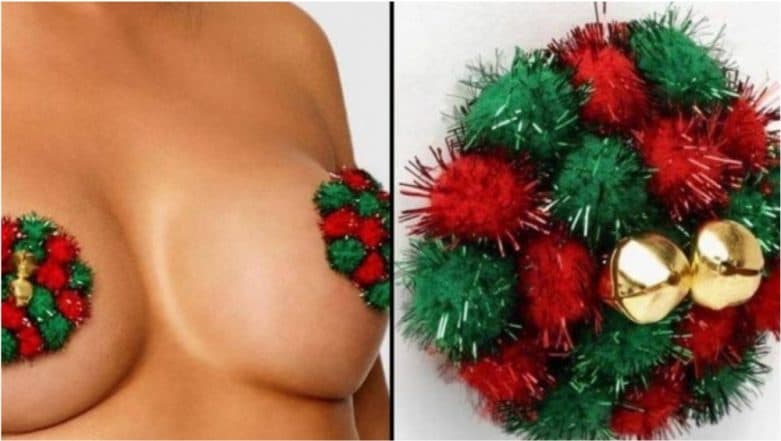 Christmas is a month away and this year you will not just be decorating the Christmas tree and your house, but you can also celebrate the festive spirit with this quirky yet bizarre fashion trend. If you think just wearing a Christmas-y outfit is not enough, you can adorn your nipples with Christmas accessories. Yes, you read that right. An online fashion store, Boohoo is selling green and red tinsel wreathes to cover them. Nipple decorations might just be the newest trend. Christmas Tree to McDonald's Arch Brows, 9 Eyebrow Trends in 2017 That Absolutely Didn't Make Sense.
The nipple wreathes are basically made with green and red sparkly pom poms and are finished with two tiny bells in the centre. If you are thinking who would buy these, you are wrong. The funky accessories priced at 4 pounds on Boohoo's website are already sold out. But Amazon is sharing almost identical pair at 8 dollars and with a whole bunch of other styles. Fancy Wearing Penis on Your Ears? YSL Launches Dick-Shaped Earrings & Pendant Worth More Than Rs. 50,000.
Christmas Nipple Wreathes
If you dare to bare this #festiveseason then you can as #fashion retailer @boohoo are now selling #Christmas wreath #nipple covers 😊 https://t.co/yf1oNewkKV pic.twitter.com/aETMPpW7SE

— Fashion.ie (@fashion_ie) November 10, 2018
The website reads: "Forget less is more, this season we're all for out-there hair, beauty and jewellery." One Twitter user wrote: "Boohoo is selling Christmas wreath nipple covers..stop the planet I want to get off. And another wrote: "The ideal Christmas present." If you do manage to get your hands on the product, Boohoo recommends testing out the product on the skin before wearing them. The retailer also recommends wearing the pasties for no more than eight hours. Well, this is not the first time, a bizarre beauty trend has got people talking. Last year, Christmas tree brows, beards and even hair-dos were quite popular among the folks.