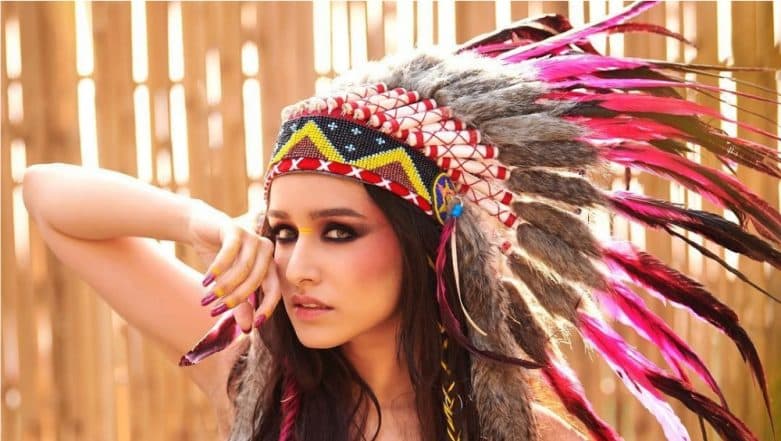 Dabboo Ratnani Calendar 2019 is creating buzz on the social media. Many celebs are featured on the 20th edition of the celeb calendar. Shraddha Kapoor being one of them, was seen in a rather different outfit for the date-book. The actress chose a Native American theme for the photo-shoot, with a headdress or a war bonnet on. However, Diet Sabya, an Instagram account who calls out on 'outfit mishaps', has called out on this particular picture terming it as 'cultural appropriation'. UK Brand 'Sera Ulger' Prints Image of Hindu Goddess on Swimsuits and Joggers, Accused of Cultural Appropriation.
An excerpt from a long note posted by the account holders read as, "According to our basic birthright source, Wikipedia, the wearing & displaying of such headdresses, and other 'indigenous traditional arts and sacred objects' by those who have not earned them — especially by non-Natives as fashion or costume — is considered extremely offensive by traditional Native people."
The post further says, "The 'controversy' is part of a wider effort by Native American activists to highlight the ongoing cultural genocide against indigenous peoples (especially in the United States and Canada). The stupid trend of musicians and festival-goers wearing warbonnets across festivals has led to criticism by Native Americans, apologies by non-Natives, and the banning of headdresses as costumes by several big-league music festivals."
Read The Full Post Posted by Diet Sabya Here:
They ended the note, slamming the photographer and the actress saying, "We thought this was common knowledge. Yet, we are here, talking about it being appropriated by a celebrity calendar." The followers flocked in to post their opinions on the same, most of them agreeing with the post.
Now according to Oxford Dictionaries, Cultural Appropriation is defined as: "The unacknowledged or inappropriate adoption of the customs, practices, ideas, etc. of one people or society by members of another and typically more dominant people or society." People might confuse cultural exchange as cultural appropriation. While cultural exchange denotes the understanding of the culture and customs before replicating it, cultural appropriation is about ignorance towards or mocking it.
This is not the first time that the Bollywood celebs have faced a culture appropriation controversy. Filmmaker Karan Johar too attracted flak for making fun of North East headgear on the sets of a reality show, India's Got Talent. He, however, apologised for hurting sentiments. Now, coming back to Shraddha's case, we wonder whether this was done out of ignorance or deliberation. Do you think Shraddha's this picture falls into the category of cultural appropriation? Tell us in the comments section below.