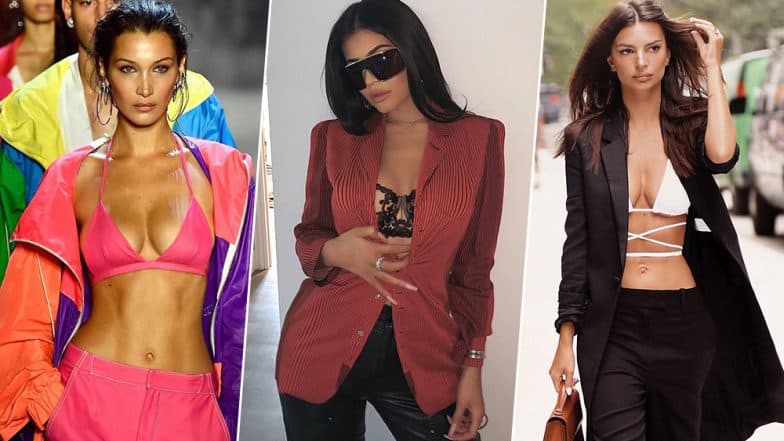 Emily Ratajkowski recently wore a bikini top from her brand as a top and put a blazer on top to make it look wearable. Crop tops came back from the 90s and took over the world. From strange, hip-length tops in the 2000s to tiny crop tops today. But now, crop tops are taking a drastic shift to just bras. That's right. Bras are the new crop tops. Supermodels and celebrities are pairing bras and bikini tops with blazers and cardigans and rocking them as tops. Emily Ratajkowski, Kylie Jenner, Bella Hadid, Kim Kardashian West, Hailey Bieber and the entire Hollywood has started following this trend. We're not complaining, keep doing it. It's straight-up FIRE! Kim Kardashian, Emily Ratajkowski Prove Sexy Short Hair is Still Trendy (View Pics).
Plunging bikini tops or bras worn as tops and made subtle with the help of a jacket. Emily Ratajkowski's latest outfit was jawdropping and we don't know if we've seen anything sexier than this. Kylie Jenner Gets Brutally Trolled for Her Recent Bootylicious Instagram Picture; Followers Call Her Out for Getting Butt Implants.
Emily Ratajkowski Wears Bikini Top as Top Under Her Pantsuit
View this post on Instagram
Emily wore a Las Olas Top from her own line. The trousers she wore are something new but they ruin the look. Sorry, Em, you almost nailed it.
Iskra Lawrence
View this post on Instagram
Iskra went for a sexier bra with lace detailing on it. She kept the bold and sexy theme going with an animal print blazer on the black bra.
Hailey Bieber
View this post on Instagram
Hailey also went with a bikini top like Emily. But Mrs Bieber's top looks a little more glam while Em's looked laid back and casual.
Bella Hadid
View this post on Instagram
Though Bella is walking the ramp, it shows us this trend is growing. For this to land on the runway, it means people are liking it.
Kylie Jenner
View this post on Instagram
Everything about this look is a huge, massive YASSS! Now, this is what we call slaying! Everything is coordinating. No clash of cute and sexy. Kylie keeps it sexy from head to toe. This might be the first time she's picked a decent outfit.
We totally love this bra as a top trend. Now, there will be a few criticising and slut-shaming these bold and confident ladies for their outfit choices, but please don't stop. This trend is one of the prettiest, chicest and sexiest thing to ever enter the fashion world.