Move over the 30s being the new 20s, because Jennifer Lopez is making the 50s uber sexy. Few months short of turning 50, JLo is turning up the heat in her latest photo shoot with Harper's Bazaar. As the cover girl of US magazine's February edition, Jennifer is oozing sex appeal. It is difficult to get your eyes off the diva as she makes a stunning appearance in a sexy red asymmetrical Gucci dress and it is just the beginning. The "Ain't Your Mama" singer looks smouldering hot as she slips into black bodysuits by Saint Lauren and Givenchy. BTW, it's just not Jennifer Lopez's age-defying incredible curves that are getting attention, but revelations about being a part of showbiz for 30 years, relationships and beau of two years, Alex Rodriguez, of course. Jennifer Lopez Wears Nothing But A Green Valentino Cape For Instyle Mag Cover And Flaunts Her Gorgeous Curves - View Pics.
"I feel very proud that I've survived as long as I have in this business. At this point in my life, I'm trying to give myself more credit," says JLo. She continues, 'It's hard when people are always telling you that you're not good at things or saying, "Why is she successful?" You get a lot of that when you're a successful woman. You don't get that as much when you're a man. The thing about people, women especially, is that you can have 12 people telling you you're amazing, but that one person kind of putting you down, that's the voice that sticks in your head…" It is so hard to believe that someone looking like this can also have her moment of insecurities. Woah! Jennifer Lopez Shows How to Flaunt a Sexy Thong With Formal Low-Cut Pants (See Pics).
Jennifer Lopez in Asymmetrical Gucci Dress 
Look at her powerful gaze on the cover of Harper's Bazaar February edition. Wearing an architectural Gucci dress with her soft curls falling on her shoulders, Jennifer Lopez will leave you mesmerised with her starry presence. The mother of two shared the cover pic on her Instagram handle, writing, "This moment in time, for women, this is kind of a revolution...an emotional, kind of spiritual revolution that's affecting the world. A storm that we're creating, kicking up a little bit of dust and letting people know that we're here to stay, and we understand our power, and our value, and our worth. And that's only going to grow...I don't ever want to be told I can't do anything that I want to do. I'm gonna do it." 💥"
For the editorials, Jennifer has donned two bodysuits and is looking freaking powerful. In the first one, she is wearing one with cut-out from Saint Laurent and leaping off a diving board. Harper's writes, "@jlo is (still) on top of the world." You bet. In the other one, she is standing tall in clothing by Chanel and Givenchy, Jimmy Choo footwear and diamonds from Tiffany & Co.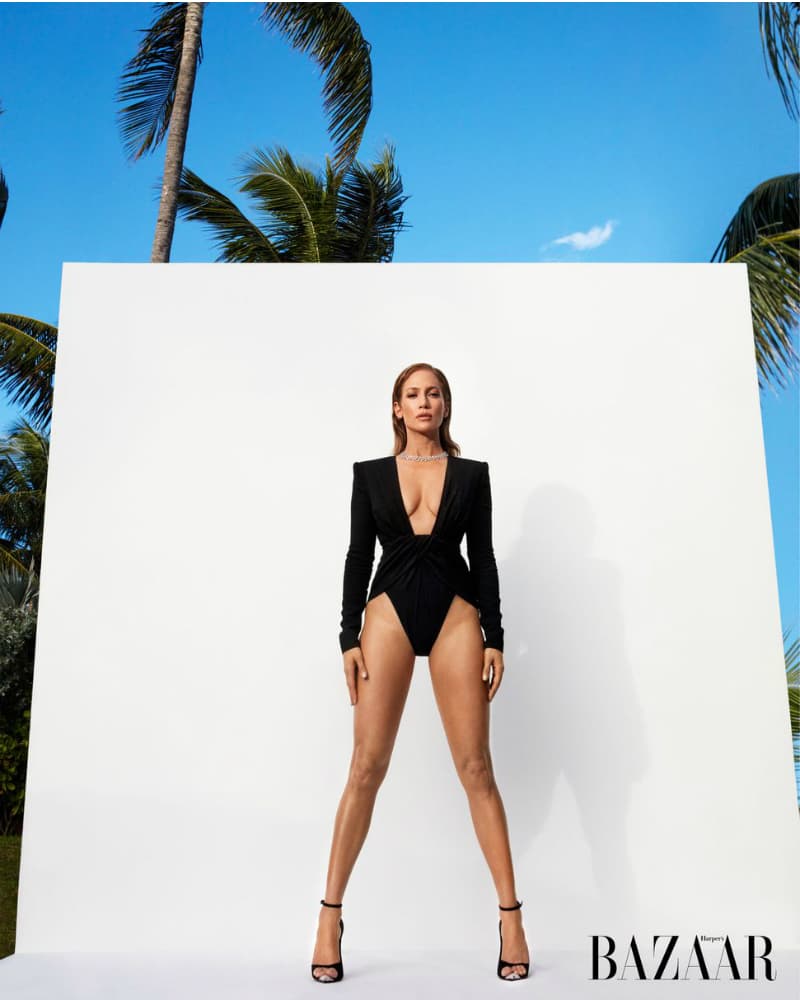 Styled by Patrick Mackie, Jennifer Lopez is every inch a diva. Showing off her incredible curves in a bodysuit that boasts of a plunging neckline and high-cut sides, Jen is an epitome of sensuality meets elegance. In her interview with the publication, she is quoted saying, "Sometimes I get tired. I get tired a lot. But I never think, 'I don't want to do this.' I just think I need a break." She adds how there is so much to accomplish, "I really feel like I have a lot left that I want to do. I don't know if I'll ever get to a point where I'll be satisfied and go, 'I did it. All of it. I'm done. I got nothing else to say.' I hope that day never comes."