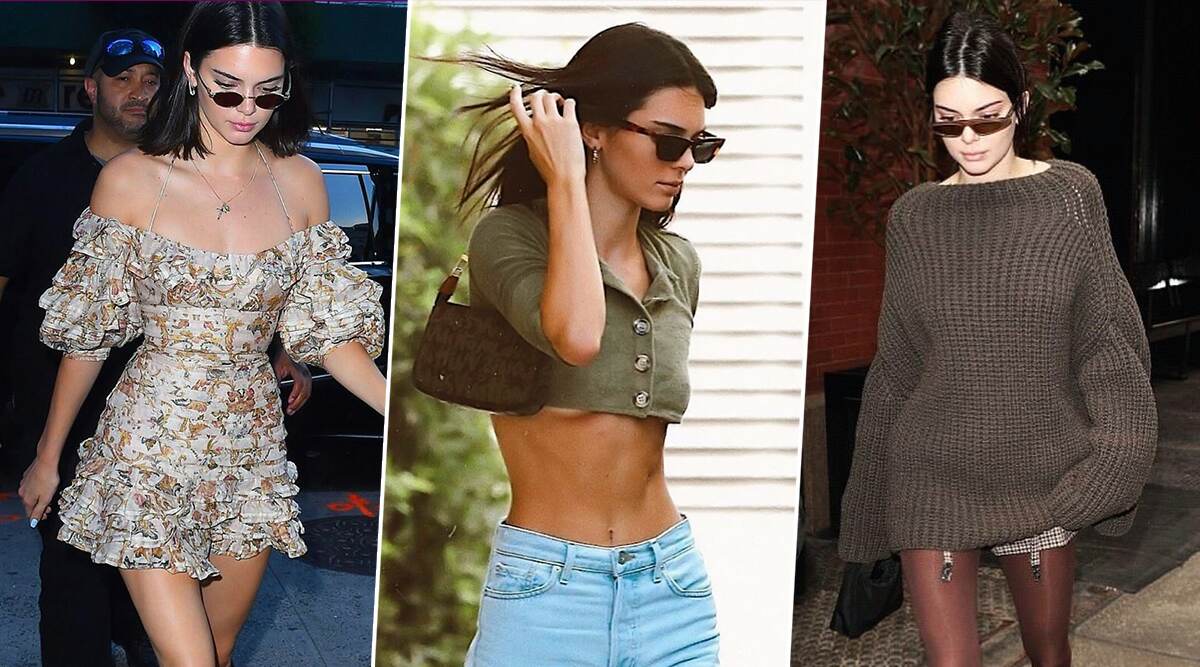 When she is not walking the ramp, Kendall Jenner is all out there looking endearingly slick, every moment she steps out. Her experiments with leathers, strategic silhouettes, all-black outfits, matching sweats and all of it look like the classiest haute couture that we rarely see. Or almost never! The Keeping Up With the Kardashian star turns 24 today, November 3, 2019. Her star-studded Halloween and the pre-birthday party has already made it to the headlines. Kendall turned heads with her metallic gold feathered mini dress, oversized champagne wings and that beautiful headpiece. And the outfit for her actual birthday bash will surely be nothing short of a dream. While we eagerly wait for Kendall's 24th birthday moments to hit Instagram, let us take a look at her best six street style fashion moments so far. Kendall Jenner in Rosetta Getty and Alexander Wang for Sisters Night with Kylie Jenner. 
The Kardashian-Jenner clan is known for taking their fashion over the top. Kendall has never disappointed with the trend. As you scroll down her profile, it will be safe to say that the 24-year-old has quickly proven herself to be a supermodel-in-the-making and a high street style fashion icon. Kendall is now famous for her style both on and off the catwalk. Be it her high-end outfits for top designers like Chanel and Dolce & Gabbana, or her casual street-style ensembles, the elder Jenner sibling, manages to pull it off with absolute ease. And these fashion moments prove that we are not exaggerating! Emmys 2019: Kendall Jenner Goes Back To Being A Brunette After Rocking Blonde Locks At the Awards Show. 
Basic and Chic!
View this post on Instagram
Who would have ever imagined that something as basic as this 80s inspired formal suit in grey could be so effortless and chic! And of course, her super slim shades, so accurate way to accessorise the entire look.
Hello, Good Lookin'
View this post on Instagram
Kendall's all-black matched-pattern blouse and bottoms look, is an absolute class for any day out. She rightly paired the outfit with a pair of simple white stilettos and of course, her favourite slim shades.
The Girl Next Door, You Wish!
So effortless! Ripped jeans and this cute white crop top, this Kardashian sister completely nailed the look. There is nothing extra about the look, yet makes Kendall a complete panache.
Babe!
Kendall accentuated her tiny waist in this ruffled mini dress. She was spotted at NYC with her sister Kim back in 2017. Her tight mini dress with off-the-shoulder sleeves and a delicate spaghetti strap is total babe look, making, once again a stand out appearance.
Winter is Here!
It is soon-to-be sweater weather, so why not take fashion inspiration from this look of Kendall? She chose a high-neck chocolate colour, complete with a ruched detail along each sleeve. The Keeping Up With the Kardashian star covered her long legs with brown-tinted nylons, adding her beloved nineties inspired heels. Can there be any better look for the season?
Romance is in the Air!
View this post on Instagram
Plain jeans and basic crop top make the summer look so romantic. Letting her hair loose and wearing the shades and tiny round earrings to accessorise the look, Kendall here kept the appearance totally dreamy.
Kendall's effortless sense of style makes her possibly the most fashion-savvy out of many inspirational figures. From the simple ruffled mini dress to ripped jeans for the weekend, this Kardashian sister killed the above look. We wish her a very happy 24th birthday. May she continue to give us gorgeous head-turning appearances! Happy Birthday, Kendall Jenner!