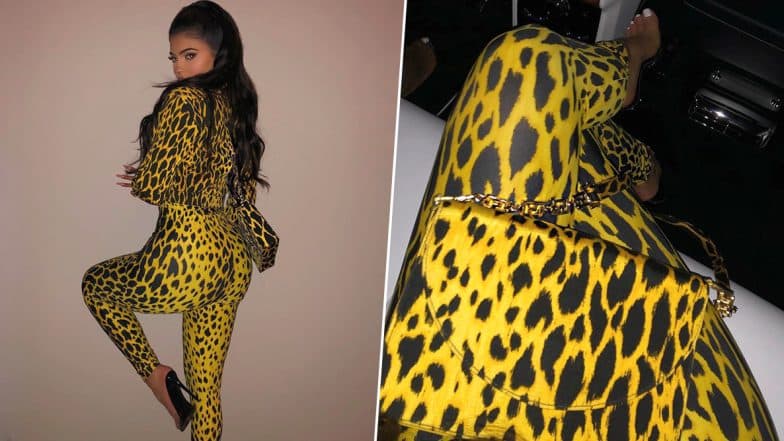 Kylie Jenner might be the wealthiest KarJenner member and might have it all. But the one thing that is a little questionable is a sense of style. In a recent picture that she posted on her Instagram, we see the Keeping Up with the Kardashians and Life of Kylie reality shows star dressed in head-to-toe in an animal printed jumpsuit by Versace. The goal was to look sexy, but she ends up looking like a marshmallow that stayed on the stick for too long and burnt. She also had a custom bag in the exact, same print, and it looks just as bad as the outfit. Yo or Hell No? Kylie Jenner in Black Balmain Sequined Short Dress.
Kylie Jenner got dressed for another fun night out and decided to treat her Instagram followers to a sexy picture. The picture flaunts her insanely round, and "perfect" butt and her outfit is typical Kardashian fashion. Holy Moly! Deepika Padukone's IIFA 2019 Look Is A Rip-Off From Kylie Jenner's Wardrobe.
Kylie Jenner in Her Burnt Marshmallow Look
View this post on Instagram
While we can't deny with Kylie Jenner and her fans that think she looks hot as usual, but we also cannot deny she looks like a burnt marshmallow in this one. Without any sugarcoating, if we have to judge the Kardashian family's dressing sense, sometimes it's a total nightmare. We struggle to spot Kylie wear anything that makes her look chic. Sure, the outfits flaunt her body beautifully, but we can hardly say the clothes and material look anything above average.