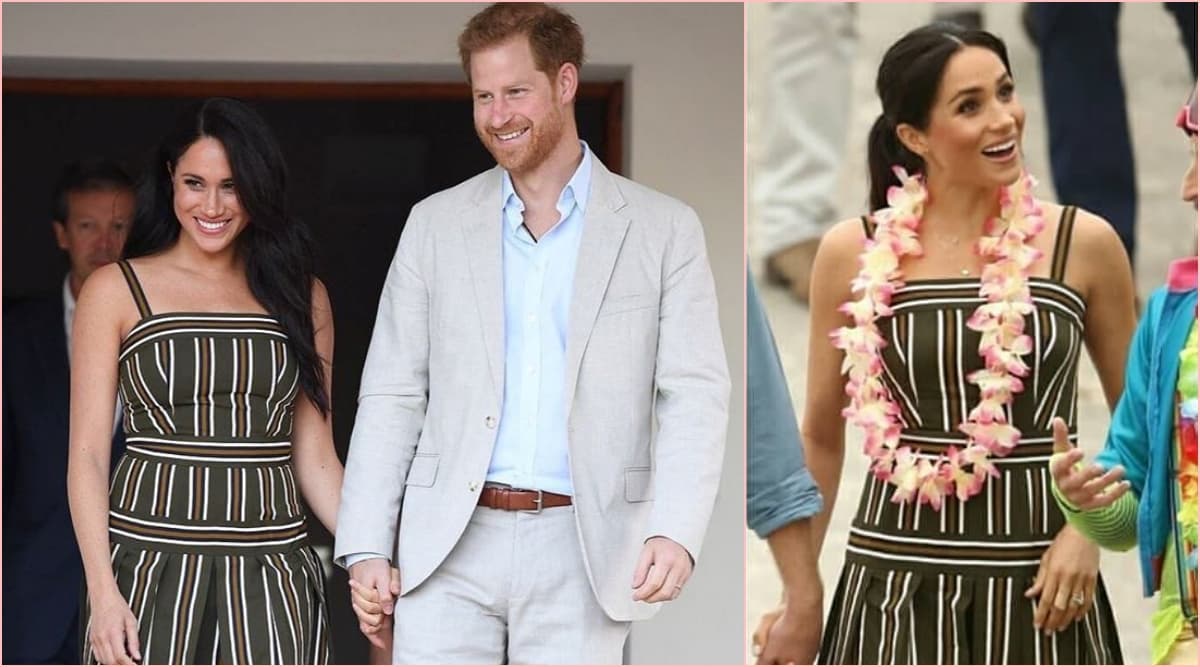 Meghan Markle and Prince Harry are on another royal vacation. The Duke and Duchess are in Cape Town, South Africa, and we saw Meghan Markle wear the same green dress that she had worn back in October. The new parents started their first family tour on Monday with their four months old, Archie. While fans loved looking at pictures of the family enjoying their trip, some found it unmissable that Meghan was in a dress she wore before for her vacation as her first royal family tour. Is this her vacation dress? Fans are loving this and find her relatable. And some are praising her for leaving the royal rules and wearing sleeveless again! Meghan Markle's Empowering 'Woman of Colour' Speech on Royal Tour in South Africa is a Must Hear (Watch Video).
Meghan wore the Martin Grant dress for her visit to a youth leadership reception during the royal tour of southern Africa. She had worn this dress back in October when she visited Tonga with her husband, Prince Harry. The former Suits star had repeated outfits in the past when she wore her popular and chic denim jacket on multiple occasions. For this trip as well, she has repeated another dress that she has previously worn for a different time. She's repeated two outfits in this trip that she wore for her first-ever royal vacation. Just like the Martin Grant-green dress, her blue Veronica Beard dress was a fan favourite. Meghan Markle Repeats the Blue Veronica Beard Dress She Rocked During Pregnancy!
Meghan Markle in the Same Martin Grant Dress on Different Occasions 
View this post on Instagram
Meghan Markle Repeating Outfits
View this post on Instagram
Meghan and Harry also visited Auwal Masjid mosque, the oldest in Cape Town. the mosque was founded in 1794. On Tuesday afternoon, the Duchess was spotted wearing a khaki dress as she paid a visit to the historic mosque. While the dress was equally beautiful, people can't get over Meghan's Martin Grant dress. Repeating an outfit was once considered a taboo in celebrity culture, is now being called "relatable" and "down-to-earth" by the fans.