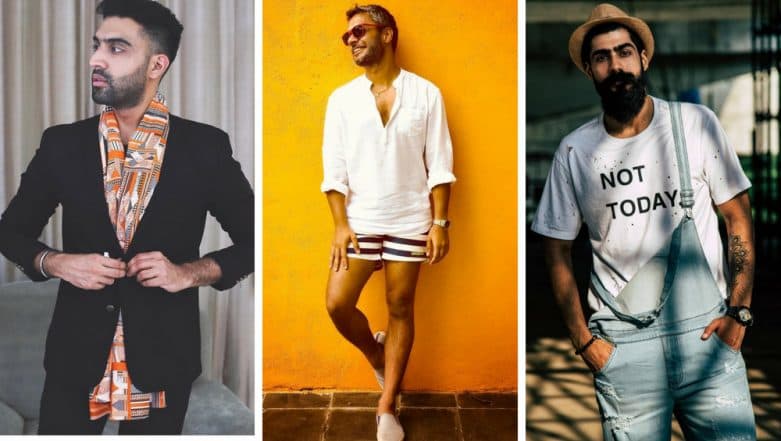 When you first hear the term fashion, what pops in your mind? Heels? Shiny handbags? Glossy lip colours? Well, how about cufflinks, necktie and neatly tucked handkerchiefs? Not really, right? That's because women are traditionally associated with fashion and are most likely to have a natural affiliation towards it. Though, that doesn't mean that men are completely off the fashion scene. In India, men's fashion is mostly associated with the ones who are a part of the show business. However, there are many other men as well who like to dress up, follow the recent trends and even put it out on social media. We dug up a couple of such Instagram accounts and complied a list of fashion Instagrammer men from India, who with their style are giving their folks everything from #MondayMotivation to #OOTDGoals.
While there are many women fashion bloggers/vloggers, there are few, but some really charming male fashion bloggers as well. These male fashion influencers know what to wear, how to wear and are boldly shattering stereotypes by sharing their love for clothes and grooming online. If you are a man who totally loves fashion, you are really going to love these seven instagrammers.
1. Abhinav Mathur
@_abix_
Followers: 53,000+
Fashion influencer, content creator, YouTuber and restaurateur, Abhinav Mathur from Delhi dons many hats. Apart from his wonderful style posts on Instagram, you also get a dose of adorable fashion collabs with his model girlfriend from Ukraine, Katrina Dymonia.
2. Jeremy Cabral
@ fmwdotcom
Followers: 47,000 +
One of the most popular Indian male fashion Instagrammers, Jeremy Cabral also runs a blog by the name Fashion Most Wanted. Apart from fashion you can also see a good dose of Bollywood on Jeremy's blog.
3. Riaan J George
@urbaneyebyrg
Followers: 29,000+
Flaunting a blue verification tick on his Instagram, Riaan George's account is all things luxury. He is someone you must follow if your fashion type is classy and suave. He is the Editor of Business Traveller India and has a YouTube channel as well. A man of many talents, Riaan is also an aviation enthusiast juggling between Mumbai and Colombo.
4. Tejeshwar Sandhoo
@blueberryblackout
Followers: 28,000+
This blogger from Delhi runs his own blog by the name Blueberry Blackout. This blog is an interesting mix of lifestyle posts, reviews, fitness and fashion tips and tricks, and also a handful of interesting fashion-based videos.
5. Uday Shanker
Followers: 11,000+
@bioblad3
Uday Shanker's blog 'Stranger in Suede' is a pleasant mix of stylish and sporty fashion. Apart from being a menswear blogger, this Delhi-based guy is also motorbike and skateboard enthusiast. Special mention, he also worked with Anand Ahuja's India's first multi-brand sneaker store Veg-Non Veg in the past.
6. Dapper Square
@dappersquare
Followers: 10,000 +
If one isn't good enough, Aksheev & Harman are a fashionable duo exhibiting their individual styles on Instagram by the name 'Dapper Square'. They also run a blog by the same name which has a mix of fashion-based posts.
7. Rishabh Ahuja
@rishabahuja
Followers: 8,000 +
Fairly new to the online fashion scene, Rishabh is nonetheless confident and expressive. If you scroll down his Instagram profile, you will see his fashion style is a mix of experimental and classy. Rishabh is a self-porclaimed foodie, with a full-time career in the hospitality industry.
These men are teaching us how style is not a domain only for the women are totally killing the fashion game. They are an inspiration that no matter unconventional, if you love something, it is totally worth giving a shot.