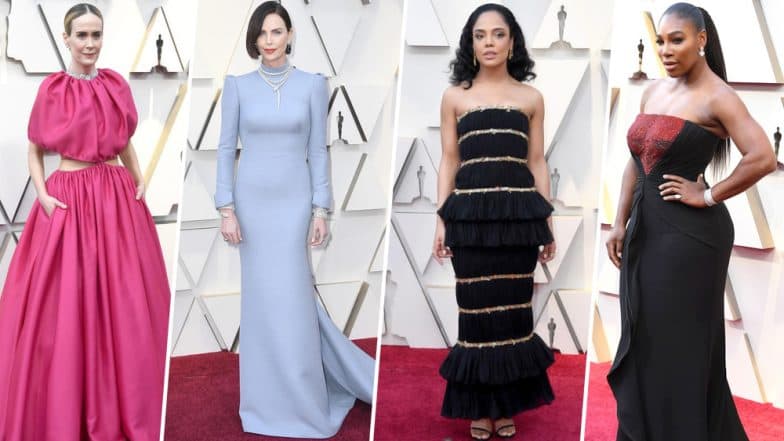 The 91st Academy Awards was a star-studded affair as we expected it to be. From Bradley Cooper to Brie Larson, Chris Evans, Lady Gaga and Jennifer Lopez, all the biggies of Hollywood sashayed on the red carpet in the mind-blowing attires. While we personally rooted for Jason Momoa and Chadwick Boseman, it was Billy Porter and his whistle-worthy tuxedo-inspired gown that bagged some extra brownie points for its innovative design. However, for every best dresser, there's a worst one and this year was no different. Yes, we agree about the stunners were able to overshadow the bummers but we can't help and ignore such faux pas, can we? Oscars 2019: Black Panther Is the First Marvel Studios Movie to Win an Academy Award.
From Awkwafina to Glenn Close and Serena Williams - these Hollywood beauties stunned us (in a bad way)  with their disastrous choices for the big night. While their colour palette perfectly blended with the theme and occasion, it was the silhouette that ruined the entire game for them. Don't scratch your heads if you are wondering if we're being a bit harsh towards them? Have a look at their #OOTNs below and join us in feeling sad for our beloved celebs. Academy Awards 2019 Red Carpet: Brie Larson, Chris Evans, Chadwick Boseman- All The Marvel Heroes Who Have Arrived At The Oscars! [View Pics].
Charlize Theron in Dior
We loved the hue of her attire, however, the silhouette didn't flatter our hearts really. It's too basic and we expected so much more from Charlize.
Serena Williams in Armani
You can never really go wrong with black but Serena Williams' recent outing is an eye-opener.
Tessa Thompson in Chanel 
Tessa Thompson paid a tribute to late Karl Lagerfeld by picking a Chanel couture for her Oscar appearance. However, her choice of attire lacked the necessary 'wow' factor and wasn't appealing enough.
Sarah Paulson in Brandon Maxwell
A classic case of how design can ruin everything for you. On the other hand, the outfit seemed fine on a model in Brandon Maxwell's Instagram page. So guess, the blame goes on Sarah in this case for failing to nail it to the hilt.
Gemma Chan in Maison Valentino
Uh Oh! No words can define how horrific this is! Blame the texture of her outfit or designer for designing one from it?
Glenn Close in Carolina Herrera
Yea, we know the lady was conveying a loud and clear message. She's aiming the golden lady but getting inspired by the same fascination for her attire seems a bit too much, right?
Awkwafina in DSQUARED2
So pantsuits are in rage but that's not what you pick for the big night.
Olivia Colman in Prada
Olivia Colman's outfit can be described in one word - Yawnfest
Melissa Mccarthy in Brandon Maxwell
Nope! Even a classic combination of white and black can go wrong.
It saddens us to pen such harsh words for our beloved celebs. Also, we being true Indians at hearts, missed Priyanka Chopra's vibrant smile on the red carpet. The actress missed this year's awards ceremony like 2018 and we hope she has valid reasoning behind it. She has no right to disappoint her fans, does she?