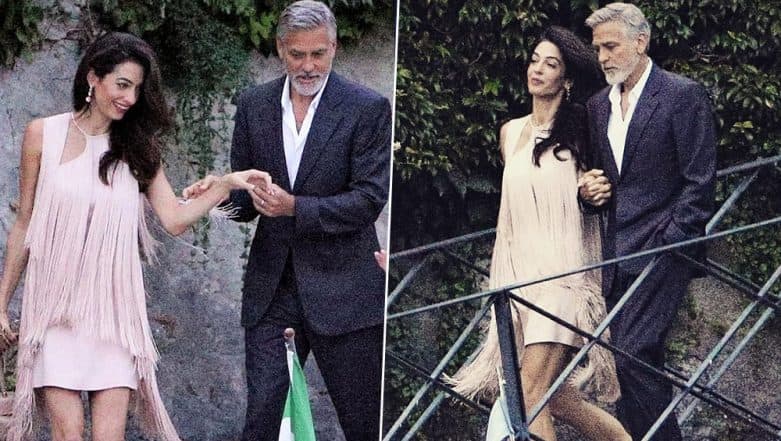 There are very few ladies who justify the word elegance in a real sense. In Bollywood, we can name some veteran actresses like Sharmila Tagore or Karisma Kapoor in recent times who are just too classy to fit in any definition. While these are some names of the east, when it comes to the west, it's Amal Clooney who takes home the honour. A lady with a fine taste - she's a classic example of beauty with brains. Amal's personal fashion sense is mind-boggling and we'll prefer using a superlative of best, whenever the term gets coined in the future. Cop or Drop: Alia Bhatt Chooses Monochrome Separates by Lovebirds.
While her red carpet outings are always a delight and her refreshing approach is something that tickles and inspires our fashion sense, her casual outings are equally drool-worthy. A lawyer by profession, Amal is currently in Lake Como enjoying some quality time with hubby George Clooney and their mutual friends. For a recent lunch outing in this scenic region, Amal picked a light pink Stella Maccartney fringed dress and paired it with matching heels. Priyanka Chopra's Gorgeous White Ensemble Before The Cannes Film Festival Inspired by Amal Clooney's This Look?
Yo or Hell No! Amal Clooney in Stella Maccartney
She further accessorised her look by picking a matching bag with a pair of earrings. We can be extremely biased when it comes to Mrs Clooney for we worship her for being a beautiful soul that she is. And while we are completely digging her look, we'd like to hear your thoughts. Do you think Amal's recent outing deserves a pat on the back or it's a pretty ordinary affair? Let us know your opinion in the voting section that's right below.
Amal Clooney in Stella Maccartney - Yo or Hell No!