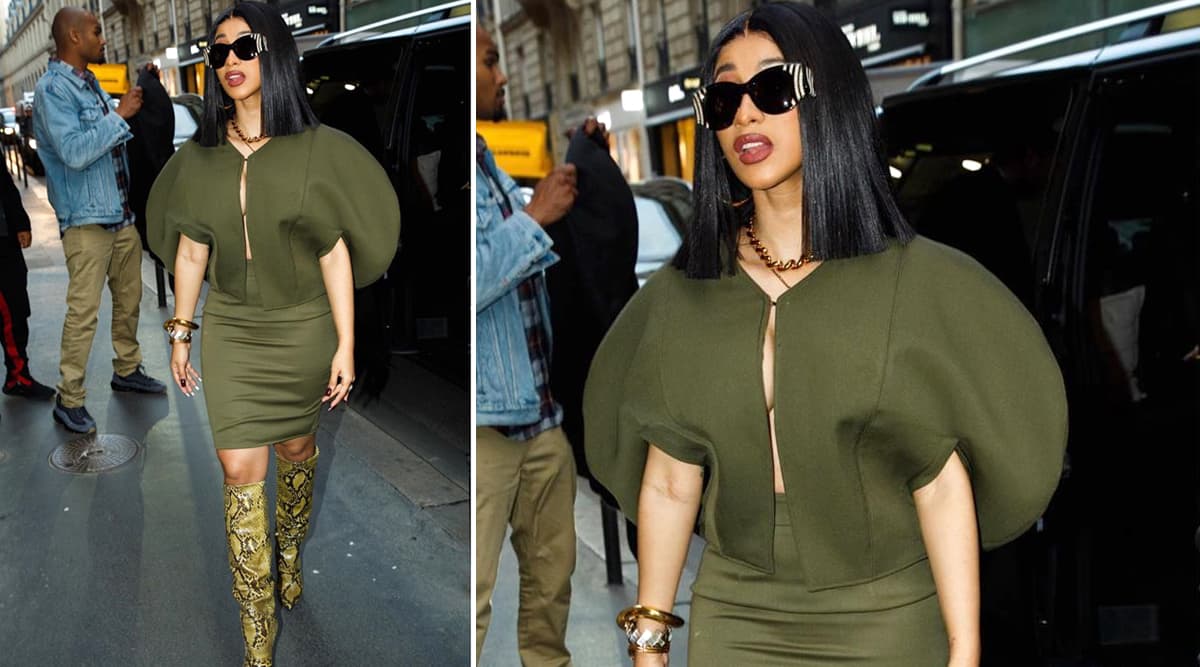 Cardi B and her Paris Fashion Week looks have been getting some mixed reactions from people. From walking down the street in floral printed grandma outfit to her leather-covered aubergine look, her outfits have not been safe. She likes to play with her looks and it shows. For her sixth outfit, she went for an olive skirt and top. Just like all her looks, she kept this one in one tone. She has been seen following a pattern of monochromatic looks and it's a little different for Cardi to look so simple. Cardi B's Outfit Choices at the Paris Fashion Week 2019 Make Us Go 'Uhhh…' (View Pics).
Cardi B wore an Aliétte Spring 20' Look 22 as she was spotted walking down the street for the PFW. The top looks like a jacket that is closing in the front with two tiny bits. This allows the singer to show off her cleavage and we know Cardi loves it! Her reptile printed knee boots from YSL add a Slytherin touch to the look. Cardi's skirt with the top has a rather formal look with the tight-fitting. She maintained her black bob hair that she wore more of the fashion week. Here's Why Jennifer Lopez Convinced Cardi B to Star in Crime Thriller 'Hustlers' (Watch Video).
Cardi B for Paris Fashion Week
View this post on Instagram
She kept her jewellery minimal but went hard with the sunglasses. The thick and heavy frames almost hide her small face. What are your thoughts on Cardi B's Paris Fashion Week's sixth outfit? Cast your vote and let us know if it was a yo or hell no in your book.
Yo or Hell No? Cardi B Picks Olive Co-Ord Outfit by Aliétte