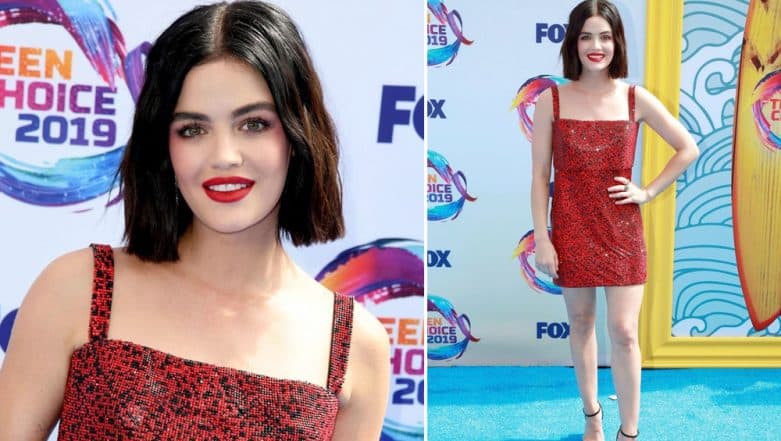 Lucy Hale has always been one of the celebrities with a great sense of style. Ever since her Pretty Little Liars days, the star has been setting trends. From rocking the girl-next-door look on the show to switching up to the sexy attire, Lucy has managed to make them all look good. For the FOX's Teen Choice Awards 2019 held at the Hermosa Beach Pier Plaza, she opted for a classic red, mini dress. Yo or Hell No! Kendall Jenner Picks Lime Bodycon for Night Out With Khloe Kardashian.
Lucy Hale style for this year's FOX's Teen Choice Awards was pretty fun and sexy at the same time. She went for an old look, but it was still good. She wore the Jean Paul Gaultier Fall 2013 Couture Dress which isn't available anymore. She kept her jewellery simple with just a pair of earrings and a few rings. She's wearing Fit Star Pierced Tassell Earrings from Swarovski, and they retail for $129 on the official website. Her rings are from the same brand. She's wearing pumps from Andrea Wazen in the style "Dassy", and they retail for $420 on the official website. It looks like the clear shoe trend does not want to die even though it has outlived its time. Yo or Hell No! Zendaya's Look for the Teen Choice Awards 2019.
Lucy Hale for the FOX's Teen Choice Awards 2019
View this post on Instagram
Even though her makeup looked fun with her blush going all the way around her temples, her makeup doesn't wow us. The look needed some warmth, and without any bronzer, her face just looks stark white. The lighting and lack of warmth in her face made her look ghostly. Maybe it was the photograph lights. What are your thoughts on Lucy Hale's Teen Choice Awards red carpet look? Would you recreate the look or give it a hard pass?
Yo or Hell No! Lucy Hale in Jean Paul Gaultier