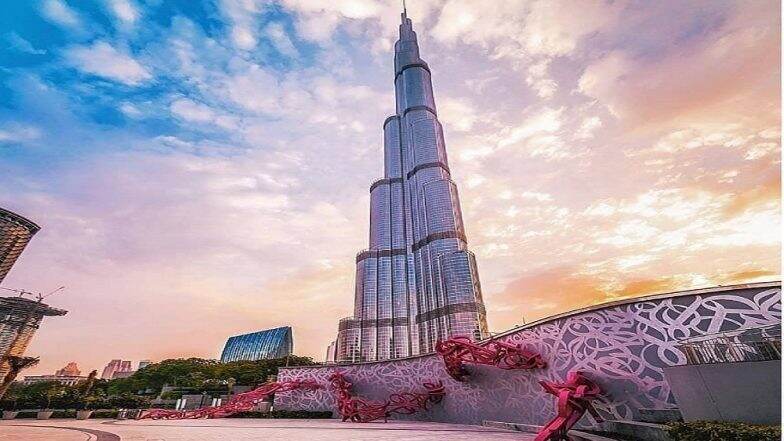 Dubai, February 5: On the occasion of the Chinese New Year, the tallest skyscraper in the world, Dubai's Burj Khalifa today lit up with a special laser light show. The show which started on February 3 will run until February 6 at 8 pm. It featured messages from the crowd to mark Chinese New Year. People can take part by tweeting their wishes for the year ahead at Emaar's Twitter handle, and these messages will be displayed on the Burj Khalifa's LED screen. Lunar New Year 2019 Google Doodle: Chinese Year of The Pig Greetings With a Cute GIF Artwork.
February 5 marks the beginning of the Chinese New Year 2019. The Lunar New year which follows the moon calendar has no fixed date for the beginning of the new year. Also called the Spring Festival, this year is the year of the pig. The welcoming of the Lunar New Year goes on for two weeks and is marked with a lantern festival. It is a major holiday in China that goes on for a week.
Video of Burj Khalifa lit up on the occasion of Chinese New Year:
السنة الصينية الجديدة هي رمز للفرح والازدهار! يوم واحد فقط يفصلنا عن الاحتفالات، ترقبونا! #برج_خليفة

The Chinese New Year is a symbol of joy and prosperity! One day to go, stay tuned! #EmaarCNY2019 #BurjKhalifa pic.twitter.com/a7w3O1QDkM

— Burj Khalifa (@BurjKhalifa) February 3, 2019
Here are some of the wishes, Quotes and Phrases in Mandarin and Cantonese:
Happy New Year: 新年快乐 (xīn nián kuài lè)
Wish you luck in the Year of the Pig 2019: 猪年大吉 (zhū nián dàjí)
Happiness, Prosperity, Longevity: 福禄寿(fú lù shòu)
Happy Spring Festival in Mandarin: 春节快乐 (chūn jiē kuài lè)
Happy Spring Festival in Cantonese: ceon1 zit3 faai3 lok6
Respectful Congratulations on The New Year: 恭贺新禧 (gōng hè xīn xǐ)
May All Your Wishes Come True: 新想事成 (xīnxiǎng shì chéng)
Chinese New Year is one of the best times to spread love, joy and happiness. It gives everyone an opportunity to meet and greet and also the perfect occasion to celebrate with friends and family.