Dhanteras, considered the first day of Diwali or Deepavali festival falls on November 5, 2018. All the preparations around the 'Festival of Lights' are almost done such as cleaning and shopping. People have already started hosting fancy Diwali parties and with people, we mean big-shot Bollywood superstars such as Shah Rukh Khan! But for most of us, we will begin our Diwali 2018 celebrations with Dhanteras, the day when we buy metal mostly gold coins or jewellery. So, for all friends who are excited to celebrate Dhanteras and Diwali, we bring to a list of beautiful Dhanteras images, Dhanteras images wallpapers, Diwali GIF image greetings, Dhanteras images wallpapers in Hindi, Diwali images, Dhanteras wallpapers with quotes, Diwali 2018 messages, Happy Dhanteras images, Happy Dhanteras HD images, for free download online. You can use all of them to wish your family and friends Happy Dhanteras and Prosperous Diwali 2018! WhatsApp Stickers to Wish Happy Diwali 2018: Messaging App Should Introduce Festive Sticker Images Packs for Sending Funny Diwali Messages.
Dhanteras is an exciting day to look forward to by all of us. After all, it kicks off the festivities of the multi-day Diwali festival. As we all know, Diwali is celebrated in honour of Goddess Lakshmi, which is why Lakshmi Puja is performed on main/Badi Diwali. So, on Dhanteras, it is an age-old ritual to buy gold or any other metal to bring good luck and fortunes to the family. As per Hindu customs and traditions, on the auspicious day of Dhanteras, the ritual of purchasing precious metals gold, platinum or silver, in the form of jewellery, coins or utensils bring immense good luck. Dhanteras 2018 Greetings in Hindi: WhatsApp Messages, GIF Images and Pictures to Wish on Auspicious Occasion of Dhantrayodashi This Diwali.
In most of Dhanteras images and wallpapers, some of the common elements are the presence of Goddess Lakshmi, the auspicious symbol of Lakshmi's footprints, believed to be extremely holy. Pictures of a pot of gold, golden coins, jewellery, shiny new utensils are also commonly used. Ladies buying gold, gold and silver coins of Lakshmi and Ganesha are also present to depict Dhanteras celebrations. Here's your collection of Dhanteras 2018 wishes, greetings, quotes, images, photos, pictures, wallpapers in HD and free to download. Save these images and forward to your near and dear ones. Diwali 2018 HD Images to Send Greetings in Advance: Best WhatsApp Wishes, Messages, Deepavali GIF Photos and Wallpapers to Download for Free Online.
Dhanteras images in HD to Download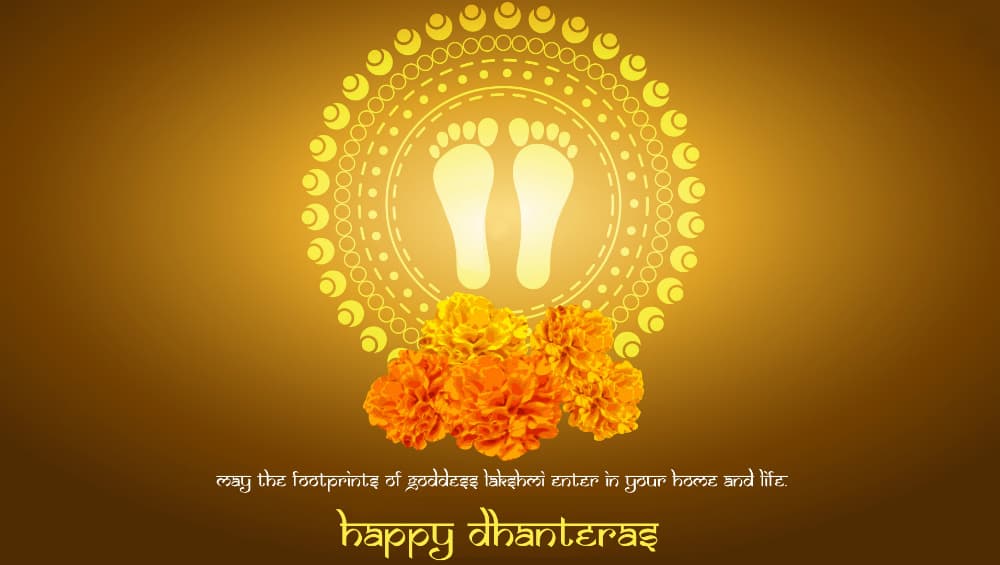 WhatsApp Message Reads: Clean Your Homes, Decorate With Candles, Make Rangolis and Light Up Diyas As Goddess Lakshmi Is About to Come. Happy Dhanteras!!
Dhanteras images and wallpapers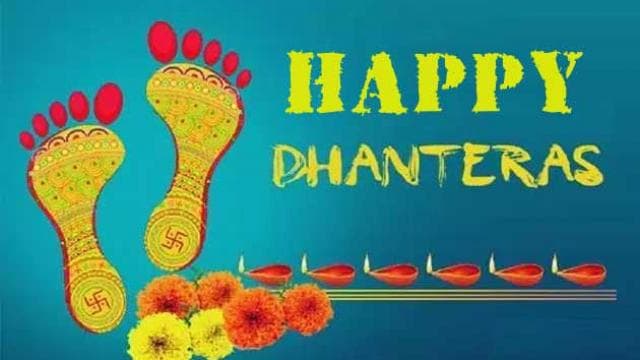 WhatsApp Message Reads:  Diyas Glow for Hours, Sun Glows for a Day, but My Wishes for You Are Going to Glow Forever. Have a Happy and Blessed Dhanteras!
Dhanteras Images With Quotes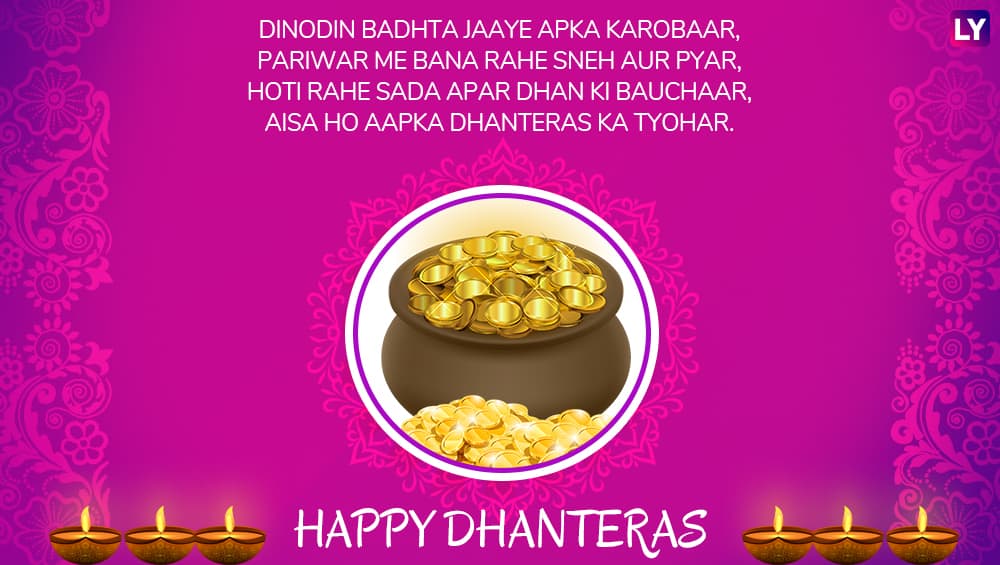 WhatsApp Message Reads: Dinodin Badhta Jaye Apka Karobar, Pariwar Me Bana Rahe Sneh Aur Pyar, Hoti Rahe Sada Apar Dhan Ki Bochar, Aisa Ho Apka DHANTERAS Ka Tyohar.
Dhanteras Wallpapers in HD for Free Download Online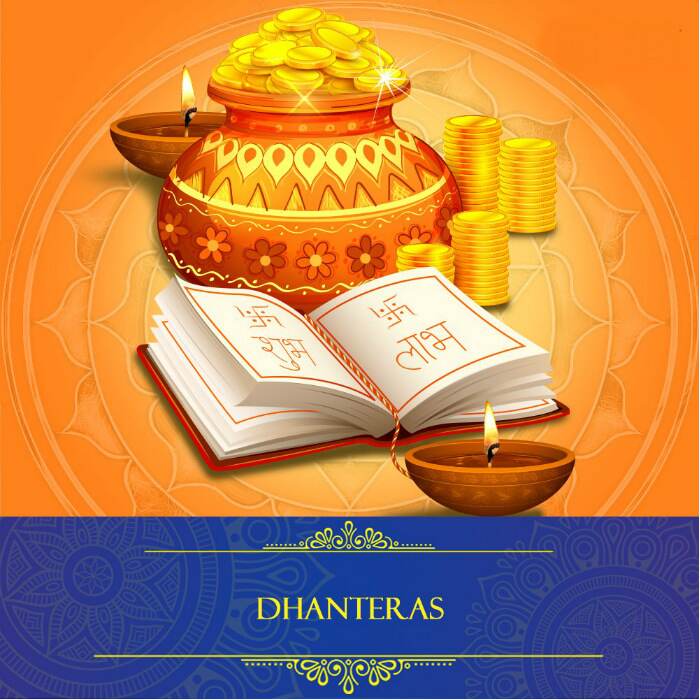 WhatsApp Message Reads:  May Bountiful Fortune Be Bestowed on You and Family and May You Receive Divine Blessings of Goddess Lakshmi Now and Forever. Shubh Dhanteras!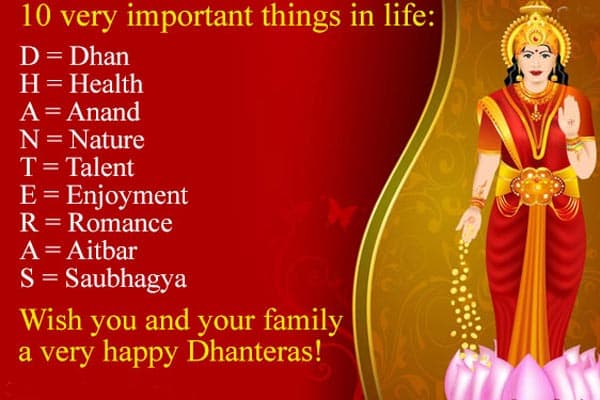 WhatsApp Message Reads: May Your Business Always Flourish and You Defeat All Evils in Life. May Goddess Lakshmi and Lord Kuber Always Keep You in Their List of Blessed Ones. Happy Dhanteras!
Dhanteras Images, Photos, Pictures, and Wallpapers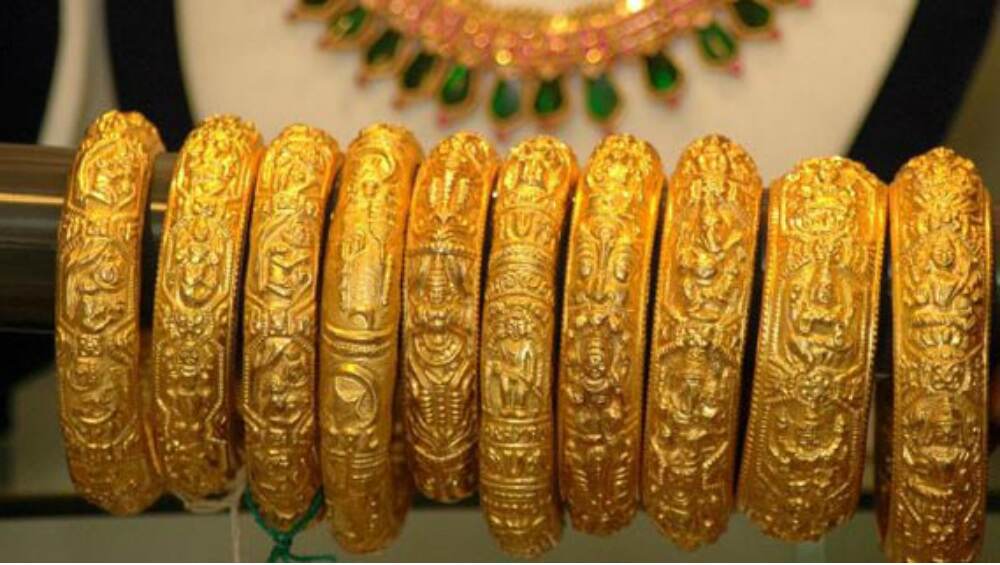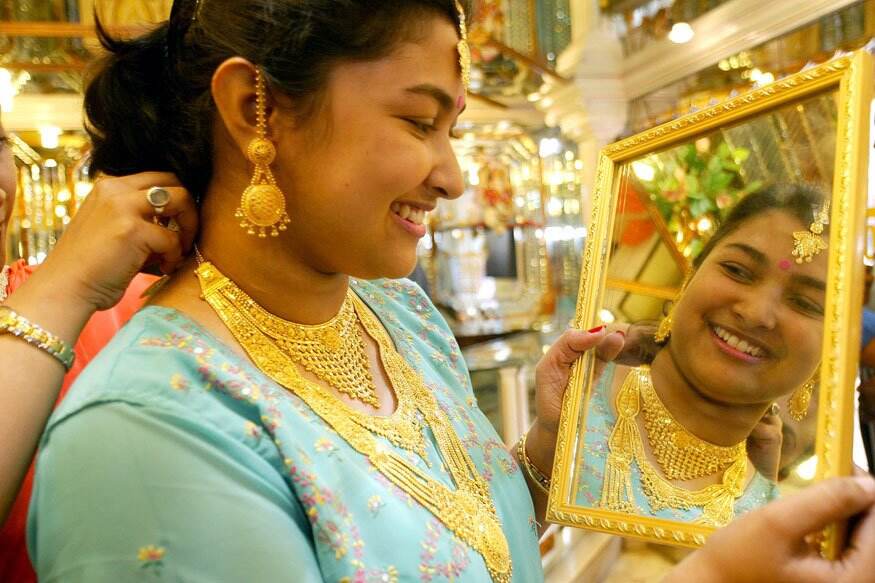 Apart from good luck, wealth and prosperity, Dhanteras is also the day when devotees are blessed with good health. On Dhanteras, Dhanvantari, the God of Ayurveda is also venerated. It was he who imparted the wisdom of Ayurveda for the betterment of humankind and to help rid it of the suffering of disease. The first day of Deepavali holds the key to a five-day long colourful celebration. Enjoy the day with your family and friends. Celebrated Dhanteras 2018 with fun and fervour. Wishing all of you a very Happy Dhanteras and Diwali 2018!