Time to quickly download the most beautiful Happy Dussehra 2019 greetings, Ravan Dahan HD wallpapers, Dussehra HD images and Vijayadashami wishes and messages. Because, why leave everything for the last minute.  Dussehra is the auspicious Hindu festival which is celebrated with great fervour and frolic across the country. Dussehra, also known as Vijayadashami in some parts, will be commemorated on October 8, 2019. While this festival is celebrated in different ways in different parts of the country, the ethos of the festival is commemorating the victory of good over evil. Every year, during Dussehra, people enjoy sending Happy Dussehra wishes and messages, Dussehra 2019 WhatsApp Stickers and Happy Vijayadashmi Facebook Status Pictures with their friends and family. As people love to download Ravan Dahan photos, Rama killing Ravana images and wallpapers as Dussehra images and wishes, we bring you a collection on that line. You will find a bunch of Dussehra 2019 images, Ram Ravan Yudh photos, Happy Dussehra 2019 wallpapers for mobile and desktop all for free download. Dussehra 2019 Wishes in Telugu: WhatsApp Stickers, Dasara Subhakankshalu Photos, Ravan Dahan GIF Images, SMS & Messages to Send Vijayadashami Greetings.
Dussehra, in North India, signifies Lord Rama's victory over Ravana. On this day, people rejoice this mythological story by performing and watching Ramleela, which captures Lord Tama's journey to Lanka and his battle with Ravana. Effigies of Ravana are also burned at various social gatherings, and it is believed that this ritual helps in destroying all the evil around us and celebrates the triumph of goodness.
Meanwhile, in the southern and eastern parts of India, Dussehra or Vijaya Dashmi celebrates Goddess Durga's victory over the buffalo demon Mahishasur. It is believed that Goddess Durga kills Mahishasur on the last day of Navratri (which is also celebrated as Maha Navami in the east), and Vijayadashami is a commemoration of this victory. Goddess Durga, who is said to visit earth to tackle this demon, is said to return to Mount Kailash on this day. Vijayadashami 2019 Greetings: WhatsApp Stickers, Maa Durga GIF Images, Dusshera Messages, Facebook Photos, SMS and Wishes to Send on Dasara.
As we celebrate this auspicious festival, here are a series of Happy Vijaya Dashami wishes and messages, Happy Dussehra WhatsApp Stickers and Dussehra 2019 Facebook Status Pictures to send to your friends and family. The list includes Dussehra Greetings, Dussehra WhatsApp Messages, Dussehra 2019 Wishes, Ravan Dahan images download free, Ram Ravan Yudh Photos HD, Dussehra Images Download, Dussehra GIFs, Vijayadashami, Happy Vijayadashami 2019, Vijayadashami 2019, Vijayadashami Greetings, Vijayadashami Wishes, Vijayadashami Images, and more.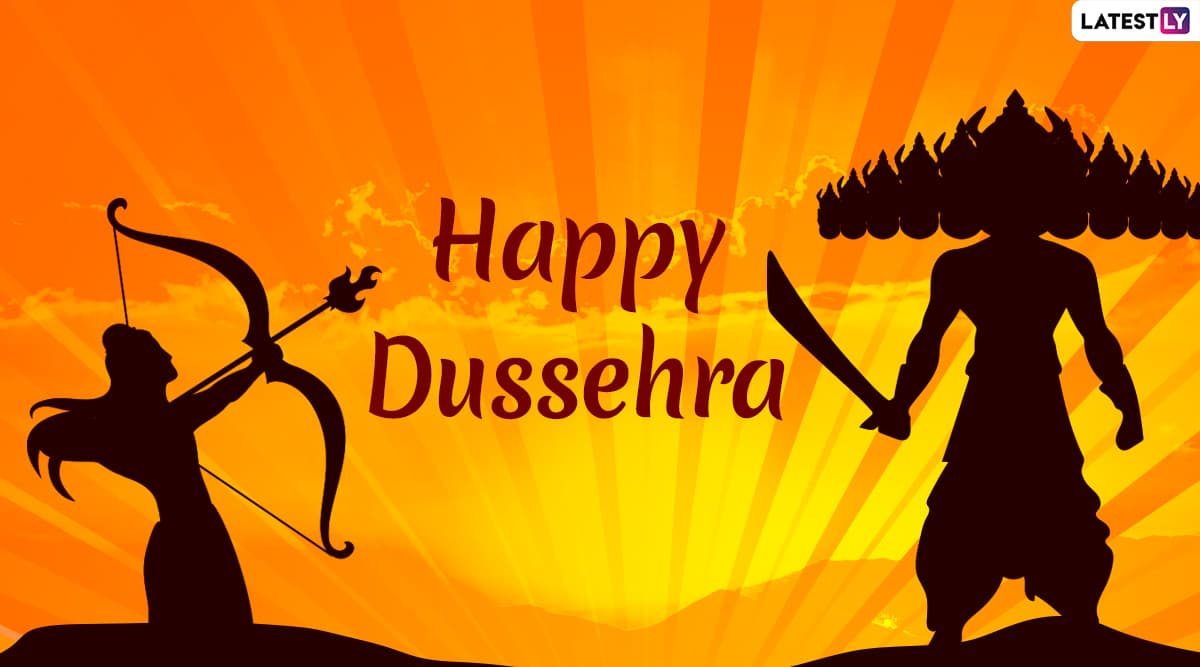 WhatsApp Message Reads: May Lord Rama Always…Keep Showering His Blessings Upon You…May Your Life Be Prosperous And..Trouble Free Throughout. Happy Dussehra 2019.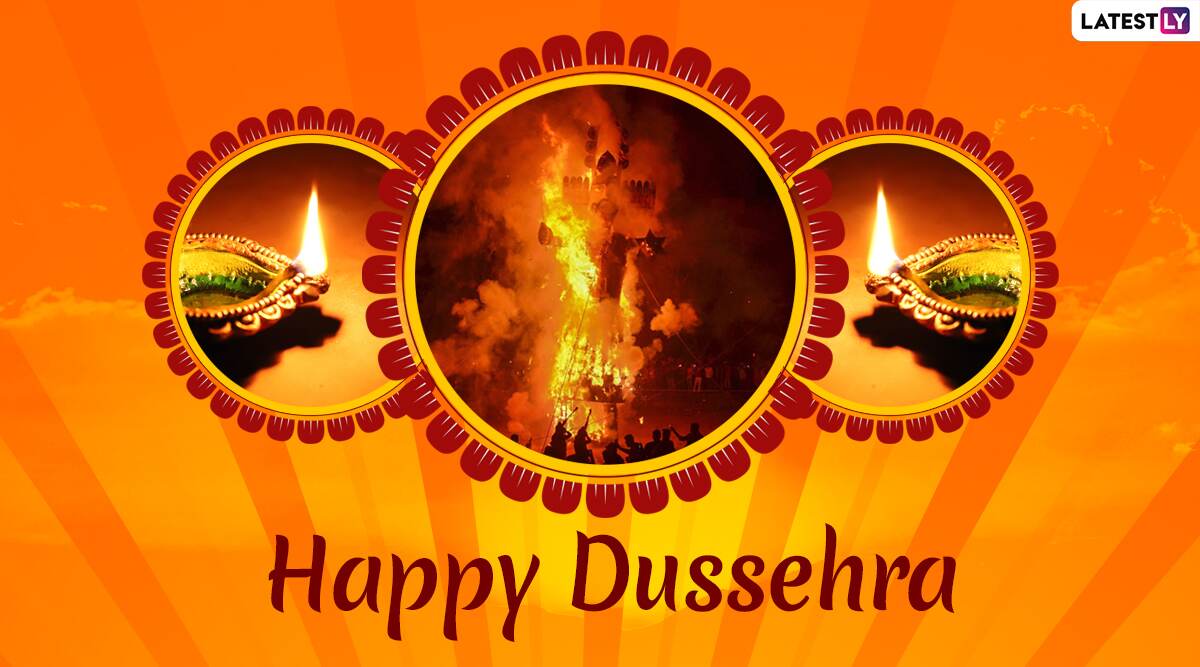 WhatsApp Message Reads: Vijaya Dashmi Ka Shubh Avsar, Apke Aur Apke Parivar Ke Jivan Mein Sukh, Samradhi Aur Shanti Bharde. Happy Dussehra!!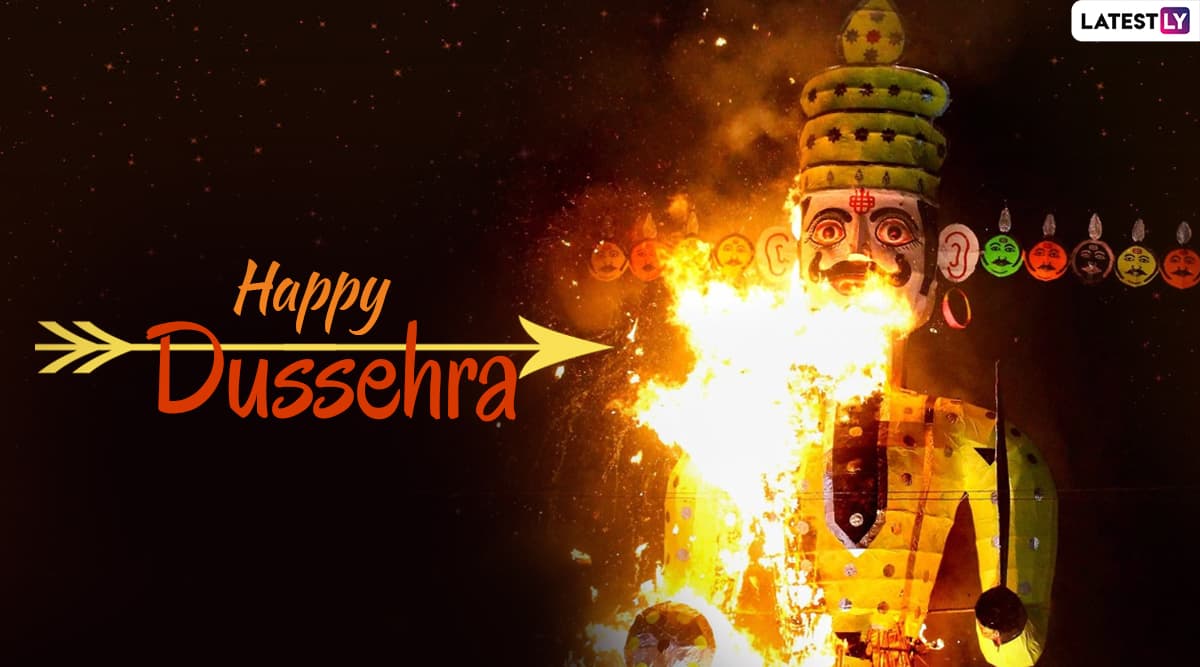 WhatsApp Message Reads: In Your Life, May the Good Triumph Over Evil; and May You Achieve the Strength and Courage to Follow the Path of Righteousness! Happy Dussehra!!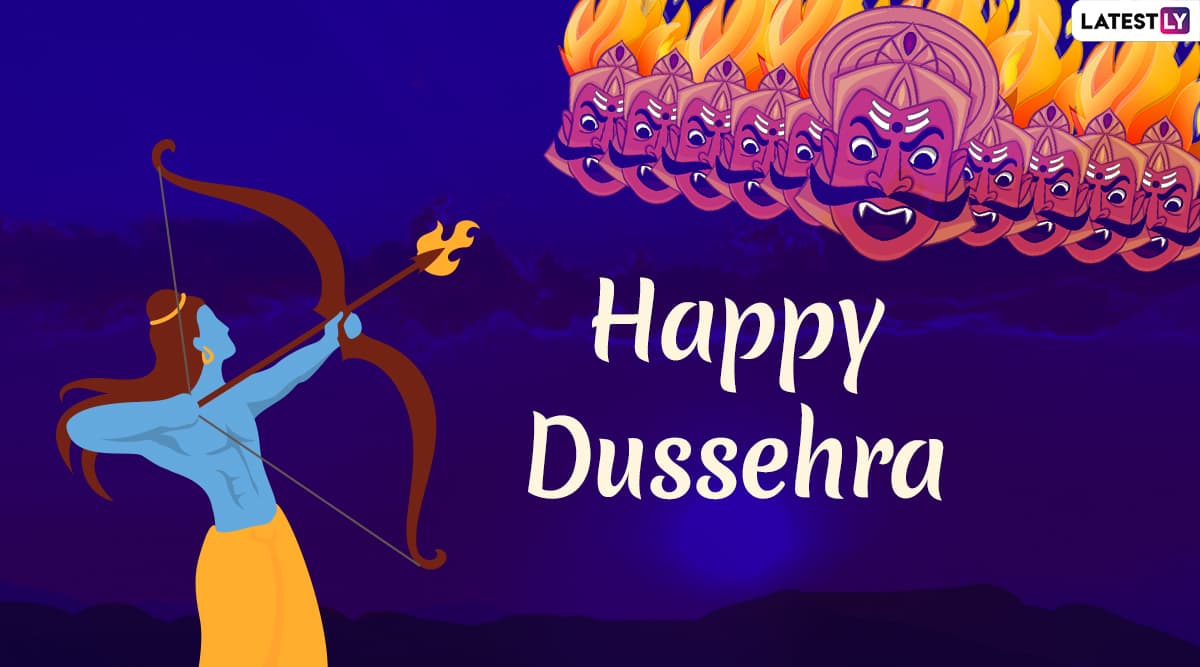 WhatsApp Message Reads: Truth Shall Always Prevail, Good Shall Always Reign, This Is the True Essence of Dussehra, So Let's Celebrate and Welcome Lord Rama's Blessings.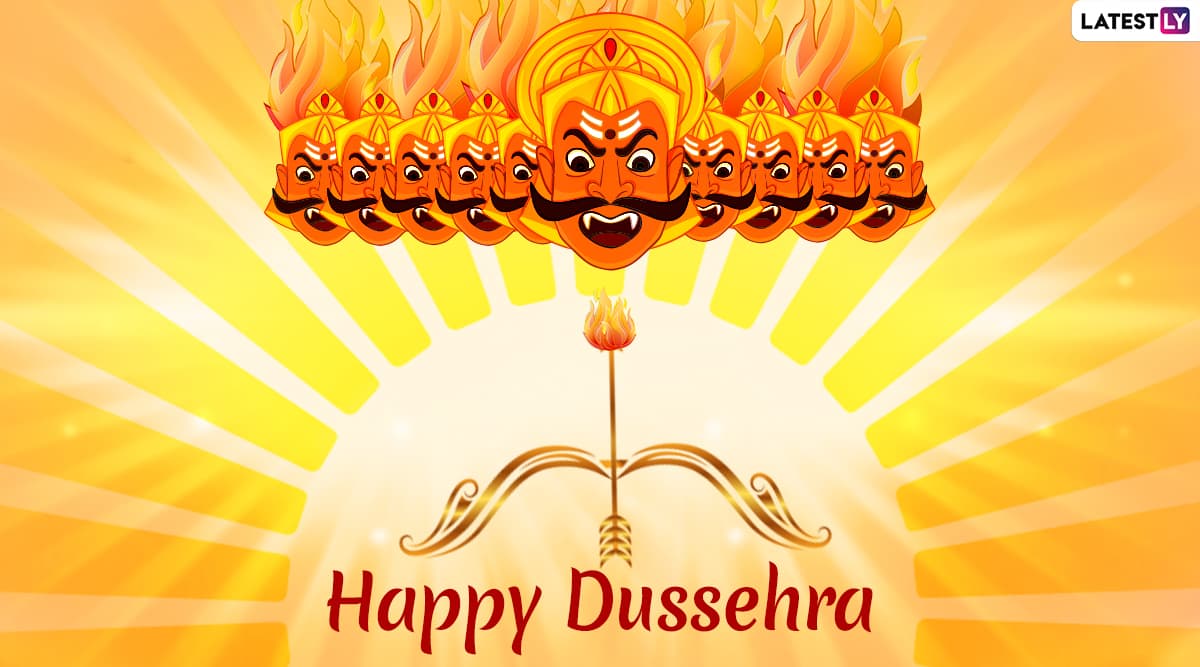 WhatsApp Message Reads: Just As Lord Ram Eradicated All Evil From Earth by Destroying Ravan, I Wish That You Also Successfully Banish All Negative Thoughts From Your Mind. Have a Happy and Prosperous Dussehra.
WhatsApp Message Reads:  May This Dussehra, Light Up for You. The Hopes of Happy Times, And Dreams for a Year Full of Smiles! Wish You Happy Dussehra.
How to Download Dussehra WhatsApp Stickers Online?
There are many apps on Play Store that you can quickly download for WhatsApp Stickers and use it to wish on Dussehra or Vijayadashami. It has beautiful and fun stickers of Ravana effigies burnt by Lord Rama with his bow and arrow. There are stickers of colourful firecrackers and light. You can download it all and wish your family and friends, a very Happy Vijayadashami 2019 or Happy Dussehra 2019.
Dussehra 2019 Wishes: WhatsApp Messages, Ravan Dahan Images, Greetings and SMS For Vijayadashami
Dussehra is also celebrated on such a large scale, since it is a precursor to Diwali. In most households and communities, Dussehra celebrations are often accompanied by preparations for the grand festival of lights. The sheer fact that one festival is being celebrated for so many varied reasons by people across the country is the perfect example of the diversity that India holds. Here's wishing everyone a Happy Vijayadashmi!
(The above story first appeared on LatestLY on Oct 08, 2019 07:41 AM IST. For more news and updates on politics, world, sports, entertainment and lifestyle, log on to our website latestly.com).