Hindus, Jains and Buddhists in India and Nepal are celebrating Guru Purnima, also known as Vyasa Purnima on July 16, 2019 (Tuesday). Celebrated on the full moon day of (Purnima) in the Hindu month of Ashadha (June–July), the festival honours the importance of mentors and teachers. Respectfully addressed as 'guru,' these individuals play an integral part in shaping their wards' future. A person needs a guiding light at all the stages of life and a guru makes sure to be present. And just like any other religious festival and special event, Guru Purnima 2019 got to be celebrated with much joy and fervour. For all the students out there, we bring you a collection of Guru Purnima messages in Hindi, Guru Purnima WhatsApp Stickers, Guru Purnima wishes, Guru Purnima GIF Images, Guru Purnima greetings, Guru Purnima SMS, quotes, Facebook photos, WhatsApp messages, status, DPs and more. Wish your guiding lights a very Happy Guru Purnima 2019 or write Guru Purnima 2019 ki Hardik Shubhkamnaye. Guru Purnima 2019 Wishes: WhatsApp Stickers, GIF Image Messages, Quotes, SMS and Facebook Photos to Send Happy Guru Purnima Greetings.
Guru Purnima is not to be confused by the Teachers' Day celebration in India. Yes, both the days honour the presence of teachers and mentors in our lives, but with a slight difference. Teachers' Day is celebrated every year on September 5 to mark the birthday of the second president Sarvepalli Radhakrishnan. Teachers' Day is celebrated as a day to appreciate the contributions of teachers in the field of education. However, Guru Purnima is celebrated on full moon day of Ashadh, according to the Hindu calendar. It is celebrated in honour of Sage Vyasa's birth anniversary, which is why Guru Purnima is also known as Vyasa Purnima. Guru need not be a teacher in school or college but someone who can be your spiritual guide for life. Guru Purnima 2019 Date: History And Significance of Vyasa Purnima Dedicated to Teachers.
The word "Guru" is made up of two Sanskrit words, namely, "gu" meaning darkness or ignorance, and "ru" meaning dispeller. The word "Guru" means the one who dispels the darkness and takes towards the light. While the concept of Guru-Shishya (mentor and ward) has been present for thousands of years, it was revived by the Father of Nation, Mahatma Gandhi to honour his spiritual guide, Shrimad Rajchandra, a Jain poet, mystic and philosopher. It is believed every man and woman needs a presence of Guru to lead a clutter-free life. On that note, here's a list of wishes, messages, greetings and quotes to send to your guru and seek their blessings.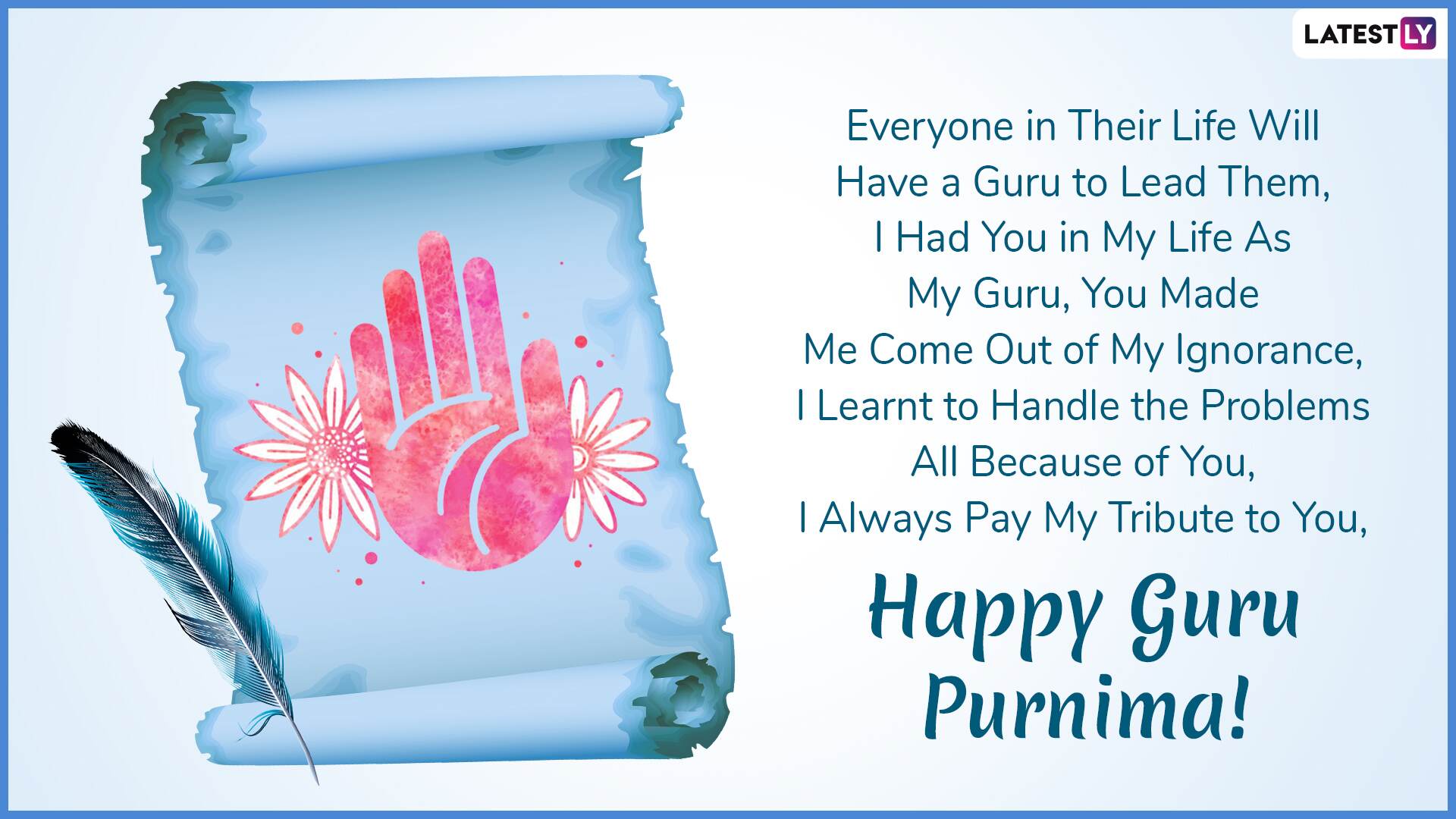 WhatsApp Message Reads: Everyone in Their Life Will Have a Guru to Lead Them, I Had You in My Life As My Guru, You Made Me Come Out of My Ignorance, I Learnt to Handle the Problems All Because of You, I Always Pay My Tribute to You, Happy Guru Purnima!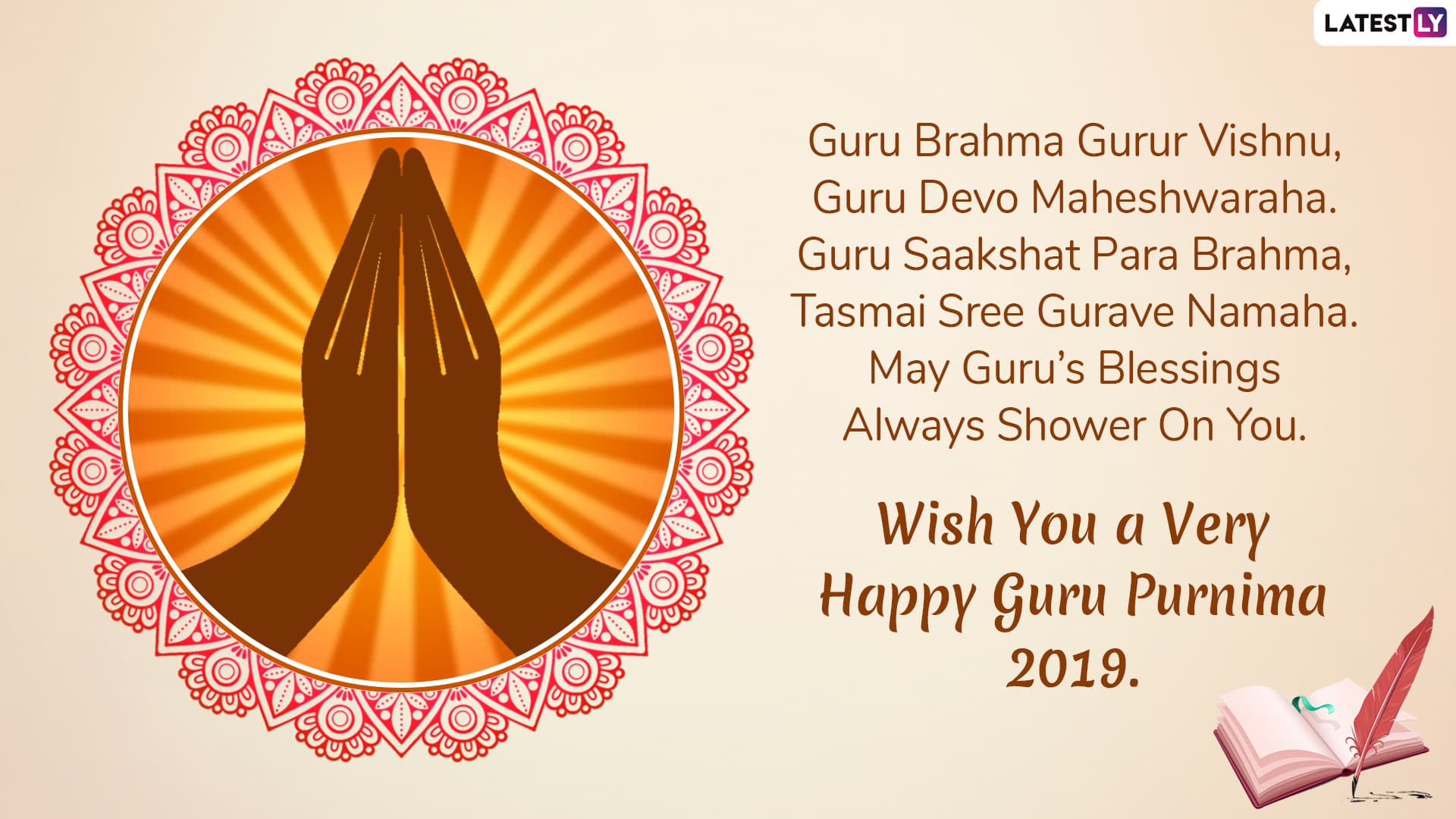 WhatsApp Message Reads: Guru Brahma Gurur Vishnu, Guru Devo Maheshwaraha. Guru Saakshat Para Brahma, Tasmai Sree Gurave Namaha. May Guru's Blessings Always Shower on You. Wish You a Very Happy Guru Purnima 2019.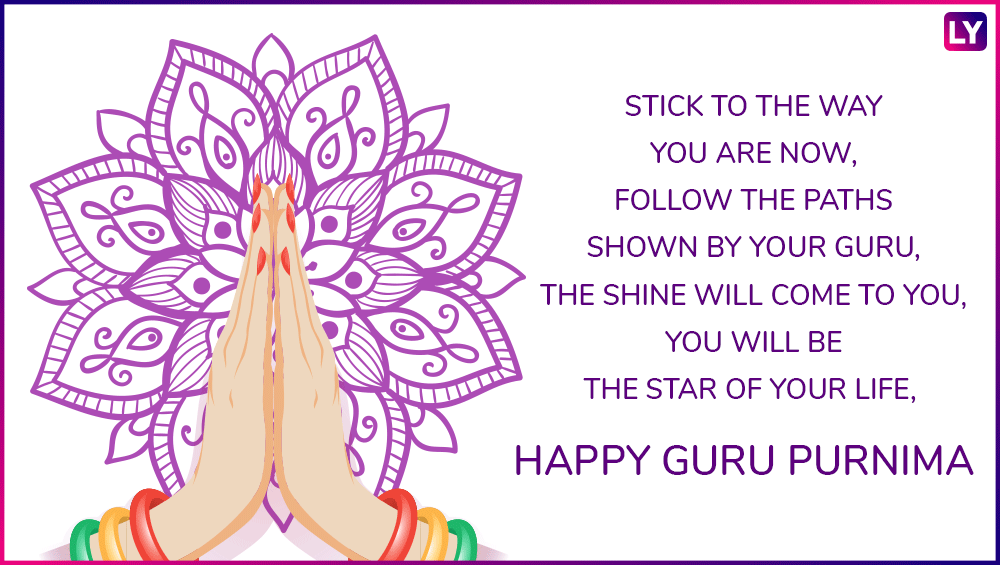 WhatsApp Message Reads: Stick to the Way You Are Now, Follow the Paths Shown by Your Guru, the Shine Will Come to You, You Will Be the Star of Your Life, Happy Guru Purnima.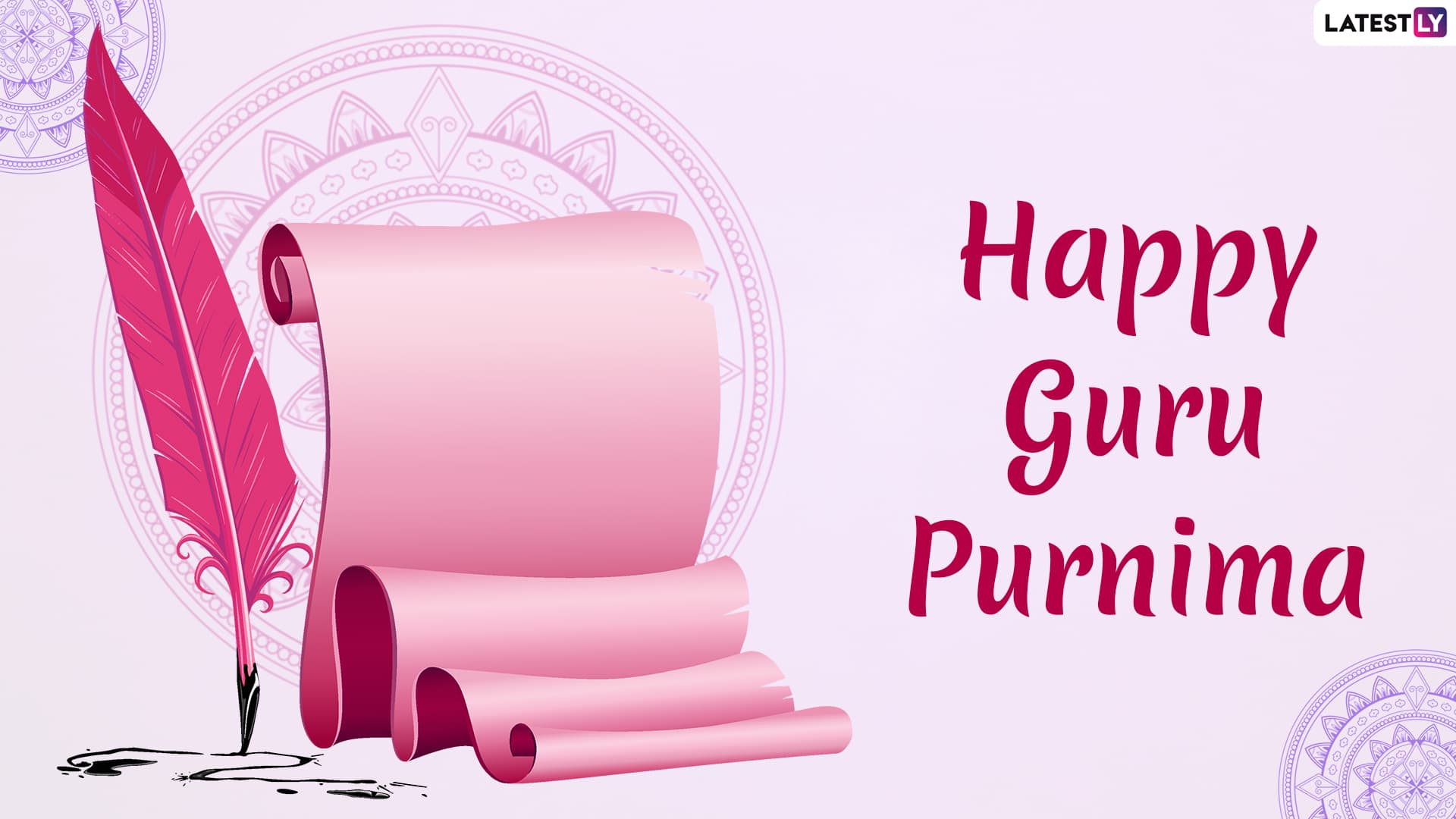 WhatsApp Message Reads: तुमने सिखाया उंगली पकड़ कर हमें चलना, तुमने बताया कैसे गिरने के बाद संभलना, तुम्हारी वजह से आज हम पहुंचे इस मुक़ाम पे, गुरु पूर्णिमा के दिन करते हैं आभार सलाम से।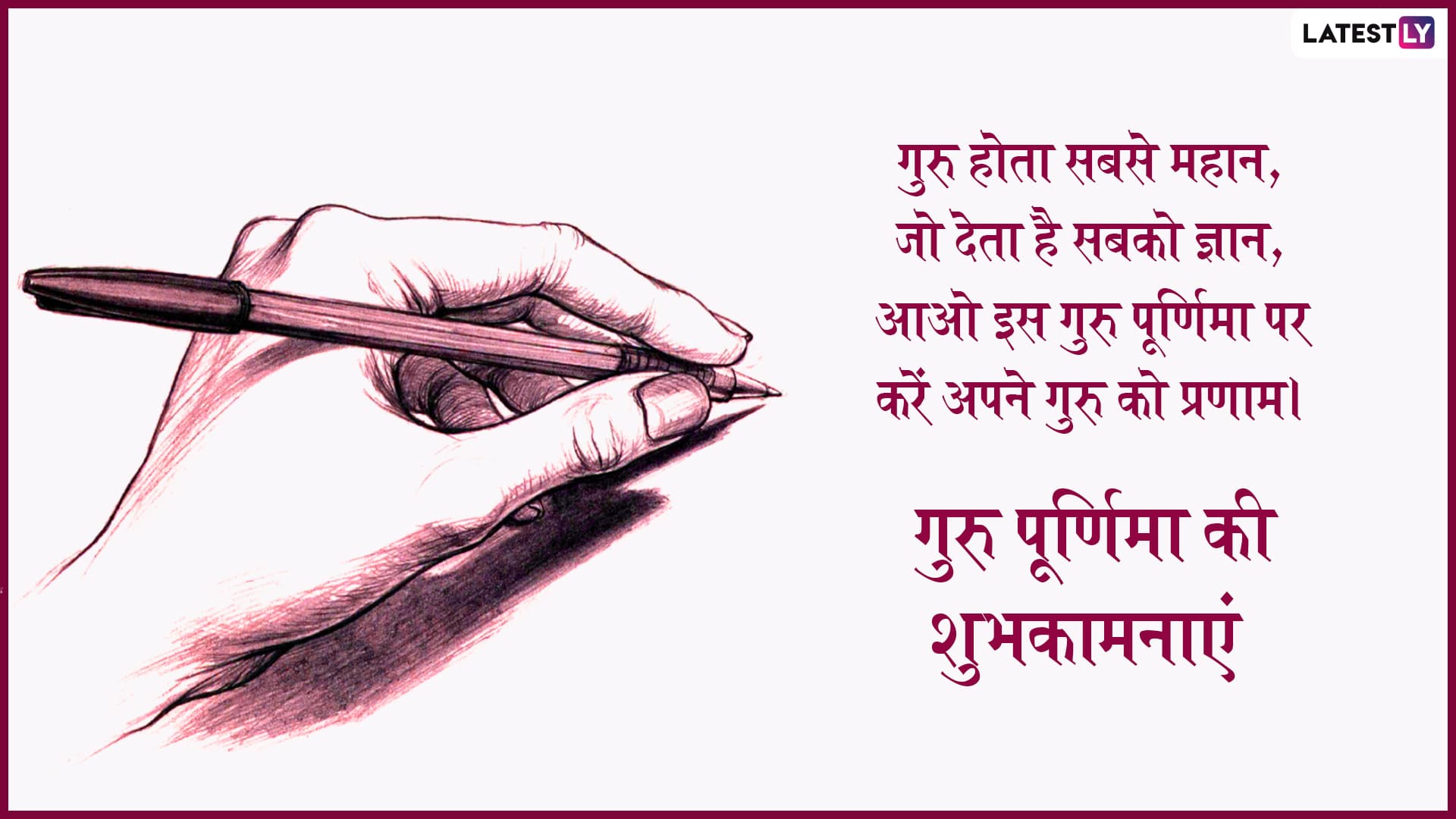 WhatsApp Message Reads: गुरु होता सबसे महान, जो देता है सबको ज्ञान, आओ इस गुरु पूर्णिमा पर करें अपने गुरु को प्रणाम। गुरु पूर्णिमा की शुभ कामनायें.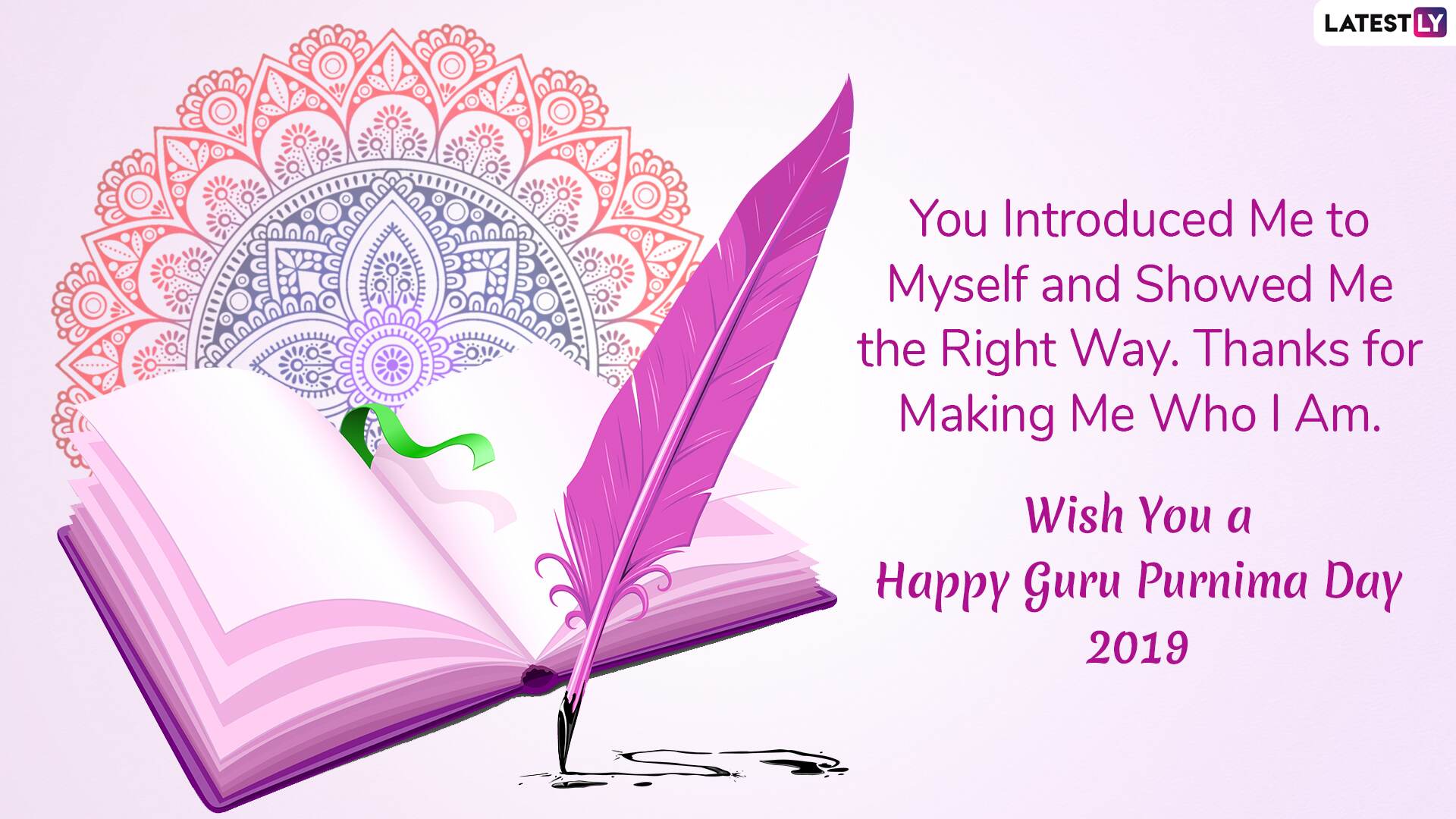 WhatsApp Message Reads: You Introduced Me to Myself and Showed Me the Right Way. Thanks for Making Me Who I Am. Wish You a Happy Guru Purnima Day 2019.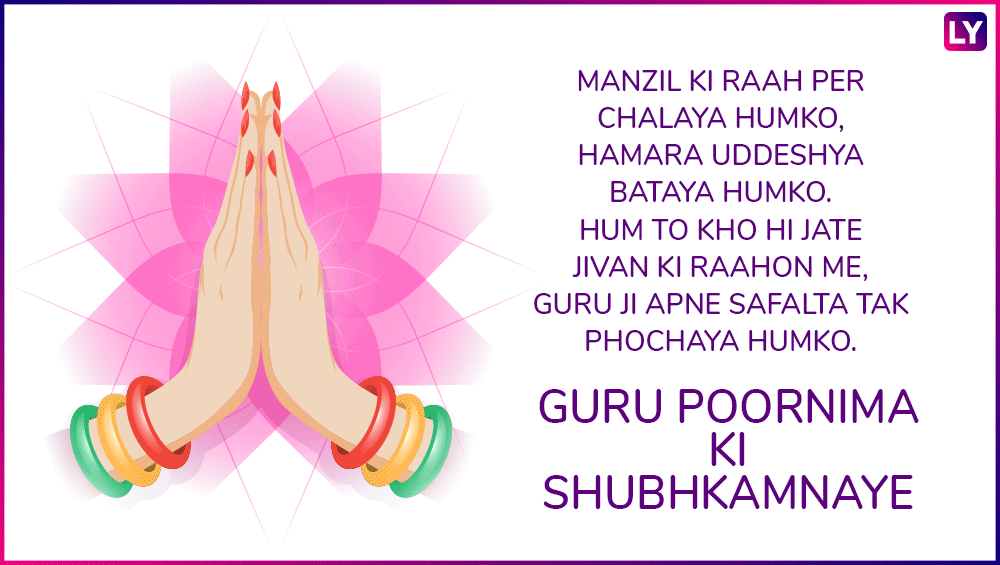 WhatsApp Message Reads: Manzil Ki Raah per Chalaya Humko, Hamara Uddeshya Bataya Humko. Hum to Kho Hi Jate Jivan Ki Raahon Me, Guru Ji Apne Safalta Tak Phochaya Humko. Guru Poornima Ki Shubhkamnaye.
How to Download Guru Purnima 2019 WhatsApp Stickers?
It is quite simple. All you have to do is visit Play Store, search for "Guru Purnima". You will be presented with a number of options such as - Guru Purnima Photo Frames, Happy Guru Purnima WhatsApp Stickers, Guru Purnima Wishes, Happy Guru Purnima Quotes in Marathi, and more to choose from. Or you can click HERE to download Guru Purnima Stickers.
Guru Purnima 2019 Messages: Greetings and Images to Wish All Teachers a Happy Guru Purnima
Guru Purnima is a great day to pay respect to your teachers, guides and mentors who have done so much for you. One must express their gratitude towards them as they have played a significant role in your life and career. We wish all the teachers and gurus a very Happy Guru Purnima 2019. Guru Purnima 2019 ki Hardik Shubhkamnaye.