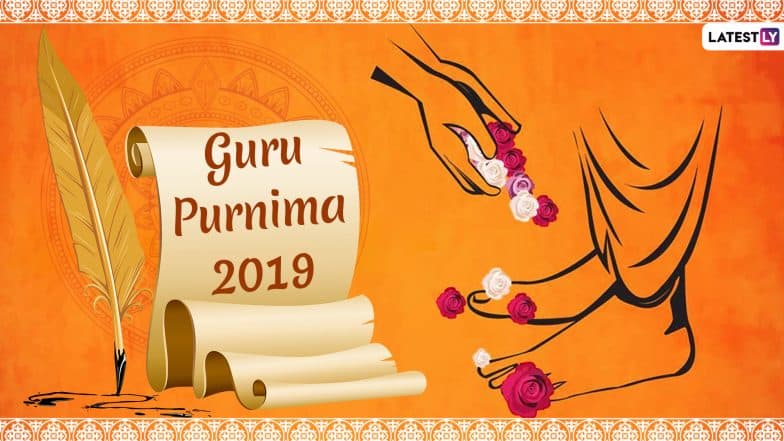 Guru Purnima also spelt as Guru Poornima is an important spiritual tradition dedicated to teachers who have thought us in various walks of life. This day is observed as no less than a festive occasion in Nepal, India and Bhutan by the Hindus, Jains and Buddhists. It is day honouring academic, spiritual teachers, leaders and expressing gratitude for their efforts. It is observed on the full moon day (Purnima) in the Hindu month of Ashadha. So this year it falls on July 16. Guru Purnima 2018 Hindi Wishes: GIF Image Messages, WhatsApp Greetings, Facebook Quotes & SMS to Wish Your GuruThis Guru Poornima.
The day reveres the teachers who evolved or helped in giving a direction by sharing their wisdom with others. The celebration of Guru Purnima sees a ritualistic puja in honour of the Guru. The word Guru is derived from Sanskrit roots, gu meaning darkness and ru which means remover of the darkness. So a Guru represents someone who removes the darkness of our ignorance. So disciples perform a pooja and pay their respects to the Guru. People thank their academic teacher and remembering their past teachers and scholars. Shirdi Sai Baba Temple Gets Donations Worth Rs 6,40,95,305 During Guru Purnima Celebrations This Year.
History and Significance
As per the Hindu legend, this was the day Krishna-Dwaipayana Vyasa – author of the Mahabharata, was born to sage Parashara and fisherman's daughter Satyavati. This day is thus also celebrated as Vyasa Purnima. Another yogic school of Hinduism states that Guru Purnima was the day that saw Shiva become the Adi Guru, or the first Guru. Shiva, the Adiyogi expounded several mechanics of life and his seven disciples known as the Saptarishis took the knowledge across the world. Guru Purnima is marked as a tradition that opened up the possibility for a human being to evolve consciously.
The Buddhists believe that Lord Buddha gave his first sermon on Guru Purnima. The first sermon is called the Dhammacakkappavattana Sutta. He went to Sarnath after 5 weeks of achieving enlightenment under the Bodhi tree. Buddhists observe this day by practising meditation under the guidance of their spiritual leaders.
Today, this day is celebrated with great enthusiasm in schools and colleges. Students pay their respects by offering them flowers and sometimes gifts. Some schools also have speeches wherein students express their gratitude for their teachers. This day serves as a great way to bond between teachers and students and inculcates respect towards all Gurus in life.