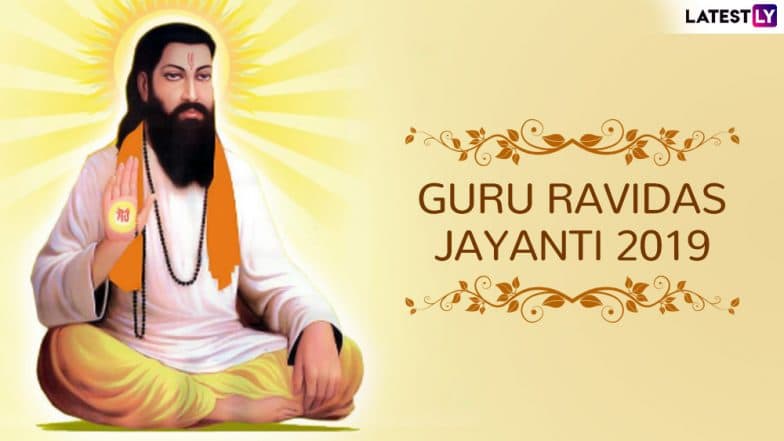 Guru Ravidas Jayanti is the birth of North Indian mystic poet of the bhakti movement Ravidas Ji. Although the exact year of his birth is not known, most scholars believe he was born in 1377 C.E. Guru Ravidas Jayanti is celebrated on Magh Purnima, which is the full moon day in the Hindu calendar month of Magha. On this day, his followers organise special programmes which see a recitation of kirtans. Guru Ravidass was known by different names such as Raidas, Rohidas and Ruhidas. There are processions taken out during which devotees carry his portrait accompanied by music near a temple locality in Varanasi, where he was born. This year marks the 642nd birth anniversary of Guru Ravidas. Let us know some more details about this great saint of the Bhakti movement. Magh Purnima and Sant Ravidas Jayanti 2019: Uttar Pradesh Government Declares Public Holiday on February 19.
Although there are no established details, he was said to be born in the village of Seer Goverdhanpur near Varanasi in Uttar Pradesh. His birthplace is now known as Shri Guru Ravidas Janam Asthan. It is a major place of pilgrimage for the followers of Guru Ravidas. He belonged to a community of Chamar, which meant he was from an untouchable caste. He suffered a lot of atrocities because of his caste. But he spent his times in spiritual pursuits and wrote a lot of devotional songs which created an impact.
Teachings of Guru Ravidas
People were convinced by his poems and his hymns inspired others to seek his guidance. He spoke about the removal of caste divisions and promoted unity. The Adi Granth of Sikhs, and Panchvani are the two oldest documented sources of the literary works of Ravidas. In fact, his teachings became so popular that there was a Dharmic religion called the Ravidassia religion, or Ravidassia Dharam based on Ravidas's teachings.
Some of the main principles he taught were- the omnipresence of God, a human soul is a particle of God, rejected the idea that lower caste people cannot meet God, the only way of meeting God is to free the mind from duality. On every Guru Ravidas Jayanti, the Amritbani Guru Ravidass Ji is read and devotees also take a holy dip in rivers to perform the rituals.