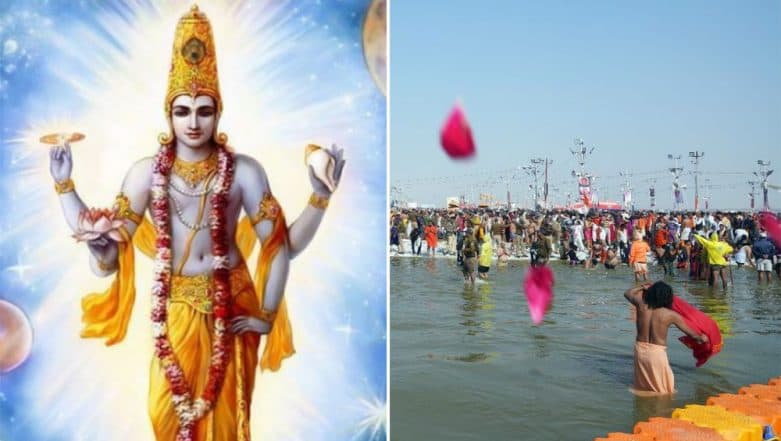 Magha Purnima 2019 will be celebrated on February 19 this year. It is an auspicious day in the Hindu calendar, It holds a belief that taking bath in the holy river of Ganga on this day will get rid a person of all their past sins and also fulfil their wishes. The Ardh Kumbh Mela 2019 is ongoing at Prayagraj and on Magh Purnima there is a Shahi Snan. Religious texts describe the day of Maghi Purnima with austerity and there is specific importance to taking a dip in the holy waters. The day of Magha Purnima is also called as Maha Maghi and is the most important days of Magh Maas. The day is associated with the worship of Guru Brahaspati and Lord Vishnu. Let us tell you more details about the timings, history, significance and Vrat Katha of Magha Purnima. Basant Panchami 2019: Two Crore Devotees to Take Third 'Shahi Snan' at Kumbh Mela in Prayagraj.
Date and Timings of Magha Purnima 2019
Magha Purnima will be marked on February 19 this year. According to Drik Panchang, the Purnima tithi will begin at 1.11 on February 19 and end at 21.23 same day.
Significance of Magha Purnima
There are several religious stories associated with the day of Magha Purnima. One of the belief states on this day the Hindu God of Gandharva comes to the sangam ie the confluence of the holy rivers. So taking a bath in the holy waters on this day will give the people a feeling of being in heaven! So it is an extremely auspicious day during the Kumbh Mela. Taking a bath in the holy waters on this day, not just omits all the sins of a person but also promises to go in heaven after death. People always perform elaborate worship to please Lord Vishnu but on the day of Magha Purnima, taking a holy bath and doing charity work for the poor is a way of pleasing the Lord.
Vrat Katha of Magha Purnima
Each auspicious day has a religious story or a Vrat Katha attached to it. The Vrat Katha of Maghi Purnima is based on Brahmin scholar Shubhravat. He was very greedy and spent most of his life earning money. He concentrated on money so much that he started falling ill and aged quickly as compared to others. When he realised that he spent most of his livelihood in earning money, he decided to retire and take bath in the river Narmada. He took bath for 9 days continuously but still, his health did not benefit as much.  He was nearly on his death bed when he chanted a prayer. He realised that he did not do any good deeds in his aim of making money, he had to see such a sad end to his life. But it is said because he took bath in the holy waters, he attained Moksha.
So taking a bath in the holy waters and doing charity on the day of Magha Purnima is considered very auspicious among the Hindus. Many people thus gather at the confluence for the Shahi Snan and then make donations to the poor and needy. Doing such good deeds is also said to fulfil their needs easily.