Muslims all around the globe have begun their celebrations of Bakrid, the 'Festival of Sacrifice.' Popularly known as Eid al-Adha, this year, the festivity falls on August 12, 2019 in the Indian sub-continent and the celebrations is in full swing. Bakrid or Bakra Eid, is a day that commemorates the biggest trial of Prophet's life when God asked him to sacrifice his own son. Muslims all over the world celebrate this festive day on the 10th day of Dhu al-Hijjah as per the Islamic calendar. With the beginning of Eid al-Adha 2019 celebrations, people share Eid Mubarak messages and greetings with their near ones to mark the holy occasion. If you too are looking for Bakrid wishes, WhatsApp messages, GIFs, images and well wishing quotes then we have made a beautiful collection of Bakrid greetings for you. You can download these Eid al-Adha messages for free and send them to your friends and family. Bakrid 2019 Wishes in Advance: Eid Al-Adha Mubarak WhatsApp Sticker Messages, GIF Image Greetings, Status, Shayari, Quotes and SMS to Send on Bakra Eid.
The festival of Eid al-Adha is one of the biggest days for the Muslims and thus it is marked with great enthusiasm. Since this day is the 'feast of sacrifice,' many people make donations for the poor. At some places, there is animal sacrifice and the meat is then distributed among the needy and poor. People also make it to the Hajj pilgrimage in Mecca to bow and seek blessings of Allah in the month of Dhu al-Hijjah. On this auspicious festival of Eid al-Adha 2019, here is a beautiful collection of Bakrid Mubarak wishes, greetings, WhatsApp messages, stickers and GIFs.
Bakrid Mubarak Greetings and Messages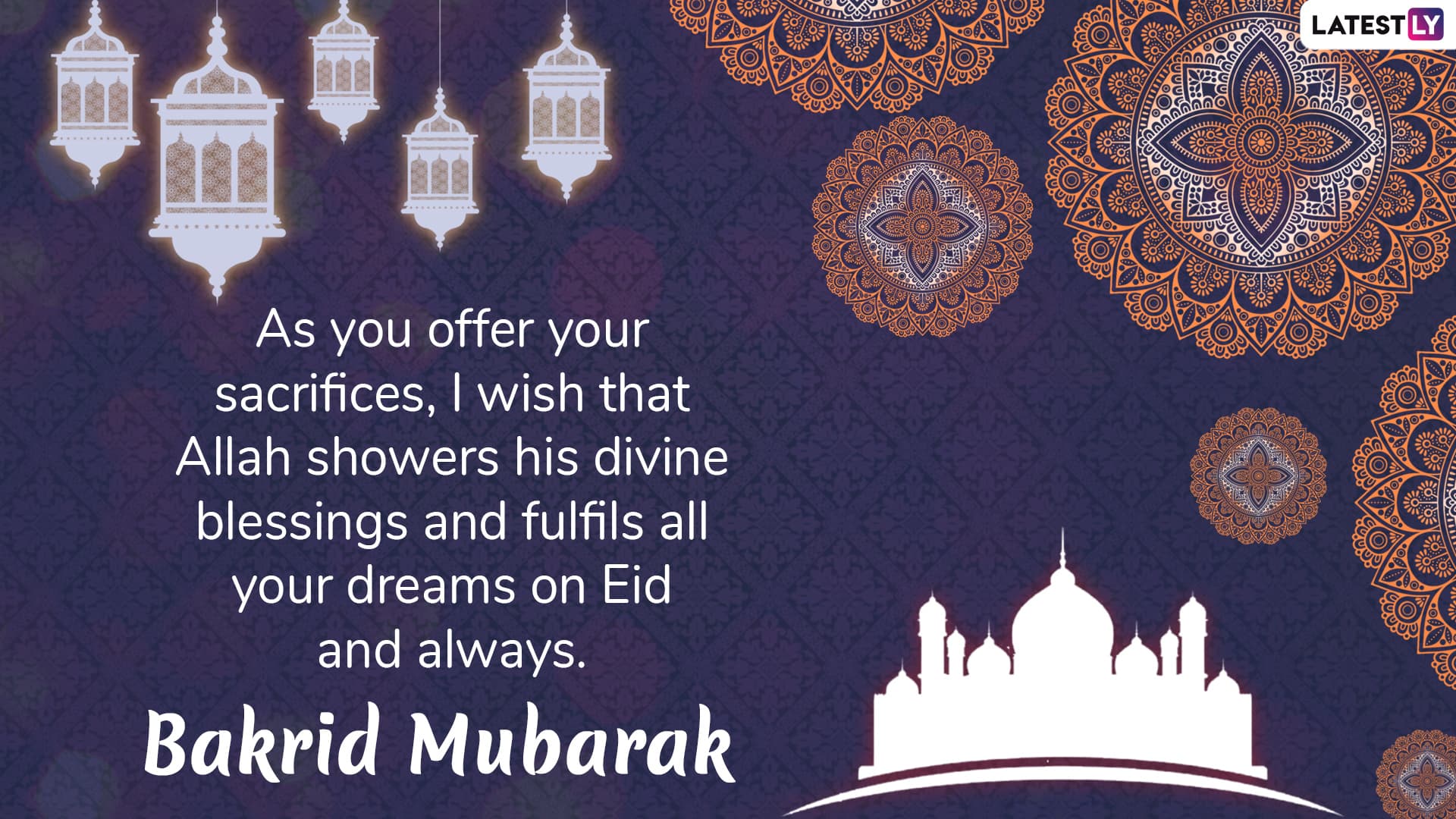 Message reads: As you offer your sacrifices, I wish that Allah showers his divine blessings and fulfils all your dreams on Eid and always. Bakra Eid Mubarak!
Message reads: Have a joyous Bakra Eid with full of sparkling lights to brighten your life. Heartfelt wishes on "festival of sacrifice" Bakri Eid Mubarak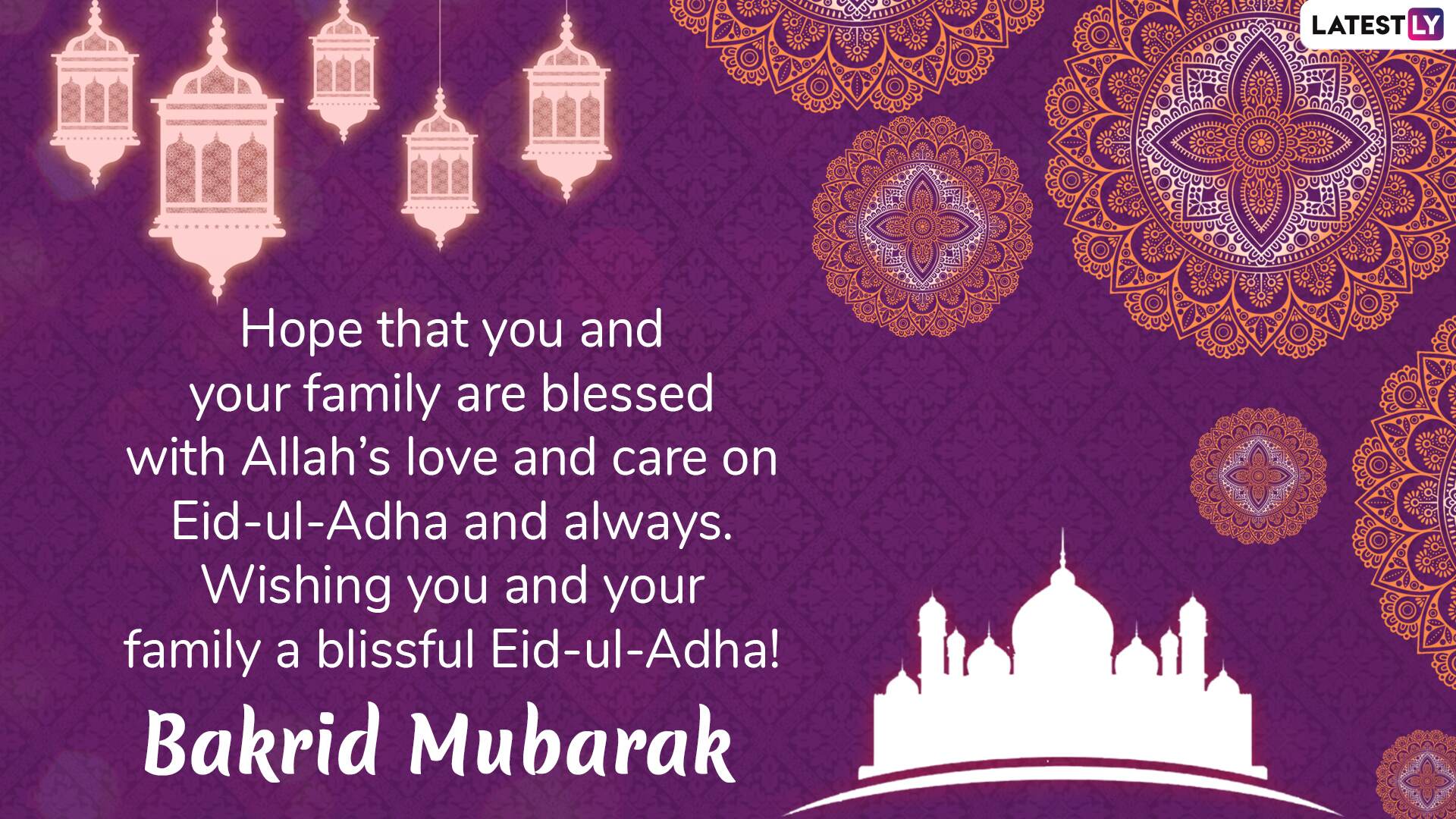 Message reads: Hope that you and your family are blessed with Allah's love and care on Eid-ul-Adha and always. Wishing you and your family a blissful Eid-ul-Adha! Bakra Eid Mubarak!
Message reads: May your plate of Life Be Always Full Of Juicy Kebabs & Tikkas, Topped With The Chutney Of Happiness.  Bakrid Mubarak.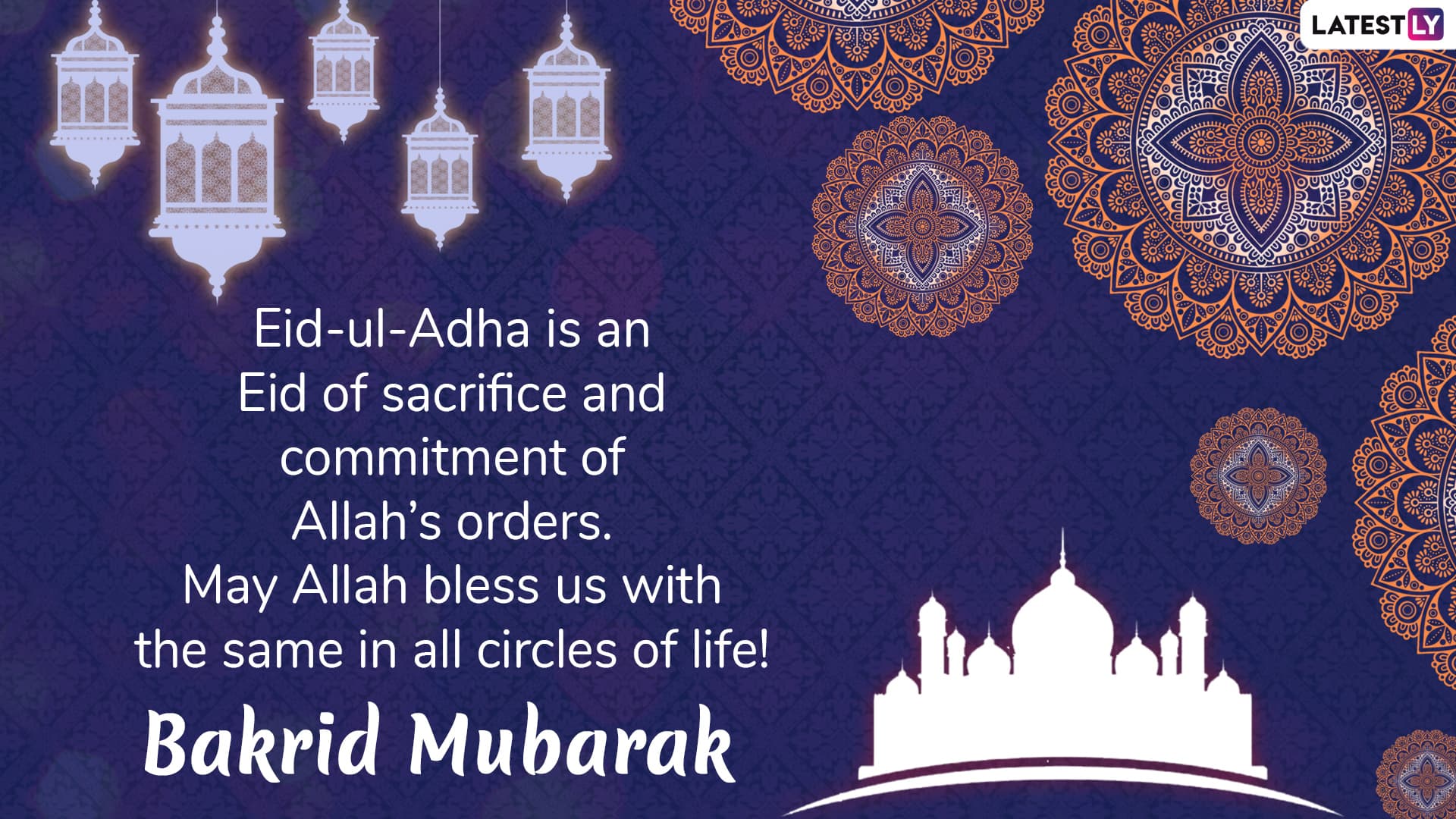 Message reads: Eid-ul-Adha is an Eid of sacrifice and commitment of Allah's orders. May Allah bless us with the same in all circles of life! Bakrid Mubarak.
Here is a Video of Bakrid Mubarak Messages:
Eid Mubarak GIFs
Eid Mubarak WhatsApp Stickers
Whatsapp Stickers have made it easier to send your greetings with animated images and stickers on just a click of a button. One can find special sticker packs created for every festive occasion too. You too can download special Bakrid or Eid al-Adha Whatsapp stickers and send your wishes via the messaging application.
So, that was our collection of messages, images, GIFs and greetings to celebrate the special occasion of Eid al-Adha 2019. Send these beautiful messages, images and greetings to your friends and family and wish them a Happy Bakrid Mubarak!